TOMODACHI J&J Disaster Nursing Training Program Accepting Applications for its Eighth Cohort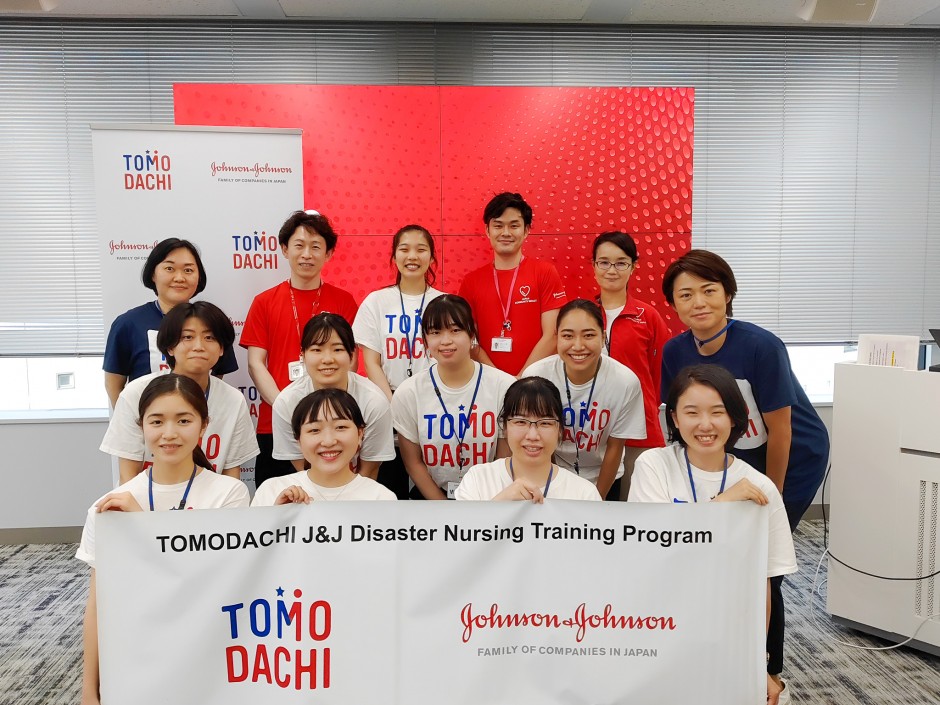 The TOMODACHI J&J Disaster Nursing Training Program, a partnership between The U.S.-Japan Council (Japan) (Office: Chiyoda-ku, Tokyo; Representative Director, Suzanne Basalla) and Johnson & Johnson Japan, is now recruiting ten nursing students for the 8th cohort of its program. In addition to recruiting student participants, two mentors are also being sought to support the students' learning as healthcare professionals.
The TOMODACHI Johnson & Johnson Disaster Nursing Training Program is a six-month training program for leadership development in the field of disaster nursing. The program includes workshops on how to treat patients during a disaster; care for the mental and emotional impacts on people involved, and how students can be better responders themselves. Since 2015, this program has provided learning opportunities for a total of 60 nursing students.
In recent years, natural disasters have occurred more frequently in various parts of Japan, causing extensive damage. Training professionals who can respond promptly to future disasters is critical.
Due to COVID-19, the program was canceled in FY2020, with the U.S. study tour conducted online in 2021 and 2022. This year, FY2023, students will travel to the U.S. for an in-person study tour.
The program schedule consists of three parts: 1) Pre-Trip Seminars, 2) a Study Tour in the United States, and 3) Post-Trip Seminars.
Orientation and Pre-Trip Seminars (May 28, June 10-11, July 15-16): Miyagi Prefecture and online
S. Study Tour (August 5-18, 2023): Visit facilities and organizations specializing in disaster medicine and nursing in the U.S. (New York, New Jersey, and Washington, DC) to interact and exchange opinions.
Post-Trip Seminar (September 23-24, 2023): Hyogo Prefecture / Final presentation (December 10, 2023): Online
Applications must be received by April 13 for mentors and April 26 for nursing students. The applications will be reviewed. Successful applicants will be notified.
Please see the detailed application guidelines here.
About the TOMODACHI Initiative
The TOMODACHI Initiative is a public-private partnership between the U.S.-Japan Council and the U.S. Embassy in Tokyo, with support from the Government of Japan. Born out of support for Japan's recovery from the Great East Japan Earthquake, TOMODACHI invests in the next generation of Japanese and American leaders through educational and cultural exchanges as well as leadership programs. The initiative seeks to foster a "TOMODACHI Generation" of young American and Japanese leaders who are committed to and engaged in strengthening U.S.-Japan relations, appreciate each other's countries and cultures, and possess the global skills and mindsets needed to contribute to and thrive in a more cooperative, prosperous, and secure world.
About Johnson & Johnson
At Johnson & Johnson, we believe good health is the foundation of vibrant lives, thriving communities and forward progress. That's why for more than 135 years, we have aimed to keep people well at every age and every stage of life. Today, as the world's largest, most diversified healthcare products company, we are committed to using our reach and size for good. We strive to improve access and affordability, create healthier communities, and put a healthy mind, body and environment within reach of everyone, everywhere. We are blending our heart, science and ingenuity to profoundly change the trajectory of health for humanity.