Continuation of the TOMODACHI Sumitomo Corporation Scholarship Program

Press Release
February 7, 2023
U.S.-Japan Council (Japan)
Sumitomo Corporation
Continuation of the TOMODACHI Sumitomo Corporation Scholarship Program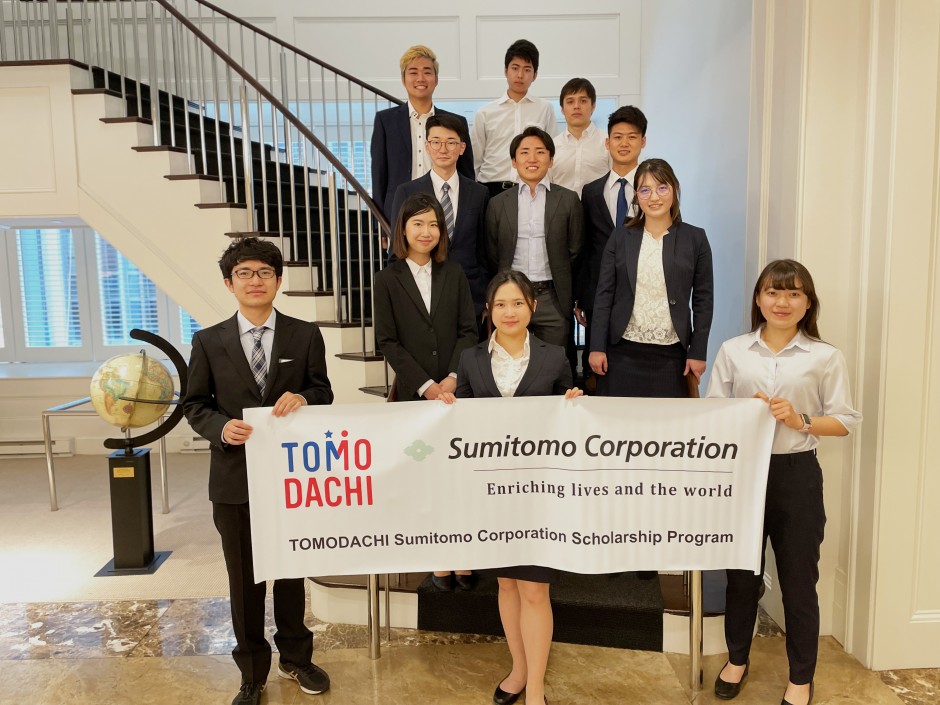 The U.S.-Japan Council (Japan) (Office: Chiyoda-ku, Tokyo; Representative Director, Suzanne Basalla) and Sumitomo Corporation (Head Office: Chiyoda-ku, Tokyo; Representative Director, President and Chief Executive Officer Masayuki Hyodo) started recruiting for ten scholarship recipients on January 10, 2023. In addition, Sumitomo Corporation signed a new donation agreement with the U.S.-Japan Council (Japan) for 100 million yen for four years of support, including this year's application period.
As globalization progresses and the need for international cooperation continues to grow, the importance of international human resource exchange and the development of the next generation of globally-minded individuals is becoming increasingly important.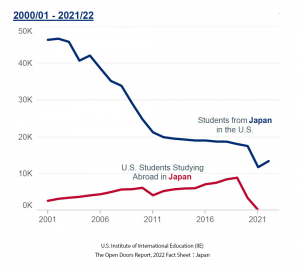 On the other hand, since 2000, the number of Japanese students studying in the U.S. has declined significantly. According to the U.S. Institute of International Education (IIE) Open Doors (table on the right), the number of Japanese students in the U.S. has experienced a particularly steep decline since 2007.
This program, implemented since 2014 as part of its social contribution activities to resolve these issues, provides an annual scholarship of 1.8 million yen per student to participate in study abroad programs at U.S. universities for one year. Sumitomo Corporation aims to nurture next-generation leaders with an international perspective and has supported a total of 67 students in the U.S. over the past nine terms.
During their study in the U.S., the scholarship recipients will have the opportunity to spend about five days at Sumitomo Corporation of Americas, headquartered in New York. In addition, Sumitomo Corporation employees with overseas experience will serve as mentors and support the scholars' study abroad experience by keeping in regular contact with them online. The U.S.-Japan Council (Japan) TOMODACHI Initiative, whose mission is to nurture the next generation of leaders, will work with Sumitomo Corporation to hold a briefing session for universities and a scholarship award ceremony. In addition, together with the U.S. Embassy in Japan, the Council will invite them to the U.S.-Japan Council's Annual Conference and other events to provide networking opportunities with U.S. and Japanese counterparts.
Through this program, the U.S.-Japan Council and Sumitomo Corporation aims to support international students seeking global success and to nurture many future leaders.
About the TOMODACHI Initiative
The TOMODACHI Initiative is a public-private partnership between the U.S.-Japan Council and the U.S. Embassy in Tokyo, with support from the Government of Japan. Born out of support for Japan's recovery from the Great East Japan Earthquake, TOMODACHI invests in the next generation of Japanese and American leaders through educational and cultural exchanges as well as leadership programs. The initiative seeks to foster a "TOMODACHI Generation" of young American and Japanese leaders who are committed to and engaged in strengthening U.S.-Japan relations, appreciate each other's countries and cultures, and possess the global skills and mindsets needed to contribute to and thrive in a more cooperative, prosperous, and secure world. Visit us at www.tomodachi.org
Overview of the TOMODACHI Sumitomo Corporation Scholarship Program
The scholarship is available to undergraduate students participating in exchange programs at 12 partner universities. (Hokkaido University, Tohoku University, University of Tokyo, Keio University, Waseda University, Chuo University, Nagoya University, Kyoto University, Doshisha University, Osaka University, Kyushu University, University of the Ryukyus)
We began accepting applications for the 10th term on January 10. Applicants must apply for the scholarship at their home universities and submit a letter of recommendation from their universities. Students will receive acceptance or rejection notifications through their universities around the beginning of May.
For more information on the scholarship application guidelines, please see the link.
URL https://bit.ly/tomodachi_sumitomo_scholarship_2023