Disaster Nursing Training Program Final Presentation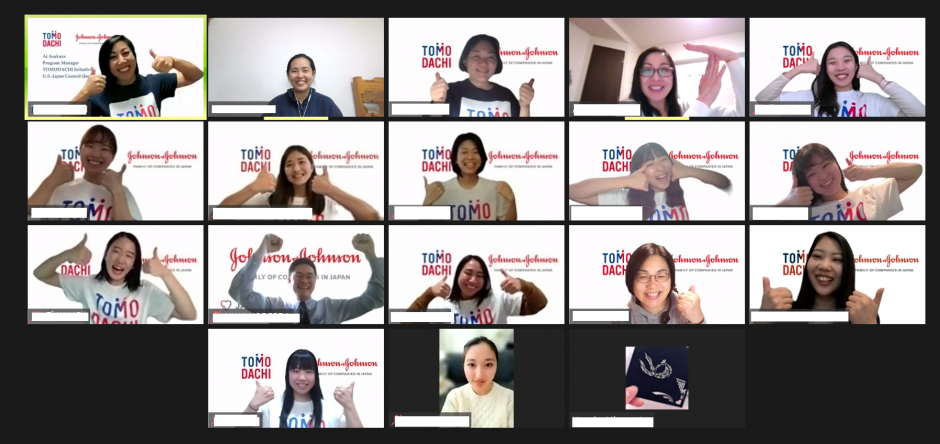 The final presentation of the TOMODACHI J&J Disaster Nursing Training Program was held online on December 11.
Opening remarks was made by Junko Tsuda, Executive Director of the U.S.-Japan Council-Japan. Then, the students who participated in the program, represented by Hikari Inayoshi, You Sato, and Haruka Hisamatsu, presented what they had learned during the six-month program, which brought together students from different grades, backgrounds, and future goals.
The underlying theme of this year's six-month program is especially to develop leadership skills, care for themselves as responders, and treat the emotional and psychological damage of all those involved in disasters.
Unfortunately, due to the pandemic, the nine-day U.S. training program was conducted online. However, students gained practical knowledge by knowing what to do if a tourniquet is unavailable and what information to give to each medical team. In learning about self-care, they discovered that medical professionals could maintain high performance in tense situations by looking out for themselves.
During the six-month program, the participants learned new things daily. They also practiced presenting what they had learned to others during Bosai Kokutai – a Disaster prevention event organized by the Cabinet Office. The "Bosai Kokutai" project was planned, prepared, and executed by the students with advice from the teachers, and they also learned project management.
Misaki Kagawa and Risa Yoshida each presented that the program allowed them to connect with new like-minded people. They learned through practice that each person has a different leadership style and can lead in their own way.
The professor at Nursing University, who witnessed the student's growth over the six months as a mentor, commented, "I think the students have deepened their ideas on how to work specifically in their respective careers as nurses. I hope you will work hard to realize your own initiatives," she encouraged the students.
Reflecting on the program, Kelly Williams of Children's National Hospital said that the group was so friendly and she looked forward to logging in each morning and seeing the questions and comments of the day. She also reflected that while the program's goal was to educate students about disaster mitigation, preparedness, response, and recovery, the students also provided valuable lessons to the facilitators and presenters, making it a meaningful program for both parties.
Program alumni, Rina Ishikawa, shared her experience of how the lessons learned from the program several years ago have been applied and developed into her current career and encouraged the participants.
Andrew Wheatley, Johnson & Johnson's Vice President, Communication & Public Affairs, Asia Pacific who supported the program, also gave a message to the students. He also expressed his gratitude to the mentors, cooperating organizations, and many others who contributed to the program's success.