TOMODACHI Sumitomo Corporation Scholarship Program; Returnee Students Reporting and Award Ceremony for 2022 New Students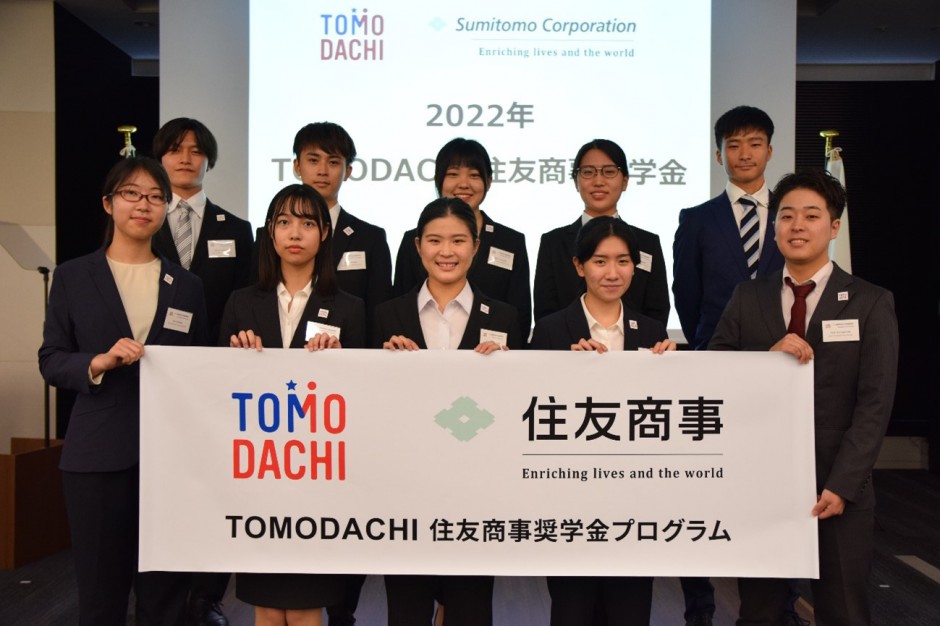 On July 1, 2022, TOMODACHI Sumitomo Corporation Scholarship Program held a debriefing for students returning from the United States and an award ceremony for the 9th cohort. The scholarship students and other participants gathered for face-to-face sessions. The event was distributed online, and the program's participating university officials viewed it online.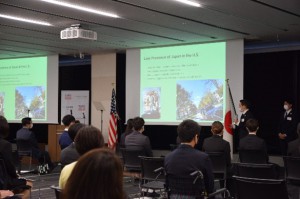 At the debrief for the students that returned from abroad, ten 8th cohort students, who studied internationally in the fall of 2021 and returned to Japan in the summer of 2022, made group presentations on what they learned about U.S.-Japan relations while studying overseas. Hiroaki Onizuka, who studied public health at the University of Illinois, Urbana-Champaign, stated that training during the program made him realize that U.S.-Japan relations are not only for politics or business, and said "I would like to be a person who serves Japan and international society with soft power, especially from an academic perspective."
After each group's presentation and speech, Mr. Joshua Gonzalez, Assistant Cultural Affairs Officer, Public Affairs Section, U.S. Embassy Tokyo and Mr. Hirokazu Higashino, Representative Director, Managing Executive Officer, Chief Strategy Officer and Chief Information Officer Sumitomo Corporation gave the students feedback.
At the award ceremony that followed, Mr. Masayuki Hyodo, Representative Director, President, and Chief Executive Officer of Sumitomo Corporation and Ms. Royanne Doi, Representative Director of U.S.-Japan Council (Japan) offered words of praise and encouragement to the students. After receiving their certificates from Mr. Hyodo, each of the ten students in the ninth cohort, who will begin their study abroad program this fall, presented their goals in English.
Taiki Yamamoto, one of the students commented "(I am willing to) meet a lot of people with different backgrounds and to touch upon new perspectives that I never had. I will grow as a person and as a leader of the next generation."
Following in the footsteps of previous program participants, it is expected that they will become global leaders who will serve as a bridge between Japan and the United States.
To see the press release, click here.
For information about the 2022 scholars, click here.