TOMODACHI Alumni Meet with U.S. Ambassador in Kesennuma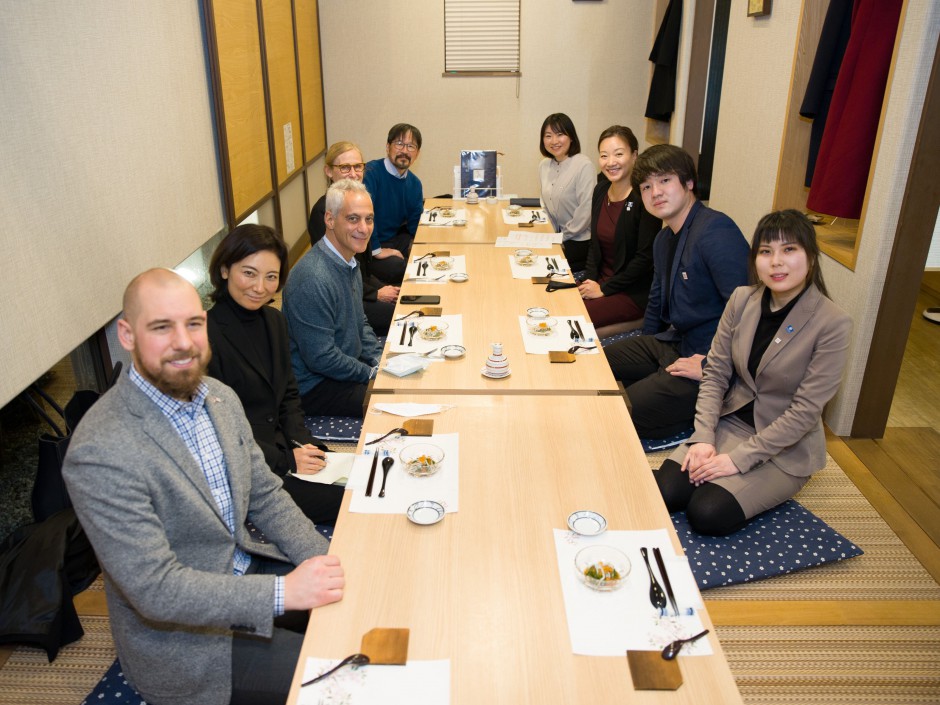 On March 10, 2022, two TOMODACHI alumni met with U.S. Ambassador to Japan Rahm Emanuel (third from the front in the left row) in Kesennuma, Miyagi Prefecture. The Ambassador, his wife, and representatives from U.S. Consulate in Sapporo visited various places in Tohoku to commemorate the Great East Japan Earthquake that happened eleven years ago. They enjoyed lively conversation and local cuisine with TOMODACHI alumni.
Ami Miura, alumna of TOMODACHI Summer SoftBank Leadership Program, is from Kesennuma. She experienced the Great East Japan Earthquake, and moved away from Kesennuma for her school and work, but always had a dream of coming back to her hometown to work.
Since returning to the town in the Spring of 2021, she has been working to support young people's inquiry learnings . She said, "I was happy to hear that Ambassador Emanuel felt the perseverance and warmth of the community in Kesennuma. He also gave me many pieces of encouraging advice. Now that I "U-turned (leaving one's hometown to study or work and returning to their communities after their time abroad is concluded)", I am truly inspired to be one of the next generation leaders in this town. In addition, I wanted to share with young people who I support that they too can connect to the world from Kesennuma, and that they can challenge anything."
Kodai Kato, an alumnus of the TOMODACHI FamilyMart SDGs Leadership Program in Tohoku visited Kesennuma when he was a university student, and continued to visit the town regularly. He moved to Kesennuma in 2021 and started a business in partnership with fishermen to recycle fishery nets, bags, cloth which make up 50% of ocean trash. He shared that "I was most inspired when Ambassador Emanuel said that if I move forward, I can make things better, even little by little." Reflecting back on the meeting, he said "I felt the strong connections of TOMODACHI. I look forward to meeting with more people who challenge themselves in local towns."