Now Recruiting for the TOMODACHI Honda Global Leadership Program 2020

January 31, 2020
Now Recruiting for the TOMODACHI Honda Global Leadership Program 2020
January 31, 2020 – The U.S.-Japan Council (Japan) TOMODACHI Initiative (Head Office: Chiyoda-ku, Tokyo, Representative Director and President Irene Hirano Inouye) is pleased to announce the third "TOMODACHI Honda Global Leadership Program" will take place from August 15 to 29, 2020. Recruitment begins today.
This program, generously funded by Honda Motor Co., Ltd. (hereafter "Honda"), was established in 2018, originating from the success of the 2014-2016 "TOMODACHI Honda Cultural Exchange Program," in which high school students from Iwate, Miyagi and Fukushima Prefectures, regions affected by the Great East Japan Earthquake, took part. Based on Honda's corporate slogan, "The Power of Dreams," this program provides an experiential learning opportunity, including a Pre-departure Orientation and a Follow-up Seminar. It aims to encourage Japanese youth leading the future to be globally-minded next generation leaders by exposing them to people that are driven by their dreams and introducing them to corporate activities that will inspire them to put their dreams into action. With an expanded target that includes high school students and 5-year junior technical college ("Kosen") students from any part of Japan. The program will take place for three years, until 2020.
During this year's program, the selected students will have the opportunity to travel for almost two weeks to Torrance, California and Marysville, Ohio, home to Honda's headquarters and manufacturing base in the United States. Through exposure to American society and culture via interactions with local high school students and homestays, the Japanese students and Americans they meet will deepen their mutual understanding of one another.
【Testimonials from 2019 Program Participants】
"Through new encounters in this program, I learned many different ways to lead and the actions I should take as a leader. After the program, I believe I can discover my own style of leadership in order to realize the positive impact I can have." (Female Participant, High School Freshman, Kagoshima Prefecture)
"I experienced the wonder of chasing my dreams and realized the importance of hearing the stories of people in the United States, following their dreams and making them come true. I felt both a nervousness and exhilaration I had never experienced, and now have the ability to more deeply and seriously consider my future dreams after this program." (Male Participant, High School Sophomore, Hokkaido Prefecture)
Applications will be accepted as outlined below.
TOMODACHI Honda Global Leadership Program Information
・Qualification Requirements:  Students of Japanese nationality who will be enrolled in the first through third grades of a high school or five-year technical junior college in Japan as of the departure date in August 2020.
・Number of Participants: Approximately 20 students
・Key Destinations: Torrance, California and Marysville, Ohio
・Program Dates:
1) Pre-departure Orientation: June 13, 2020 to June 14, 2020 (1 night, 2 days in Tokyo)
2) Program dates in the United States: August 17, 2020 to August 29, 2020    (Participants will meet at a hotel near Haneda Airport on August 15 and leave for the United States on August 17, 2020.)
3) Follow-up Seminar: mid-February 2021 (tentative)
・Application Deadline:
Online application due on March 21, 2020
Mailed application must be postmarked on or before March 19, 2020
・Participant Selection: Notification will be mailed by May 13, 2020
・Application Methods:
Apply online: https://www.laurasian.org/honda
Apply by mail: Download the application from the website
http://www.laurasian.org/honda
and mail to:
TOMODACHI Honda Global Leadership Program 2020
Laurasian Institution
5-5-17 Shimomeguro, Meguro-ku, Tokyo 153-0064
About the TOMODACHI Initiative
The TOMODACHI Initiative is a public-private partnership between the U.S.-Japan Council and the U.S. Embassy in Tokyo, with support from the Government of Japan. Born out of support for Japan's recovery from the Great East Japan Earthquake, TOMODACHI invests in the next generation of Japanese and American leaders through educational and cultural exchanges as well as leadership programs. The initiative seeks to foster a "TOMODACHI Generation" of young American and Japanese leaders who are committed to and engaged in strengthening U.S.-Japan relations, appreciate each other's countries and cultures, and possess the global skills and mindsets needed to contribute to and thrive in a more cooperative, prosperous, and secure world.
Visit us at www.tomodachi.org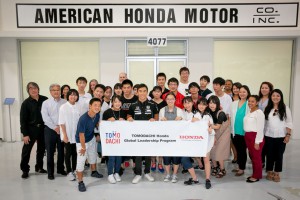 [Photo from the TOMODACHI Honda Global Leadership Program 2019]
Contact Information
U.S.-Japan Council (Japan), TOMODACHI Initiative: 03-4510-3400
Webpage for this program on Honda's website:
https://www.honda.co.jp/philanthropy/tomodachi/