2015 TOMODACHI Toshiba Science & Technology Leadership Academy Participants Gather in Tokyo for a Post-Program Presentation Session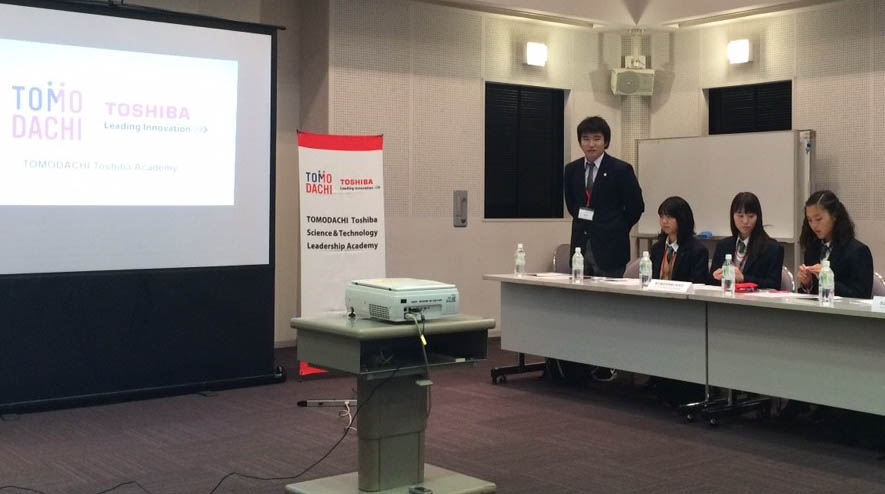 On October 24, 2015, the 2015 TOMODACHI Toshiba Science & Technology Leadership Academy gathered its program participants from this summer at the Yoyogi Olympic Center for its post-program presentation session. The TOMODACHI Toshiba Science & Technology Leadership Academy (TTA) is an international exchange and leadership program intended for high school students and teachers from both Japan and the United States. The program encourages cross-cultural interest in the fields of STEM: Science Technology Engineering and Math, and promotes mutual understanding and friendship. The objective of this program is for participants from both countries to work together to identify and develop recommendations for disaster-resilient smart communities around the world.
The post-program presentation began with opening remarks from Mr. Keisuke Omori, the CSR General Manager from Toshiba Corporation.      
"During this program, we had you think about smart communities and resilient societies. The word resilient here can be defined as strength with flexibility. I believe you have learned how such strength with flexibility is essential for societies in disaster-stricken areas to overcome the challenges and difficult situations they confront. This strength with flexibility is, in fact, very important in each of your ways in life."
Seven students, three teachers and five alumni who took part in the program as teaching assistants, gave short reports on their experiences and achievements following their participation.
Keito Ando from Keio Shonan Fujisawa Junior and Senior High School claimed that through the program, he "learned the importance of people-to-people connections."  He went on to explain that "throughout our discussions, I re-realized that comprehensive solutions are always brainstormed by communication between people.  After participating in this program, I have started to take part in other programs outside of my school, and although it may sound exaggerated, I feel as though my personality changed to a more open person."
Another participant, Kiyokazu Tanaka from Waseda University Senior High School, reflected on his own experience and shared his aspirations with the group.
"I had joined the program because I wanted to interact with people from different cultural and historical backgrounds. Every participant had distinct talents and specialties, and therefore gave me inspirations in various ways. I would like to make the best use of what I absorbed from them for further development of my own skills and knowledge."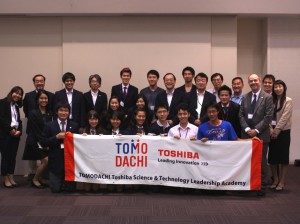 Other students commented that "this program was a fresh reminder to never forget 3.11" and that "even though [they] do not take science courses [at their schools], this program allowed [them] to expose [themselves] to scientific studies."
TOMODACHI alumni – called the "TOMODACHI Generation" – will continue to develop and deepen their connections to continue their renewed interest in the fields of STEM in order to better the bonds between our two countries and create a better future for all.