The Second year of the TOMODACHI Metlife Women's Leadership Program returned from the inspiring U.S. Trip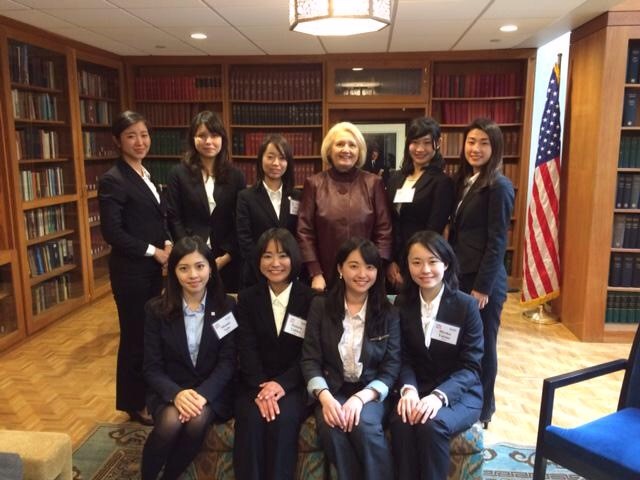 The TOMODACHI MetLife Women's Leadership Program mentees participated in the annual U.S. Trip to Washington, D.C. and New York City from March 20 to 30, 2015. The program was designed to showcase women leaders in the US while inspiring and empowering the young participants.  While in D.C., the 38 women met with individuals like Senator Mazie Hirono (D-HI) and Congresswoman Tulsi Gabbard (D-HI2) and leaders of a number of organizations, including the U.S. Department of State and the American Association of University Women.
One evening U.S.-Japan Council (USJC) President Irene Hirano Inouye, USJC Member Leona Hiraoka, and Dr. Sachiko Kuno, Co-Founder, President and CEO of the S&R Foundation, spoke on a panel sharing personal stories of their career paths and addressing issues of women in leadership, work-life balance, and mentorship. USJC Members and volunteers hosted the women for hospitality dinners, providing them an opportunity for in-depth discussions over a home-cooked meal. The participants also toured Washington, D.C. with alumni of the JET program and visited local universities, where they were hosted by members of the TOMODACHI Washington, D.C. network of young people. The Washington, D.C. program also premiered "Couples Coffee," an opportunity for the participants to meet professionals and their spouses to discuss topics such as work-life balance and how careers work with a partner, spouse or family. 
After Washington, D.C., the group traveled to New York City, where they met with organizations led by women wuch as USJC Members Patricia Kozu and Julie Azuma. The visit culminated at MetLife Headquarters with a tour of the historic board room and a presentation by the highest ranking female at MetLife Maria Morris Executive Vice President of Global Employee Benefits.  Final presentations were made by the participants in front of leaders and supporters at MetLife as well as Japanese Consulate representatives, USJC Members, and TOMODACHI scholars. Participants left the United States enthusiastic about taking on the challenges of become the next female leaders in Japan.
The TOMODACHI MetLife Women's Leadership Program is a 10-month mentorship program, which pairs highly-motivated Japanese female university students with female mid-career professionals to encourage networking among a select corps of Japanese women who show promise as Japan's next generation of leaders. Participants attend regular group sessions hosted by the U.S. Embassy and consulates that provide training in leadership development and financial empowerment and provide opportunities for personal growth and networking. Applications for mentor and mentee participation in the 2015-2016 program will be accepted May 1 to July 3.  
For more information about the program and to apply, click here