Students from the University of Hawaii at Manoa and the University of Massachusetts Boston Visit Ehime and Hiroshima Prefectures on the TOMODACHI Inouye Scholars Program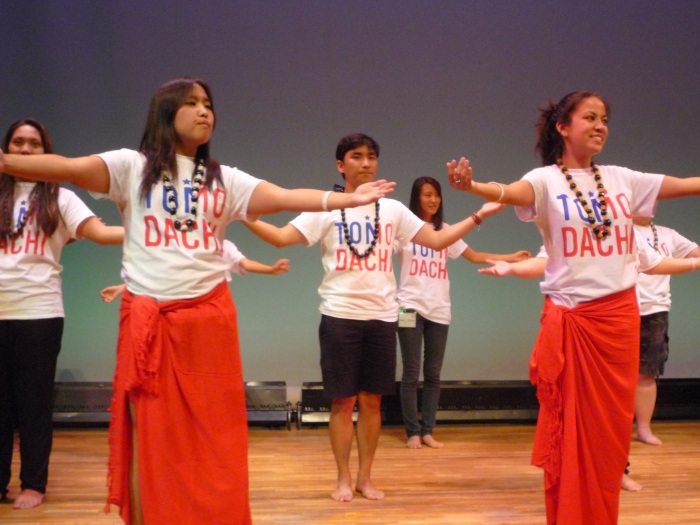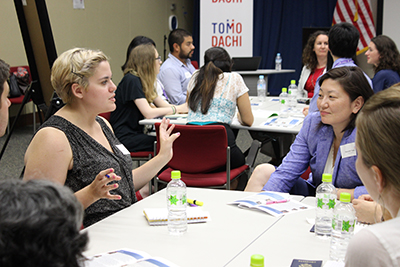 "Smaller, grassroot level ties can be just as important as political connections," Chelsie Takasaki from the University of Hawaii at Manoa said as she reflected upon her experience in Japan as part of the TOMODACHI Inouye Scholars Program. For many participants, the ten days they spent in Japan furthered their interest in connecting the United States and Japan. Nolan O'Brien from the University of Massachusetts Boston concluded that "this trip has opened my eyes to the amazing benefits that await a population" and further stated that he want to,"embrace stronger global ties."
The TOMODACHI Inouye Scholars Program is part of the Kakehashi Program supported by the Ministry of Foreign Affairs. The program honors the life and legacy of Senator Daniel K. Inouye and provides Japanese and American youth with a valuable opportunity to learn more about Senator Inouye's contributions to his state, country, heritage, and to the U.S.-Japan relationship. The scholars have returned to their schools inspired by his commitment to public service, justice, and U.S.-Japan cooperation.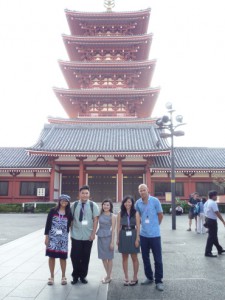 This year, the program brought 25 students from four American universities: DePaul University, Loyola Marymount University, University of Hawaii at Manoa, and the University of Massachusetts. Their partnering universities in Japan from Ritsumeikan University, Sophia University, Matsuyama University and Hiroshima University will be visiting the U.S. this Fall.
To deepen their understanding of the bilateral relationship between the United States and Japan, the University of Hawaii at Manoa partnered with Matsuyama University in Ehime Prefecture, whilst the University of Massachusetts in Boston partnered with Hiroshima University in Hiroshima Prefecture. Nina Martinez from the University of Hawaii stated that the face-to-face connection she made with students in Japan has revealed to her the human face of Japan, which differed from what they were taught to believe through media and books back in the States.
During their stay in Ehime and Hiroshima, the students not only enjoyed cultural exchange components,but also learned extensively about the Ehime Maru-USS Greeneville Incident of 2001 and the Atomic Bombing of Hiroshima of 1945. Kim Hazeltine from the University of Massachusetts stated that "I would share the story of Mrs. Ogura, the atomic bomb survivor. Hers was a life-changing story of unimaginable pain, yet unfathomable love and forgiveness that should touch as many lives as possible."
The participants from the University of Hawaii had opportunities to discuss crucial topics to gain better understanding about Japan. On August 5, participants from the University of Hawaii visited Amazon Japan corporate headquarters in Tokyo for a panel discussion titled "Working Women in Japan." Four working women – Royanne Doi, Miori Oka, Eriko Talley, and Evelyn Tokuyama – each shared their stories and experiences as Japanese or Japanese American women working in Japan and provided the students with real life advice. One such advice was to be open to receiving feedback, and to keep in mind that the right feedback is the one that hurts the most, but it will be the one to take them to the next step. These words of wisdom were valuable assets for many of the students who will be starting their professional career after graduation. Some questions from the students were about differences between Western and Eastern values in the workplace. Eriko Talley, the Human Resources Director at Amazon Japan told the students that she believes people are fundamentally the same and the differences in culture is a mere difference in style, and thus the students should learn to modify their style accordingly. For many who are seeking a global career opportunity such as one student Tarynn Nago, it was truly inspirational to be able to hear their stories and advice.
In the afternoon, the students were welcomed at the U.S. Embassy in Tokyo where they were joined by four panelists for a session about challenges and opportunities NPOs face in Japan for TOMODACHI Generation Talks. Next day, University of Massachusetts Boston visited the U.S. Embassy to participate in TOMODACHI Generation Talks about challenges and opportunities for women leaders in Japan, where they were joined by five panelists of diverse background that represented various generations of women leaders in Japan.