TOMODACHI-Mitsui & Co. Leadership Program Dinner Reception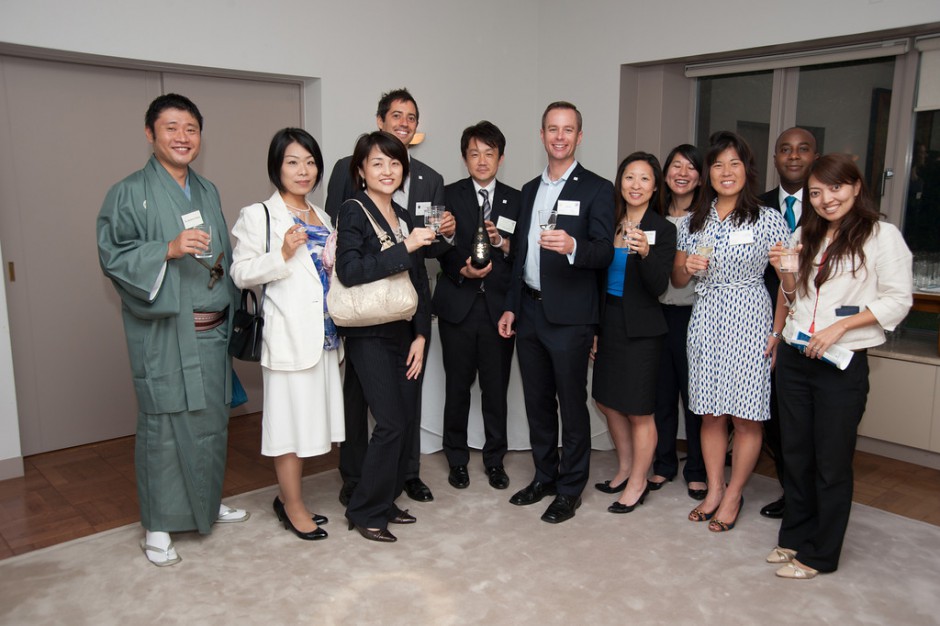 On August 2, 2013, the Deputy Chief of Mission Kurt Tong hosted a dinner reception for approximately 100 guests in honor of the TOMODACHI – Mitsui & Co. Leadership Program.
Twenty government and business professionals were selected from geographically diverse locations to represent America and Japan. The program provides outstanding young leaders with unique access to key leaders committed to U.S.-Japan relations. This reception marked the first opportunity for the American and Japanese delegations to meet one another as well as network with a variety of professionals in Tokyo. The American delegation visited Hiroshima and Tokyo from July 27-August 3, and the Japanese delegation will visit Seattle and Washington D.C. from September 8-16.
After an introduction from John Nylin, Ambassador John V. Roos expressed his support for the program and the TOMODACHI Initiative. He explained the importance of the U.S.-Japan relationship and advised the younger generation that "the future of the Japan-U.S. relationship – the future of half the world's global economy, and the peace and security of this region – is on your shoulders."
Representing Mitsui & Co., Masayuki Kinoshita remarked, "At Mitsui, we believe it is our mission to develop a person with a deep understanding of the local language, history, and people. This program is directly aligned with our values. We have maintained a philosophy of freedom and open-mindedness to consider the opinions of each and every people. I hope that everyone can freely share their thoughts, appreciate each other's diverse values, and foster a greater level of knowledge."
September Secrist from the American delegation and Hiroyuki Karahashi from the Japanese delegation shared their gratitude for the opportunity to participate in the program and expressed their optimism about their interactions with one another.
Deputy Chief of Mission Kurt Tong led the reception guests in a toast to friendship, then reception guests enjoyed sake tasting, featuring sake from the hometowns of the Japanese delegates.
Earlier in the week, the American delegation participated in a breakfast reception at the ANA Intercontinental Hotel. Foreign Service Officers from the Political, Commercial, Economics, and Public Affairs sections of the Embassy explained the work of their section, then the TOMODACHI team led the group in a round of jeopardy to test their knowledge of the U.S. Embassy in Tokyo.