TOMODACHI Generation: Kumpei Iki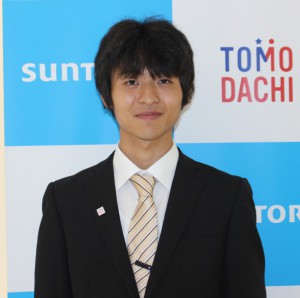 Kumpei Iki is a clarinetist who currently attends the Koyo Conservatory, a Berklee International Network school in Japan.  He loves old swing music but he loves creating his own sounds.  When asked what he will bring to Berklee he answered: "my Japanese samurai culture."  He wishes to collaborate with American musicians and create a fusion of American and Japanese music. 
 For more information on the TOMODACHI Suntory Scholarship Fund, click here
About Kumpei Iki
Q: What are you most looking forward to in this program? 
A: I am really excited about going to Berklee and learning new things that I would not be able to learn in Japan.   I am a bit nervous about going on my own.  However, through this opportunity that TOMODACHI has provided me with, I cannot wait to interact with people from different cultures. 
Q: Through this scholarship, how do you hope to one day contribute to Japan? 
A: There have been many times where I was saved by music. Whenever I felt down or was going through a rough patch, listening to the music of experienced musicians cheered me up and helped to get me back onto my feet.  This incredible power of music has is what motivates me to continue studying music to this day.  One day, I want to be the one giving courage to not only the younger musicians but also to other people through my performances.  Ultimately, I hope that I will be able to somehow contribute to improving and developing Japanese music and culture. 
Q: What do you think of Suntory's Music Department's goal to cultivate cultural understanding through music? 
A: During my high school and middle school ages, I played in the brass band club and really enjoyed listening to Orchestra music.  Suntory Hall is an incredible Hall with amazing acoustics and has attracted some of the most influential Japanese and International musicians.  I really appreciate Suntory for all that it has done for the music industry and also the TOMODACHI Initiative for fostering and supporting young, aspiring musicians like me.  
Q: What has been your favorite musical piece that you have ever performed?  How do you think this musical piece represents you?  
A: I have a lot of favorite pieces, but probably the one that stands out the most is a famous Clarinet piece called "Memories of You."  During high school, I went on a band trip with my brass band to Switzerland.  This was the first time that my bandmates and I played Jazz together, and the song that we played was "Memories of You."  We jammed to this song during our free time.  One day, at a bar where cast members often gathered, I was urged to perform a song in front of everybody.  Playing "Memories of You" at that bar was my first ever experience performing in front of people.  Ever since that experience, I have played "Memories of You," at every one of my performances and the song has become incredibly valuable and symbolic to me.