Next Generation Summit 2022: The New Age of Leadership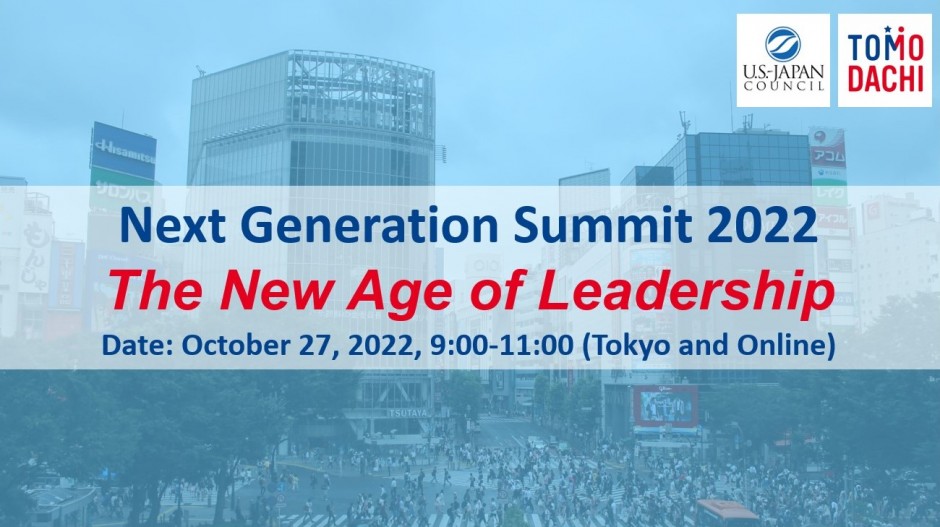 About Next Generation Summit 2022
For the first time since the pandemic hit, we are bringing people together both in-person and virtually at the Next Generation Summit (formerly TOMODACHI Summit) in Tokyo on October 27th, 2022. The Summit is an annual gathering for TOMODACHI alumni to reconnect, inspire and learn from each other.
It also provides the opportunity for these next-generation leaders to meet new people from the USJC community, Watanabe scholars, and supporters of the TOMODACHI Generation from the general public representing various industries. 
This year's theme is "the New Age of Leadership". The new age refers to a constantly changing society in which new ideas and flexible thinking make an impact. Alumni speakers from various backgrounds and industries will present their commitment and activities aligned with this theme.
The two-hour session provides for attendees to hear from emerging leaders who are active in various fields. 
At the beginning of the Summit, a joint statement will be announced between the U.S. Embassy in Tokyo and the Embassy of Japan in the United States to support the new TOMODACHI Alumni Regional Framework. 
There will be an opportunity to get to know the 12 Regional Representatives who represent the five regions of Japan and the four regions in the U.S. who will share various activities done and opportunities available in each of their regions. 
The second half will focus on the theme "Community Leadership: Building an Impactful Society to Change the World". It will feature a panel of three speakers who are all TOMODACHI alumni and leaders in their community. They will be sharing their best life hacks, current trends within their industry, and their personal lessons learned in the 40-mins panel. 
Schedule of the Event
9:00 Opening Plenary 
9:10 TOMODACHI Alumni Regional Framework Session
9:50 Graphic Recording
10:00 Panel: Community Leadership: Building an Impactful Society to Change the World
10:40 Graphic Recording
10:43 Closing Remarks
10:48 Group Photo
11:00 Event Ends
Registration
Please sign-up here.
Speakers
Master of Ceremony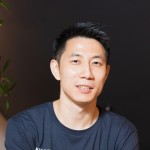 Will Tian
Will Tian is an alumnus of the 2016 TOMODACHI Daiwa House Student Leadership Conference in Washington D.C. and was part of the planning committee of the 2018 TOMODACHI Summit in Tokyo. Prior to relocating to Tokyo, Will was based in Kyoto for five years, where he was an active supporter of the TOMODACHI regional activities in the Kansai region. Currently, Will works as a software analyst for Station Digital Media in Tokyo, where he collaborates with Japanese automotive companies for B2C solutions. Outside of his professional career, Will is a strong advocate for culture exchange through basketball. He leads several amateur teams of international players to participate in basketball leagues and tournaments all over Japan. Will holds a Bachelor of Arts from the Universities of North Carolina at Charlotte majoring in Japanese Language and Culture Studies. While in undergrad, he completed a one-year study abroad program at Doshisha University in Kyoto, Japan.
Moderator
Koh Matsuki
Koh was the 2017 TOMODACHI Alumni Regional Leader of the Kansai Region, and initially joined the TOMODACHI Generation by taking part in the TOMODACHI Alumni Internship Program. He is currently the President of Proxy Watcher, Inc. where he supports dialogue between asset managers and Japanese companies that put an emphasis on ESG investment.  
While at Kwansei Gakuin University, he studied abroad in Washington D.C. and Berlin where he reported on international affairs and the refugee crisis. Upon graduating, from 2018 to 2020, he worked at Nikkei Shimbun as a writer and reported on the account statements of the listed companies and M&A (Mergers and Acquisitions), and was also in charge of editing online media and prints. For the Next Generation Summit, Koh will be moderating the panel titled "Community Leadership: Building an Impactful Society to Change the World."
Panelists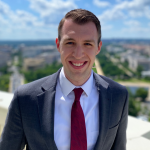 Colin Timmerman
Colin Timmerman is an alumnus of the TOMODACHI Daiwa House Student Conference V held in Chicago in 2017. He currently represents the United States Congress in Tokyo, Japan as a member of the 26th Class of the Maureen and Mike Mansfield Fellowship which includes placements in Japan's Ministry of Foreign Affairs, Ministry of Defense, and the National Diet. Previously, Colin worked as an advisor on foreign affairs and defense issues for Congresswoman Young Kim (CA-39) with a focus on Indo-Pacific security issues and enhancing trilateral US-Japan-ROK cooperation. Colin has also participated in the 2018 USJC Annual Conference in Tokyo as part of the TOMODACHI Generation. Colin is an Iowa native and received a B.A. in Political Science from Drake University with a triple minor in Data Analytics, East Asian Studies, and Japanese Language.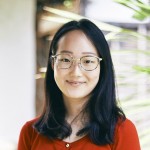 Hikari Igarashi
Hikari Igarashi is an alumna of the 2014-2015 TOMODACHI MetLife Women's Leadership Program. As the Executive Director of NPO Women's Eye, a nonprofit organization supporting women in Tohoku, she has contributed to the Single Mother Research Project that researches the impact of COVID-19 among single-mother households in Japan. Hikari holds gender equality and inclusive community development as core values and works for two other non-profit organizations: Single Mother's Forum and Human Security Forum. In addition, she is aiming to launch a P2P sharing web application that envisions a society where all people can access the resources they need and take a step forward believing in themselves. 
Music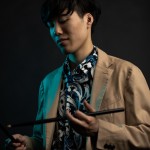 Gen Yoshimura 
Gen Yoshimura is an alumnus of the TOMODACHI Suntory Music Scholarship Fund in 2016 which made it possible to study abroad at the Berklee College of Music in Boston. As the drummer and composer, he plays with many worldwide musicians and groups. He played in an album "The Possibility of Change – Fernando Huergo Big Band" and it was selected for JAN Best of Jazz 2020. While studying at the Berklee College of Music, he visited Quito, Ecuador to conduct the school's Workshop & Audition Tour as an instructor and gave the ensemble master classes and the group lesson for the drummers.
For the Next Generation Summit 2022, he provides his original compositions titled "Unity" and "Where You Want To Be" which are played during the introduction and end of the event. Originally from Hokkaido, Japan, Gen holds a Bachelor of Music (performance) from the Berklee College of Music and a Master of Music (performance) from the Longy School of Music of Bard College (anticipated 2023).