USJC and Partner Organizations Gather to Commemorate March 11, 2011

On March 10 (March 11 in Japan), the U.S.-Japan Council, together with other U.S.-Japan-related organizations, held a virtual event to commemorate the 10-year anniversary of the Great East Japan Earthquake of March 11, 2011 and honor the lives lost in the triple disaster. Attendees tuned in for this event in which several prominent figures in the U.S.-Japan relationship recalled their memories of 3.11 and considered the future of the U.S.-Japan alliance.
The speakers included former United States ambassadors to Japan, former and current Japanese ambassadors to the United States, mayors of cities impacted by the triple disaster, leaders in the U.S.-Japan community and TOMODACHI program alumni.
One of the first speakers was Jin Sato, Mayor of Minamisanriku Town, Miyagi Prefecture (2005-present), who wanted to "convey our heartfelt appreciation for the great kindness we received from our American friends" immediately following 3.11.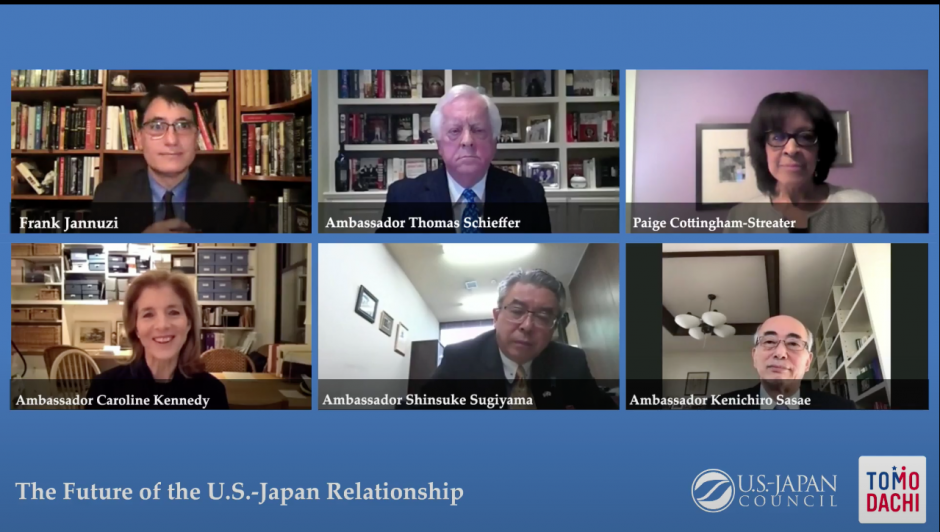 The first panel discussion of the event featured John V. Roos (United States Ambassador to Japan, 2009-2013), Ichiro Fujisaki (Japanese Ambassador to the United States, 2008-2012) and moderator Karen Kelley (Senior Foreign Service Officer and East Asia Bureau Senior Advisor for Diversity and Inclusion, U.S. Department of State). Ambassadors Roos and Fujisaki described their most striking memories of 3.11 and the recovery effort. Ambassador Roos noted that the "amount of devastation was something I had never seen in my life." Ambassador Roos also discussed the creation of the TOMODACHI Initiative and said, "We hope to have created a TOMODACHI Generation that will bridge the people-to-people connections between our two countries for years and decades to come."
Later in the program, a second panel discussion featuring Caroline Kennedy (United States Ambassador to Japan, 2013-2017), Kenichiro Sasae (Japanese Ambassador to the United States, 2012-2018), Shinsuke Sugiyama (Japanese Ambassador to the United States, 2018-2021), and Thomas Schieffer (United States Ambassador to Japan, 2005-2009) was co-moderated by Frank Jannuzi (President and CEO, The Maureen and Mike Mansfield Foundation) and Paige Cottingham-Streater (Secretary-General, U.S. CULCON Panel & Executive Director, Japan-U.S. Friendship Commission).
The panelists discussed the future of the U.S.-Japan relationship and potential ways to strengthen the alliance. Among the ideas brought forward were increasing access to study abroad programs and investing in people-to-people relationships. Regarding the U.S.-Japan alliance, Ambassador Kennedy said, "If we want to sustain the benefits that our alliance brings to each of our countries and each of our peoples, education and paying it forward to the next generation is really something that we have to take very seriously."
The highlight of the event was hearing from two TOMODACHI alumni Ryota Konno and Miyu Sugita, who are both from the Tohoku region. Mr. Konno, an alumnus of the TOMODACHI Summer 2012 Coca-Cola Educational Homestay Program who is originally from Namie Town in Fukushima Prefecture, deemed part of the Exclusion Zone, shared how the various programs he took part in "gave [him] the strength to give back to [his] hometown and to society." Since then, he has returned to his hometown and has begun working at Namie Town Hall.
Another TOMODACHI Alumna, Miyu Sugita, participated in the TOMODACHI Dallas-Sendai Young Ambassador's Program 2015. Originally from Miyagi Prefecture, she joined the virtual event from Washington D.C., where she is taking classes and teaching Japanese culture to younger students. She commented that so many people she met through TOMODACHI inspired, encouraged, and supported her. She also shared her willingness to give back to improve interactions between various cultures at the grassroots level.
This event is available to watch online here.