TOMODACHI Alumni Meet with the Founder of 21 Foundation Patrick Newell at the 20th U.S.-Japan Council Business Advisory Board Meeting
On February 19, four TOMODACHI program alumni were invited to attend the 20th U.S.-Japan Council Business Advisory Board (BAB) Meeting in Tokyo, joining industry leaders for a keynote speech by Mr. Patrick Newell, Founder of 21 Foundation and Future Vision Navigator.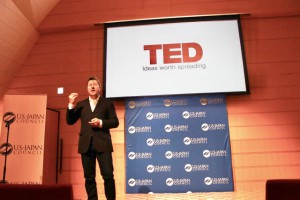 After asking the audience about their own vision of 2030, Mr. Newell shared the results of a survey he recently conducted to find views on the future of Japan. Most respondents answered that Japan will be radically different by 2030, envisioning widespread use of AI and employees that work remotely and have more free time.
Yet, Mr. Newell noted, Japan faces several challenges to achieving this vision, like a lack of diversity and a shrinking workforce, while exponential technological development will soon dramatically impact every industry. He believes companies must "be disruptive" and innovate in order to overcome these challenges and shifts.
As Japan is a rule-focused society, Mr. Newell suggested the government should lead the way, creating new policies regarding issues like gender equality, the environment, and AI that will encourage companies to be more forward-looking and bridge the gap between the current situation and Japan's vision of 2030.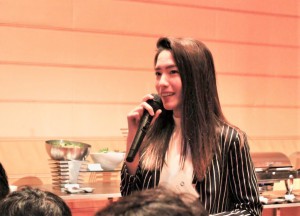 Following his talk, the TOMODACHI alumni were eager to ask questions. TOMODACHI Daiwa House Student Leadership Conference alumna Clarice Cross asked how people can become interested in using AI and technology not just for business, but also in areas like disaster prevention and relief. Mr. Newell responded that he was glad to see companies are already shifting their thinking, but hopes the government will take the lead on this issue.
Reflecting on her own experience, Megumi Kiriha, a TOMODACHI MetLife Women's Leadership Program alumna, said that though her company promotes innovative thinking, there were still advances to be made and that hearing the talk encouraged her to think outside-the-box.
In addition to enjoying Mr. Newell's thought-provoking speech, the alumni appreciated the opportunity to network with USJC leadership and business executives spanning diverse industries from both the U.S. and Japan. This was the tenth time TOMODACHI Alumni were invited to join executives as representatives of the future of U.S.-Japan leadership.