TOMODACHI High School Women Career Mentoring Program in Fukushima 2019 supported by the TOMODACHI Combini Fund: In STEP4, Participants Share Lessons to Young Peers at KIKKAKE LIVE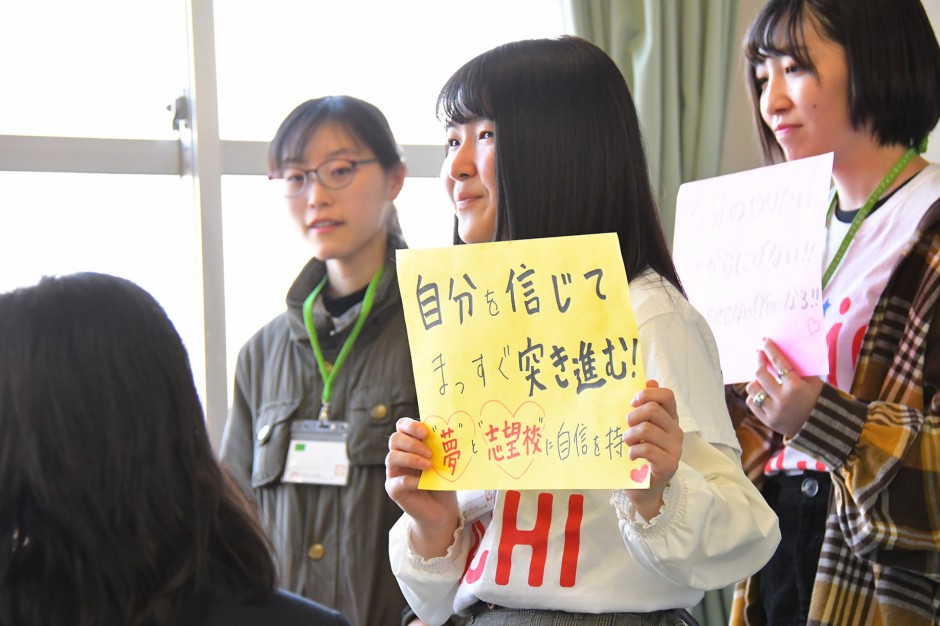 The TOMODACHI High School Women Career Mentoring Program in Fukushima 2019 supported by the TOMODACHI Combini Fund STEP 4, took place at Higashi Nippon International University's Kamata Campus in Iwaki, Fukushima Prefecture from February 1 to 2, 2020.
On the first day, participants shared the lessons they learned from STEPs 1 through 3 and discussed  messages, such as their future goals, that they hoped to present to female high school freshman students the following day. During rehearsal, participants explored the best ways to share their differences while giving each other constructive feedback throughout their discussion.
The event KIKKAKE LIVE ("An Opportunity to Make Oneself and Make a Future: LIVE") was held on the second day,  where participants presented their six months' worth of learning from the program to an audience of freshmen women.  Before the event, sophomore students held pre-orientation meetings at local high schools and used social media to spread information about the event. Through their efforts, 127 female freshman students came to attend KIKKAKE LIVE.
Prior to the session, mentors, university and vocational school students, all TOMODACHI alumni (past program participants), held a session to share "stories of challenge" from their high school days. Exchange students from the United States, China, India, and Taiwan, and female employees from All-Nippon Airways Co., Ltd., Mizuho Bank, Ltd. and the U.S.-Japan Council (Japan) gathered to talk to high school students about their own high school careers. Afterwards, sophomore students shared their personal stories to the freshman attendees.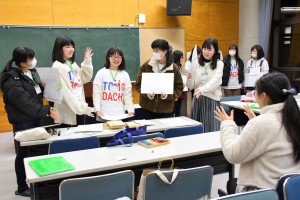 Each group incorporated skits, songs, dances, and quizzes into their presentations to convey what they learned from the program, with messages such as "Find something only I can do and do it!" "Try and fail many times but keep trying until you succeed," and "Don't be afraid to be positive and be yourself." Finally, the freshman students shared what they learned from the sophomore students' presentations, including: "Believe in yourself and stick with it until the end," "If you're going to do something, go for broke!" and "Even one small step forward will give you value in life." Having seen that their messages resonated with the freshmen, the sophomore students felt a great sense of accomplishment.
When asked to reflect on the half-year program, one sophomore participant shared, "The preparation for KIKKAKE LIVE was more difficult than I expected, but through trial and error my team and I were able to give a great presentation. It's difficult to put my thoughts, feelings, and things I've learned so far into words, but I truly feel that this has been a very valuable experience for me."
We believe all of the participants will appreciate every lesson, encounter, and opportunity they had during the program and we hope they will continue to live enthusiastically by staying true to themselves.
This program is funded by the TOMODACHI Combini Fund, which is supported by FamilyMart Co., Ltd. and Lawson, Inc.