Final Session of the 9th U.S. Embassy-Keio SFC-TOMODACHI Entrepreneurship Seminar:Three Teams with the Best Business Plans Selected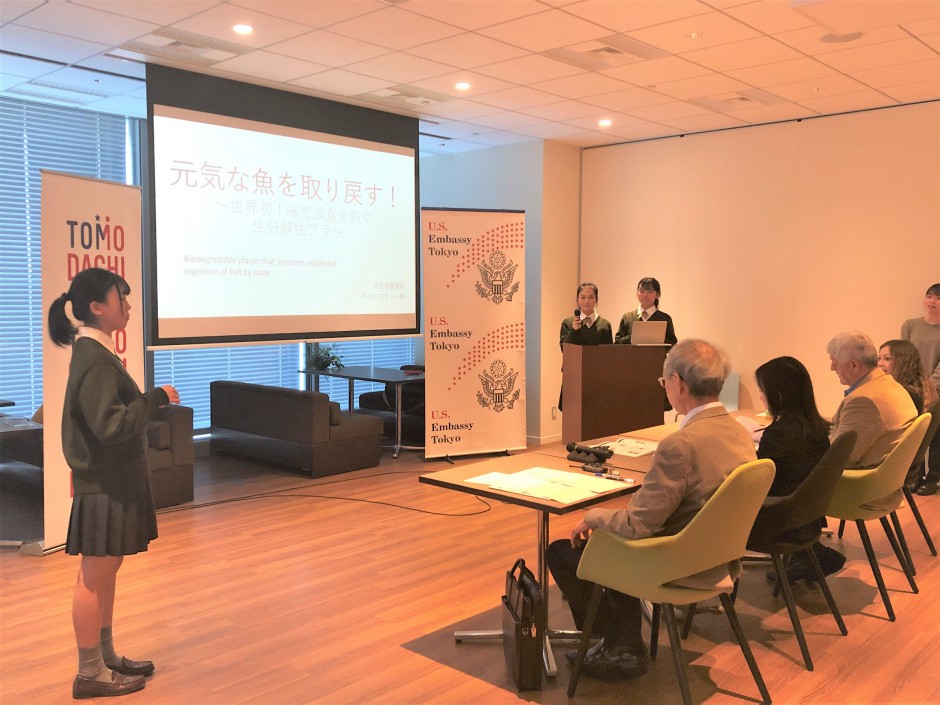 On December 14, 2019, the final session of the 9th U.S. Embassy-Keio SFC-TOMODACHI Entrepreneurship Seminar was held in Tokyo. In the final review, the six teams that were selected to participate based on the mid-way review in August presented their business plans to a committee.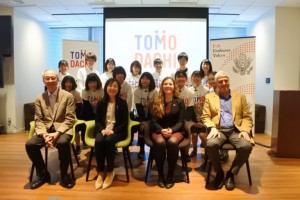 Between the main seminar in August and the final review, the students implemented a variety of ideas to improve and finalize their business plans. To prepare specific products and services, they relied on customer research and several interviews with specialized agencies and relevant companies. As they worked to brush up their ideas, some teams faced conflict over differing points of view. But finally, each team was able to cooperate and finalize their plan together through perseverance. In the end, each team presented an exciting and interesting plan.
The three following teams were selected for having the best business plans during the final review:
Senzoku Gakuen High School "Fish Rescue Team"
Many fish die after accidentally swallowing plastic waste. This is a tragedy for fish lovers like us. Production of biodegradable plastics has progressed recently, but these plastics still take significant time to decompose and can still be accidentally swallowed by fish. We fish lovers developed the idea of ENEFISH, the world's first biodegradable plastic with a natural ingredient that repels fish, and created a plan to lessen the chance of fish swallowing our plastic.
Kyoto Prefectural Kizu High School "Social Business Research Team"
We suggested a plan to address the issue of microplastics through the use of persimmons. Thanks to the persimmon tannin's unique polymeric structure, it can provide a durable coating for paper products. We plan to use this unique aspect of the persimmon to create a substitute for disposable plastic products.
Yokohama City Minami High School "Masudaburu"
We plan to use mung bean powder as a method of heatstroke prevention. Developing mung bean powder and sharing its benefits with the world will create a society with zero heatstroke patients, where people around the globe can live freely and without worry.
These three teams will participate in a week-long study tour in Silicon Valley from February 9 to 15, 2020. Each team hopes to further their business plans by experiencing diverse international perspectives. Meanwhile, the other teams that narrowly missed being selected as finalists will receive ongoing support for their plans from the program.
One of the participant commented, "It was a valuable experience for me to be able to make a plan and grow through this seminar. Thank you for the support and I encouragement I felt in each session. Now I'm doing my best to give structure to my ideas."
The participants of this program will connect with one another to network as TOMODACHI Alumni. Through the students encouragement of one another, and ongoing connections with professional mentors, it is expected that many of the students will become leaders who develop leadership skills and entrepreneurship, and positively influence one another in Japan and the U.S.
This program is made possible by generous support from the Boeing Company.