TOMODACHI Alumni Meet with JAXA Astronaut Dr. Koichi Wakata at the 18th U.S.-Japan Council Business Advisory Board Meeting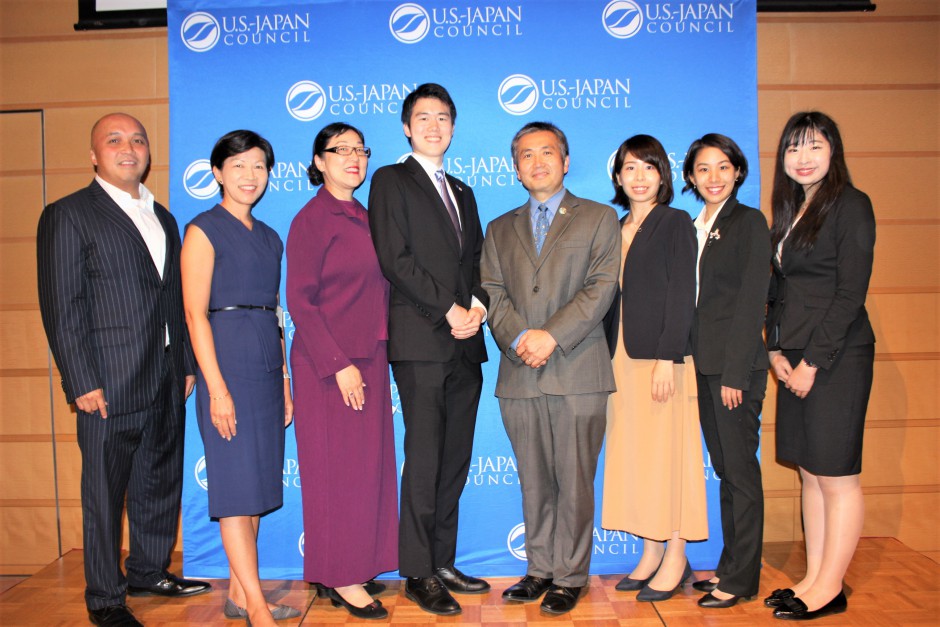 On September 11, 2019, four TOMODACHI program alumni were invited to attend the 18th U.S.-Japan Council Business Advisory Board (BAB) Meeting in Tokyo, which was attended by over 50 industry leaders and featured a keynote speech delivered by Dr. Koichi Wakata, JAXA Vice President and record-holder for longest space-flight by a Japanese astronaut.
Dr. Wakata went into specifics about his training for JAXA, especially its emphasis on teamwork. He explained that teamwork was critical to mission success, as any tension that might crop up would be substantially amplified by the narrow confines of the ISS and the long duration of the trip. Dr. Wakata also explored the commercial applications of space exploration, predicting that rather than space tourism, the greatest profit in the near future would be found in utilizing LEO (Low Earth Orbit) for marketing and scientific research by private entities.
After his speech, Dr. Wakata received several questions from TOMODACHI alumni.
Aino Ohwada, a former participant in both the Building the TOMODACHI Generation: Morgan Stanley Ambassadors Program and the TOMODACHI Sumitomo Corporation Scholarship Program, asked Dr. Wakata how his experience affected his perspective on commerce and economics. He responded by explaining that the view of Earth at night was most illuminating for him, as he realized how brightly lit first-world countries were compared to third world ones, convincing him of the importance of helping developing and underprivileged countries.
Reflecting on his experience, TOMODACHI Toshiba Science & Technology Leadership Academy alumnus Takahiko Shibata said that the speech was an experience he will cherish for the rest of his life; as an aspiring astronaut himself, he stated that Dr. Wakata is his role model and he was grateful to get the chance to speak with him in an intimate environment.
In addition to hearing Dr. Wakata's impressive speech, the alumni appreciated the opportunity to network with USJC leadership and business leaders spanning multiple industries from both the U.S. and Japan. This was the eighth time TOMODACHI alumni were invited to join executives as representatives of the future of U.S.-Japan leadership.