Female Students Meet with Professional Women in Step 3 of the TOMODACHI High School Women Career Mentoring Program in Fukushima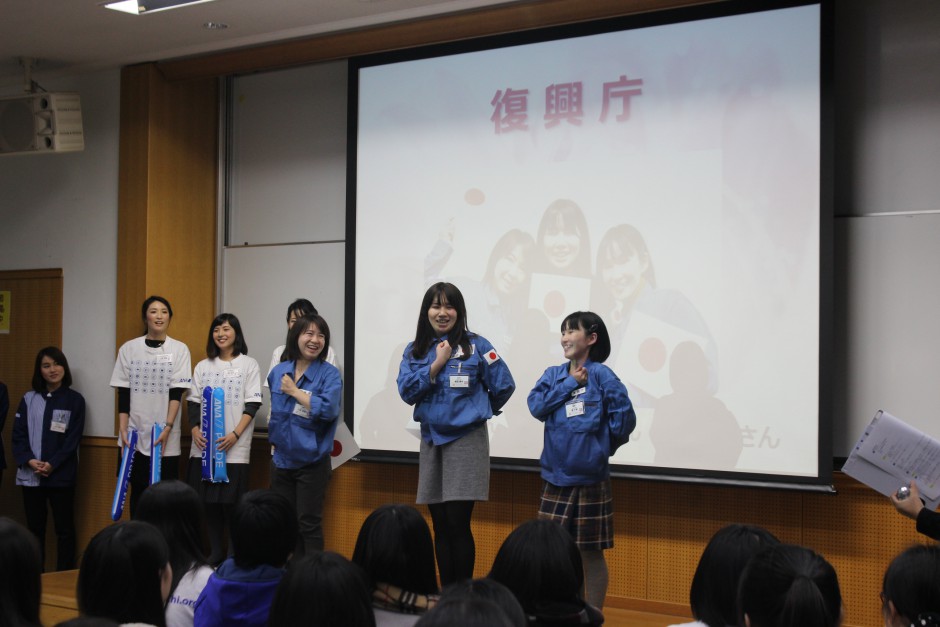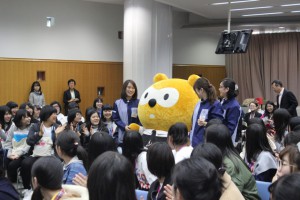 From December 17-18, 2016, the third phase of the TOMODACHI High School Women Career Mentoring Program in Fukushima 2016 took place at the National Olympics Memorial Youth Center in Yoyogi, Tokyo. This year, the participating high school students interacted with 23 professional women represented by TOMODACHI partners and donors, including All Nippon Airways Co., Ltd., Dow Chemical Japan Limited, Kikkoman Corporation, Lawson, Inc., Northrop Grumman Japan, Pasona Inc., and the Government of Japan's Reconstruction Agency.
Before the session began, the participants shared  the results of the challenges they had decided on overcoming during the second phase of the program. The students expressed overcoming challenges through performances in hula dancing, singing with a guitar, and doing rakugo (the traditional Japanese art of storytelling). Other students reported that she submitted an essay to a newspaper and got it published, and another student revealed that she put together a presentation about her future dream and convinced her parents to support her. After sharing their accomplishments, the participants applauded each other.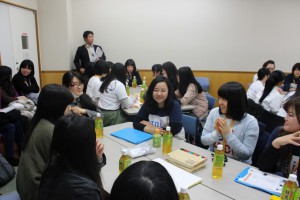 During the second part of the session, the 23 professional women took the stage and gave a talk based on the theme, "Choices for My Future." They talked about the roles their companies and organizations play in society, what they have learned through being in the workforce, and their life stories.
Afterwards, the participants split into groups and discussed what it takes to become a leader in the future. The following are some of the answers that were turned up: "Respect your own opinion other people's opinions." "Believe in your infinite possibilities." "Always be thankful; be yourself and don't be influenced by what others think of you." "Do your best at whatever tasks you currently have, and always follow your own principles."
The following comments are from the students who participated in the program:
"I was surprised to hear that even successful professionals experience setbacks and failures. However, they taught us that in difficult times, it is important to rely on other people and try to understand others. I would like to keep that in mind for the future."
"Today's session made me think about my future self again. No one knows for sure what will happen to my future; I would like to believe in my possibilities and keep following my dreams."
"It was a lot more thought-provoking than I thought it would be. I am glad that I know what I would like to do in the future now."
"People face and overcome many challenges; hearing the professionals talk made me feel like I can overcome whatever difficulties I might come up against, as long as I try my hardest. I had a negative impression about being in the workforce before today's session, but I admire professional women now."
By interacting with these vibrant professional leaders, the students discovered their own role models during this two-day workshop.
On the second day of the program, they worked on their presentations for the high school freshmen. After each team presented their projects, each school got together and discussed strategies to promote their projects. "Let's hold a school information session." "Should we try to get permission from teachers to put up our posters on their bulletin board?" "Why don't we make announcements at schools?" were among the ideas the students suggested.
The fourth and final phase of the program will be held in Iwaki, Fukushima on January 28 and 29, 2017. On January 29, an event entitled, "Making Yourself, Making the Future" will be organized by the students and they will present what they learned through the program to high school freshmen. The participants will share what they learned during the program, how they have been impacted, and deliver a message to the younger students.
"Making Yourself, Making the Future"
Date/Time: Sunday, January 29,2017,  12:30pm-5pm
Venue: Iwaki Cultural Center
Participants: Female high school students enrolled in schools in Fukushima prefecture who are in their freshman year
Participation Fee: Free
For more information, click here. (Japanese only)