International Students Conduct Session for Phase Two of the TOMODACHI High School Women Career Mentoring Program in Fukushima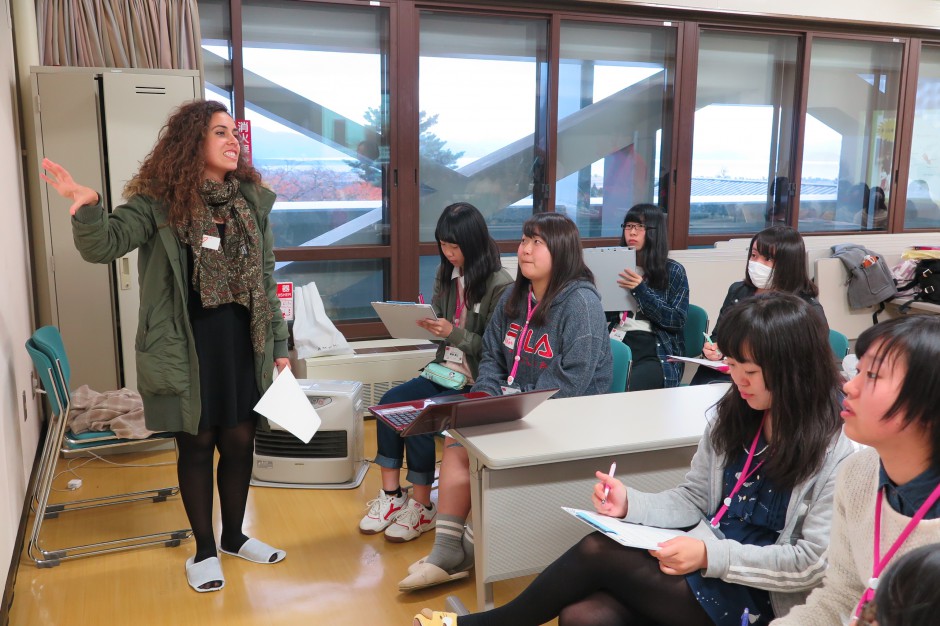 The TOMODACHI High School Women Career Mentoring Program in Fukushima Phase 2, a session with international students, took place from October 31-November 1, 2015.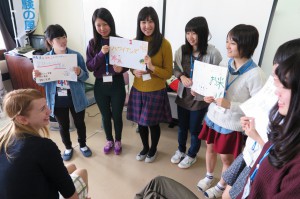 In this session, twenty female university exchange students from 14 countries, including the United States, met with the program participants and had discussions under the theme of "Challenge."  The international students acted as student mentors, sharing stories about their dreams and the careers they were considering prior to studying abroad, and what they learned from their experiences in Japan.
The international students talked about tackling challenges such as family opposition to studying in Japan due to their country's economic and political situation differing from Japan and the efforts they made on overcoming this opposition.
After listening to the international students' speeches, the high school participants presented in teams about their ideas on what they believe is important when entering a new challenge.  Many thoughts were shared, such as the importance of not fearing failure, don't miss chances, and treasuring the people that surround you.  
For the next phase, Step 3, students are required to come up with a new challenge of their own.  The challenges that the international students had shared mentors' high school challenges served as great reference.  Such challenges were "participating in a TOMODACHI short-term study program, and becoming a storyteller" and "having courage to come forward as a candidate for student council president." By listening to stories of their mentors', students came up with their future challenges, and declared that they will "volunteer at temporary housing" "learn Hangeul and write letters to South Korean students" "seek advice from seniors that belong to a interesting faculty".
Throughout the two days, students gave opinions as follows:
"The international students all have different challenges, but their determination is no different than us. I realized I wasn't the only one facing tough challenges, and have decided to make a positive change."
"I reconfirmed that Japan is a part of global society. Although our worlds are connected, effort is needed to become a member of global society."
"Until today, I always denied my possibilities. However, after listening to the experiences of the international students, I learned that what is important is not whether I can or cannot do something, but is to make the first move."
These sessions were full of discovery not only for the high school students, but also for the mentors who supported the participants, as well as the international exchange students.
The third phase of this program, themed "Sessions with Professional Women" will be held on December 19 – 20, 2015. The session is supported by eight corporations, including TOMODACHI strategic partner companies such as Lawson Inc. and FamilyMart Co., Ltd of the TOMODACHI Combini Fund. During the session, participants will meet with professional business women and discuss making their own choices for their future.
This program is funded through the TOMODACHI Combini Fund which is supported by Lawson and FamilyMart Co., Ltd.