TOMODACHI Alumni Meet the U.S. Ambassador-At-Large for Global Women's Issues in Japan At WAW! Tokyo 2014 Event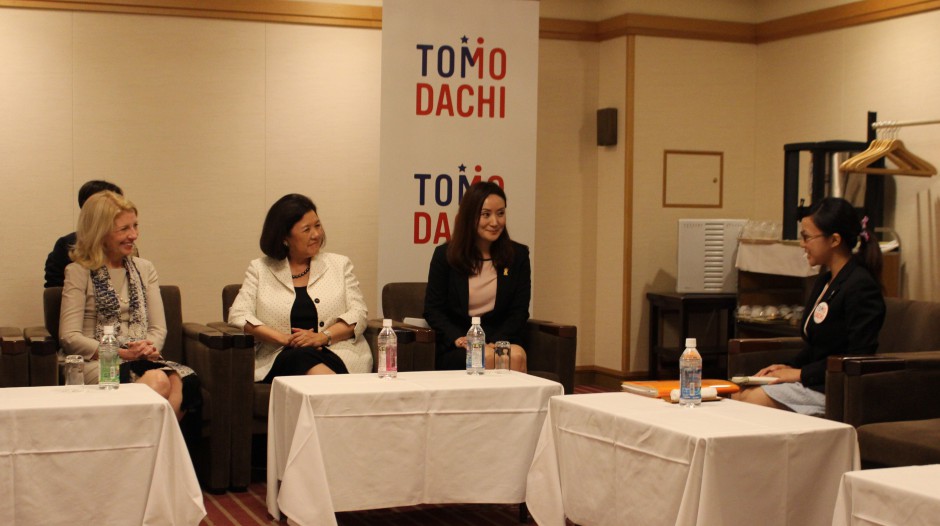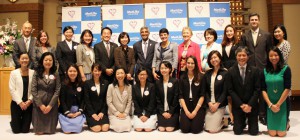 On September 11, TOMODACHI alumnae participated in a World Assembly for Women in Tokyo (WAW! Tokyo 2014) official side event hosted by MetLife Insurance K.K. (MetLife).  Chairman, President, and CEO of MetLife, Sachin Shah gave opening remarks for the MetLife symposium which focused on the issue of female participation in the workforce.  Guest speakers included U.S. Ambassador-at-Large for Global Women's Issues, Catherine Russell; Japan's Ambassador for Women, Human Rights, and Humanitarian Affairs, Kuni Sato;  Executive Director of the Board of HSBC Asia-Pacific, Naina Lal Kidwai; Executive VP of Global Employee Benefits at MetLife, Maria Morris; and Managing Director of JP Morgan Securities Japan, Jesper Koll. Shah urged the men in the audience to play an active role in fostering change and to be supportive of their female leaders, colleagues, staff, and family members. Kidwai emphasized the importance of sharing stories of successful women in the workforce to share best practices and inspire others through online communities. Koll observed that "the glass ceiling is often in our own heads" and encouraged the audience to aim high and take risks.
TOMODACHI alumnae participated actively in the Q&A session, and posed challenging questions for the guest speakers on the critical issue of expanding female participation in the workforce, particularly in leadership roles. 
Prior to the symposium TOMODACHI Generation alumnae, including mentors and mentees from the TOMODACHI MetLife Women's Leadership Program, also had an opportunity to engage in an intimate discussion with Ambassador Russell and USJC President Irene Hirano Inouye about women's empowerment. Participants shared their views on the way forward in Japan, and solicited advice on a wide range of issues related to women's leadership.