TOMODACHI Lawson High School Women Career Mentoring Program in Tohoku: Learning from International Students and Professionals Prompts Students to Consider Their Futures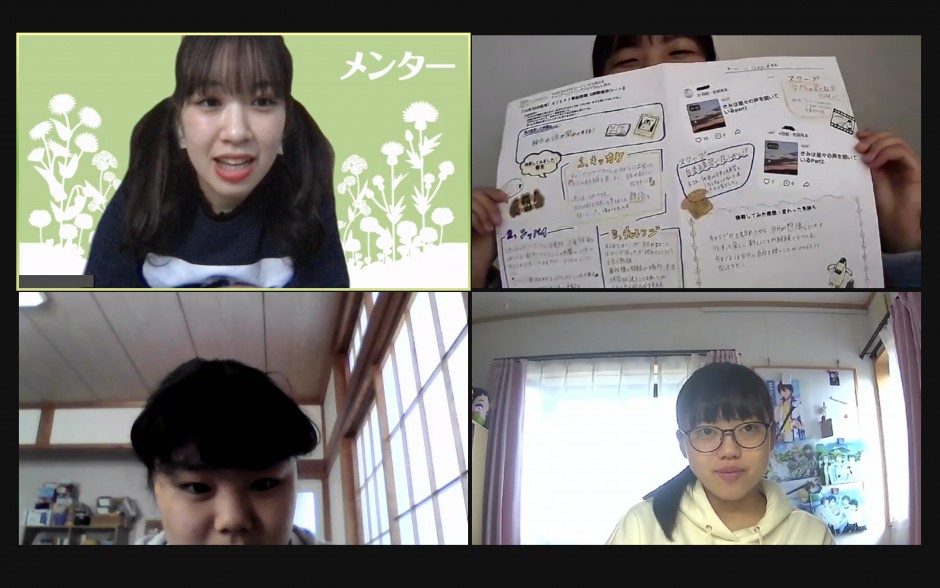 STEP 2 and STEP 3 of the TOMODACHI Lawson High School Women Career Mentoring Program in Tohoku took place on September 18-19, 2021 and October 30-31, 2021 respectively. About 80 high school students from Iwate, Miyagi, and Fukushima Prefectures participated in the program. These students have been participating in the program since August 2021.
STEP 2, titled "Session with International Students Challenging Themselves outside Their Comfort Zones," took place in September. A total of 15 students, including international students from the United States, South Korea, Taiwan, France, India, Singapore, and Thailand who are studying in Japan and Japanese students who have studied abroad, gave presentations on the challenges they experienced during their time abroad. After listening to the stories, the high school students analyzed what is important when they dive into new environments. Students noted that it is important to  "make extra effort to do what you want to do," " believe in yourself no matter how sad you may feel," and to " seek discomfort."
In October, STEP 3 titled "Session with Female Professionals in Japan and Overseas" hosted 9 businesswomen who represented various companies including Amazon Web Services Japan K.K., Major League Baseball Japan (MLB JAPAN), Kikkoman Corporation, Dow Japan Group, The Boeing Company, Takeda Pharmaceutical Company Limited, Lawson, Inc., Lawson Entertainment, Inc., and Lawson Bank, Inc. 6 program alumnae also shared their experiences of encountering and overcoming obstacles as working women. One of the high school students noted that, "this session enabled me to learn and think about what I want to cherish when I grow up and what I want to prioritize in the future." Another student said, "My initial impression of the term 'businesswomen' was that they were cool, but I didn't have much of a concrete image beyond that. Listening to their stories, I learned about the difficulties and worries they encountered while they were working. I think I have a better picture of working now."
This 4-step program will wrap following the final workshop, titled STEP 4: "Planning and Implementing a Career Event Using Lessons Learned" on December 25 and 26. Participants will invite their friends in order to present what they learned and share their future aspirations in the form of presentations, which will take place on December 26, 2021.