About 80 Students Challenge Themselves Through a Dance and Music Workshop as STEP 1 of the TOMODACHI Lawson High School Women Career Mentoring Program in Tohoku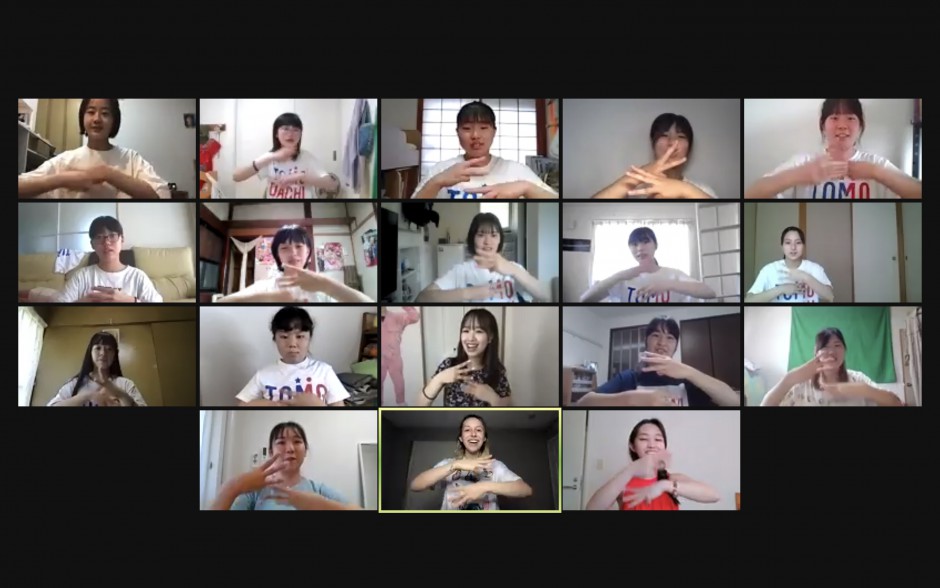 On August 9 and 10, 2021, STEP 1 of the TOMODACHI Lawson High School Women Career Mentoring Program in Tohoku, titled Global E-Workshop was held online. About 80 high school students from Iwate, Miyagi, and Fukushima Prefectures attended.
During this program, which provides career support for high school students over the course of five online sessions, the participants learn the importance of challenging and expressing themselves. The participants are divided into groups of five to six. Fifteen current university and technical school students, who are TOMODACHI Alumni from the Tohoku region support each of the groups as mentors. In addition, three university students from Tohoku organize and facilitate the program as Program Assistants.
The Opening Session and Team Session were conducted virtually on August 1 prior to STEP 1. The students used the time to meet one another and decide on their respective group names and slogans. They also shared the ways they hoped to grow and change throughout the program with their fellow participants.
STEP 1 consists of a two-day self-expression workshop where the students attempt to challenge themselves through singing and dancing, and a Watch Party in which participants watch the show that is comprised of videos of their performances during the workshop and videos the students filmed individually. At the workshop led by HEART Global, whose cast joined from all over the world, the participants attempted to learn singing and dancing, sometimes in English and sign language. At the Watch Party which was held on August 29, participants gathered to watch the show and shared their thoughts following the show's conclusion.
Following STEP 1, one of the students commented, "The phrases [the cast repeatedly utilized throughout the program] 'Believe in yourself even if others don't,' and 'Believe in your possibilities,' really touched me deeply. I didn't think I was good at believing myself and was scared to do so, but I was able to, and was glad to take a small step forward."