Alumni Look Back on Their TOMODACHI-Mitsui & Co. Leadership Program Experiences and Share the Impact on Their Careers with the Donor in Online Meetings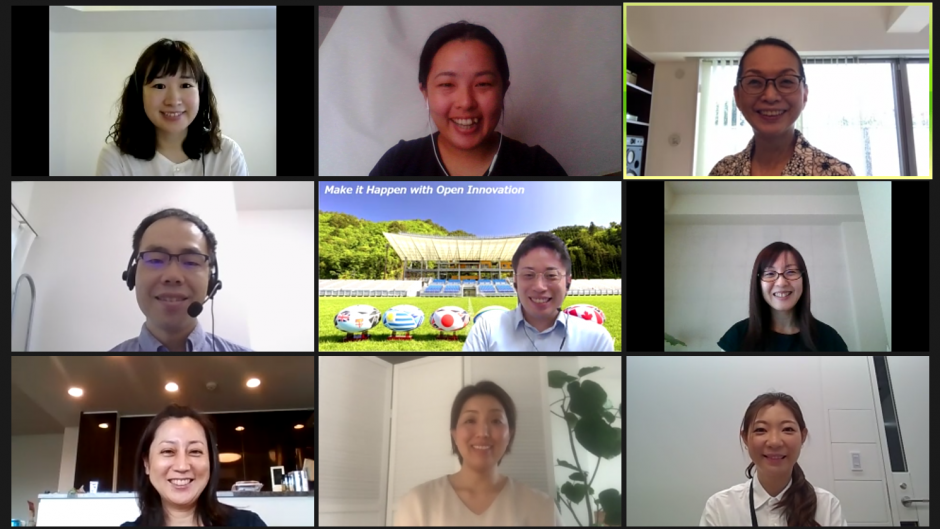 On September 23 and 25, 2020, the alumni meeting of the TOMODACHI-Mitsui & Co. Leadership Program was held online and joined by 15 people, including the program alumni. During the meeting, the alumni shared the impact of the program, as well as what they gained from their participation.
David Kenji Chang, a member of the American Delegation in 2017 who worked in Japan before participating in the program, remarked that the program was a life and career changing experience for him, reflecting: "The quality and volume of meetings we were able to do while we were in Japan was incredible. I also was inspired by meeting the rest of the delegates from my class, who were from all over the U.S., had very different backgrounds, and worked in completely different industries. The Mitsui program really opened my eyes to the possible ways to have a meaningful career involving Japan."
Kazunori Ishii, a member of the Japanese Delegation in 2016 who moved to Kamaishi City, Iwate Prefecture right after the Great East Japan Earthquake in 2011, shared that the program gave him new perspectives on community development in areas affected by the disaster, work he is involved in. He noted, "Had it not been for joining the program, I don't think I would be in Tohoku [where I work] now. I looked back the action statement I wrote when I finished the program and I feel I am still halfway down the road to realizing my goal. But I am determined to keep working on it while cherishing the network I gained from the program."
After presentations by the alumni, Mr. Jun Aketa, Associate Officer of Mitsui & Co., Inc. and General Manager of Mitsui & Co. (U.S.A), Inc.'s Washington D.C. office, said, "As one of the leading Japanese companies, it is important to contribute to fostering a good relationship between the United States and Japan. We expect the program participants to develop deep human-to-human connections, and contribute to strengthening the ties between the two countries." Suzanne Basalla, President and Chief Executive Officer of the U.S.-Japan Council, commented, "We give you the first opportunity, but it's you who are building on that opportunity and taking that opportunity and using it to change your career."
Generously funded by Mitsui & Co., Ltd., the TOMODACHI-Mitsui & Co. Leadership Program contributes to building a "TOMODACHI Generation," who are invested in the future of U.S.-Japan relations, with about 140 professionals participating from across Japan and America.