Three American University Students Share Their TOMODACHI Internship Program Experiences in Online Presentations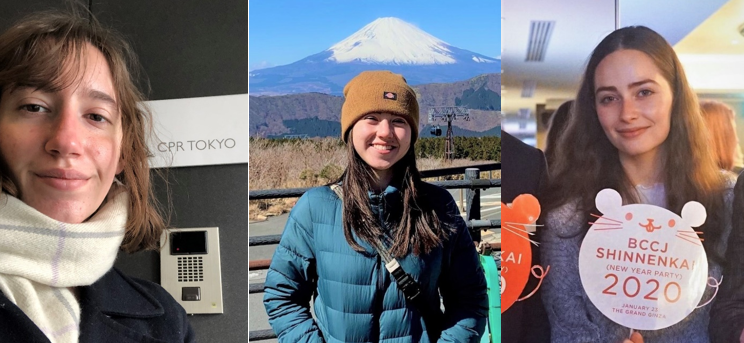 On April 28, 2020, three American university students shared their three-month-long TOMODACHI Internship Program experiences in Japan using online presentations. Officials from the U.S. Embassy Tokyo Public Affairs Section had the chance to hear these stories directly from the students themselves.
Nicole Klotsas, an intern at CPR Tokyo, a fashion PR and consulting agency, took inventory on incoming shipments of different fashion products, interacted with stylists, helped maintain the showroom, collected product photos for the CPR Tokyo website, created newsletters, and gathered different kinds of data and information on the Japanese fashion market. Though she sometimes felt confused because of cultural differences, she emphatically noted that she hopes to study fashion at a Japanese university in the near future.
Zoe Ariyama worked as a writer, editor, and researcher in the Digital Editorial Division at the Japan Times. She dealt with current issues and tasks in the media industry, like the ever-changing coronavirus (COVID-19) crisis coverage. As one of the staff members of the Japan Times, she felt a strong responsibility for her work.
Ana Vigueras-LaRochelle was involved in many events as an assistant at the British Chamber of Commerce Japan, and also wrote and edited for their website. She had her own personal project creating the British Food in Tokyo directory, designing a content spread similar to a food magazine to display information. She independently contacted different bakeries, restaurants, and pubs in Tokyo, finally managing to accumulate information for around 20 to list in the directory.
The coronavirus (COVID-19) crisis disrupted the students' internships and all three needed to intern remotely. Despite this setback, all three students were able to successfully complete their internship requirements. We are certain that this internship experience will meaningfully impact their future global career choices.
This program was created in 2015 to facilitate more Japanese internship opportunities for American students. This program is sponsored by the U. S. Embassy in Tokyo and is implemented in partnership with Temple University, Japan Campus (TUJ).