TOMODACHI Generation Global Leadership Academy 2017 Held in Tohoku for the First Time – The Winning Team Presents their Action Plan at Bank of America Merrill Lynch and the U.S. Embassy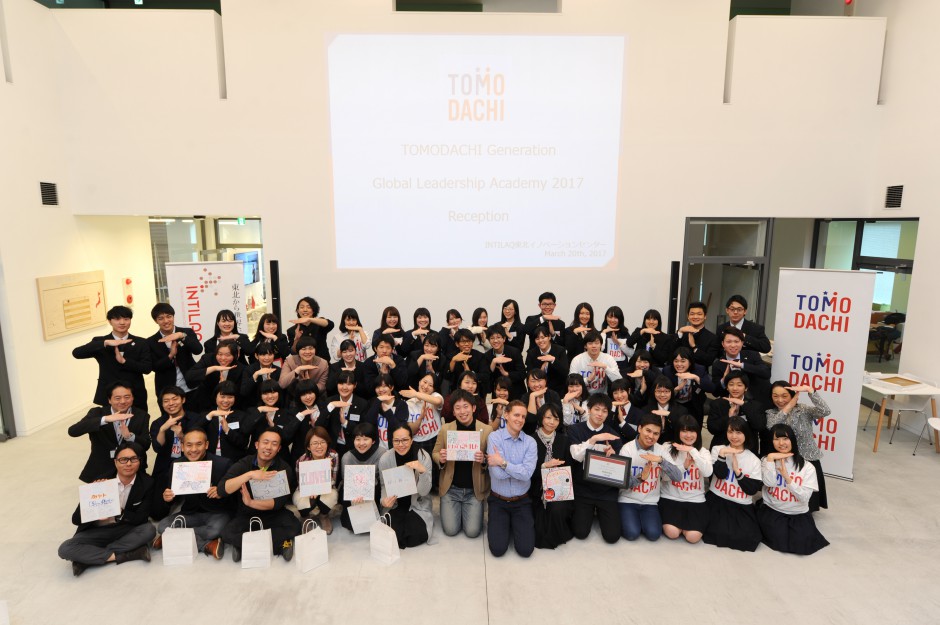 From March 18 – 20, the TOMODACHI Generation Global Leadership Academy (GLA) 2017 was held in Miyagi Prefecture, with 49 TOMODACHI alumni from Tohoku currently attending high school or university participating in workshops to nurture global perspectives. In addition, participants worked with young professional mentors to develop action plans to tackle various challenges facing local communities. This program is made possible by generous support from Bank of America Merrill Lynch.

The first day started off with participants looking at a world map and discussing important issues spanning the globe, followed by a discussion on the key qualities needed by future global leaders. In the afternoon, the participants also exchanged ideas about their ideal leader.
On the second day, participants were divided into 9 teams based on the following thematic areas: energy, community building, education, branding, business development, fisheries, traditional crafts, inbound tourism, and disaster resilience. Within each team, participants held discussions based on their assigned thematic area, and developed action plans to resolve issues and challenges that have emerged in local communities. In the morning, each team researched the expertise of their assigned young professional mentor, who joined their discussions later on. Saki Hirako, a high school student from Iwaki, Fukushima, said, "It was really challenging to do research on a topic I had never thought about, but after much thought, we were able to develop an action plan we liked. I was very inspired by other participants. I would like to continue to seek opportunities like this even after I go to college."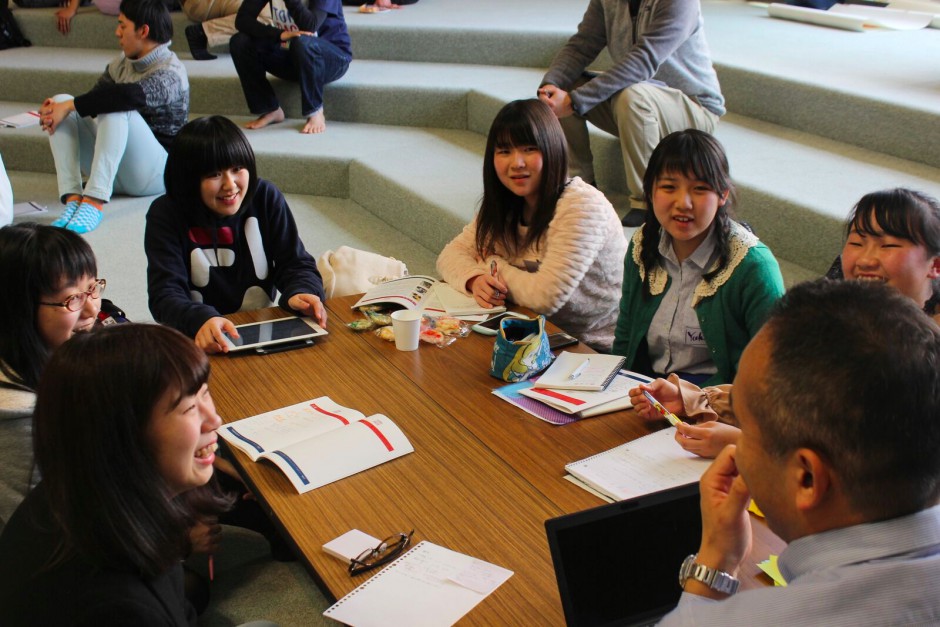 On the last day, the teams presented their action plans at the INTILAQ Tohoku Innovation Center. Kazuki Kokubun, a two-time participant from the Academy from Meiji University working as a staff member this year, gave a speech and said, "People of the young generation, people like us, are in the process of becoming future leaders. I learned once again how much support we receive in that process from so many people. Words cannot describe how thankful I am. It has been six years since the Earthquake. Every time I participate in GLA, I feel that the challenges facing Tohoku are constantly changing."
The Academy concluded with a voting session on the winning presentation. Team 7, which proposed a traditional crafts internship called "GTAIs," was selected as the winning team.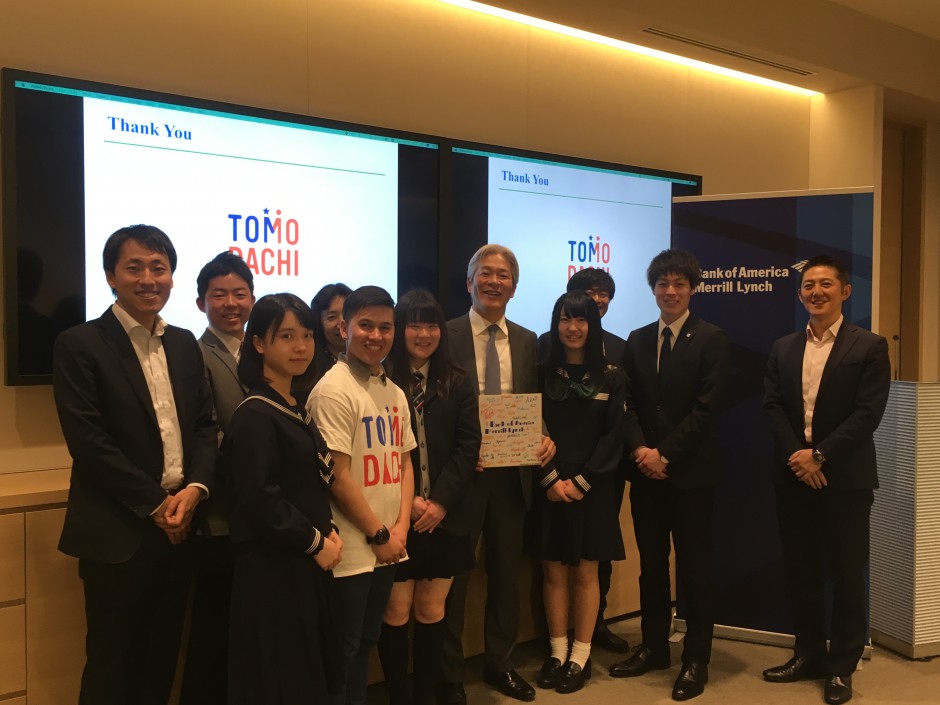 On March 30, the winning team traveled to Tokyo and visited Bank of America Merrill Lynch, where they briefly met with Chairman and Representative Director of Merrill Lynch Japan Securities Co., Ltd. Tsunehiro Nakayama. Afterwards, the participants presented their action plan to executives of Bank of America Merrill Lynch, including Mr. Jiro Seguchi (Co-head of Asia Pacific Global Corporate & Investment Banking and Country Executive for Japan), Ms. Reiko Hayashi (Managing Director and Head of Japan Global Capital Markets at Bank of America Merrill Lynch and Director of the Board at Merrill Lynch Japan Securities Co., Ltd.), Mr. Tomonobu Akizuki (Managing Director and Head of Non Yen Flow Sales at Merrill Lynch Japan Securities Co., Ltd.), and Mr. Takayuki Saito (Director and Head of Japan Electronic Trading at Merrill Lynch Japan Securities Co., Ltd.). Moved and inspired by the presentation, Mr. Seguchi told the participants, "With wonderful young folks like you, our future certainly is very bright."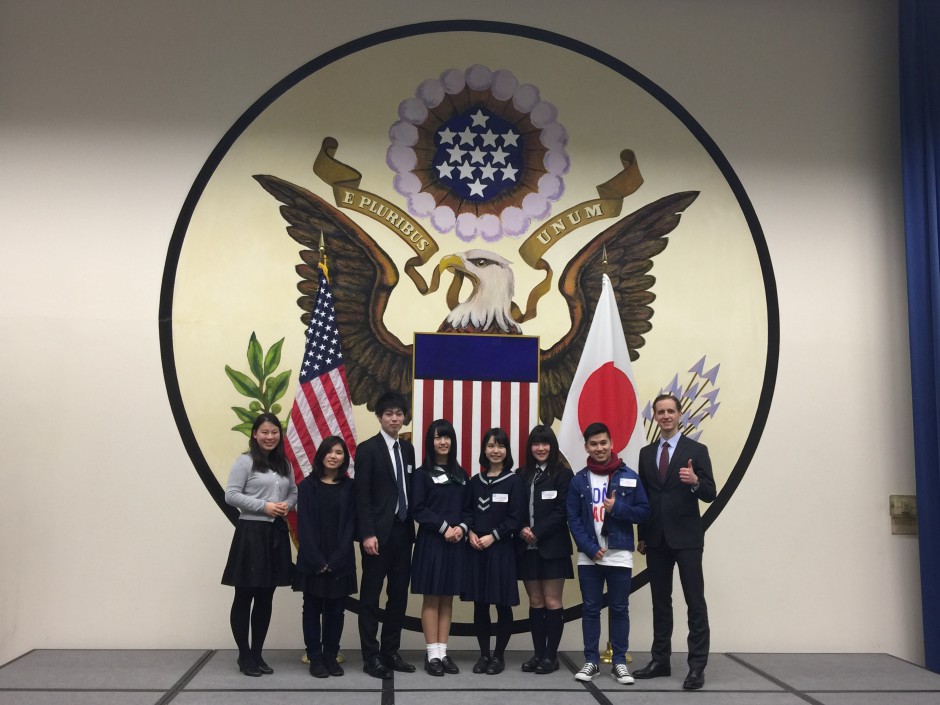 Afterwards, the team visited the U.S. Embassy Tokyo and had an opportunity to meet with Education and Exchanges Officer Gregory Aurit, who also attended the final presentations at GLA, and Commercial Attaché Yuri Arthur, whose words helped the team feel empowered as future leaders of the U.S.-Japan partnership. On the same day, the team also attended the debriefing session of the TOMODACHI Inouye Scholars Program and shared their experiences from their respective TOMODACHI programs.
Ryoma Ueta from Koriyama, Fukushima, reflected on his experience from the Academy, saying, "It was my first time participating in GLA, and it was very valuable to be able to spend three days with people from my generation who hope to become global leaders. The topic I was given was something I had never thought about before, but I found a connection between the topic and myself, and was able to take it very seriously and think about it as something personal. I would like to continue giving back to my community by planning activities with the connections I made during the Academy."