High Schoolers in Fukushima Offer Fellow Students an Opportunity to Envision their Future Selves
From January 28 to 29, 2017, an event titled "Building Your Identity & Future LIVE" was held at a cultural center in Iwaki-city, Fukushima, as part of the fourth and final phase of the TOMODACHI High School Women Career Mentoring Program, supported by the TOMODACHI Combini Fund. The event was an opportunity for the program's participants, women in their junior year of high school, to present their experiences and lessons learned over the course of the six-month program to 140 high school sophomore students.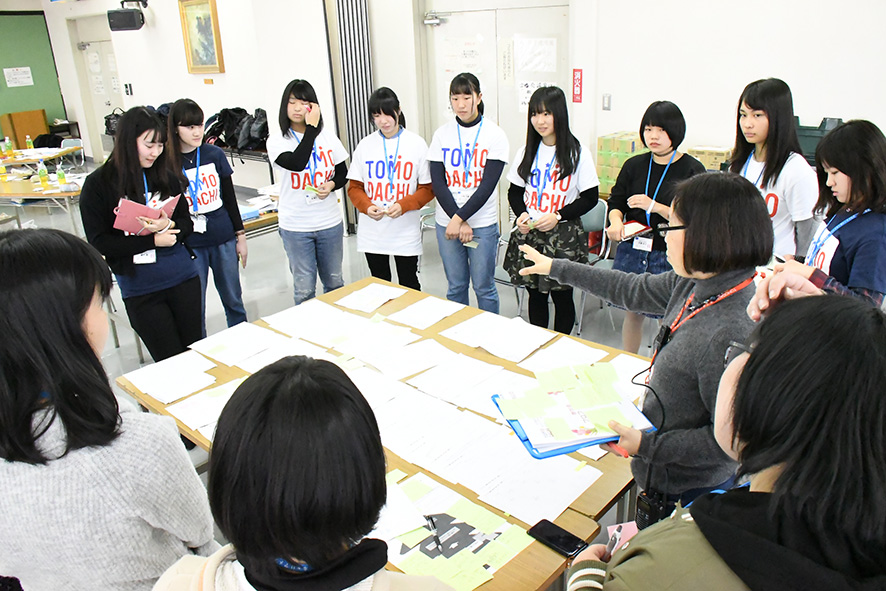 On the first day, the participants split up into small groups, where the juniors summarized what they had learned during each phase of the program, and offered advice to their sophomore counterparts. They also brainstormed how to present their future plans and achieve their goals following the program. The students drew together their differing views and discussed how best to convey them, resulting in lively rehearsals as they challenged each other with tough critiques.
On the second day, over one hundred female sophomores from high schools within the prefecture attended the "Building Your Identity & Future LIVE" event. Kicking off with some icebreakers, the participants first joined discussion sessions on the challenges of high school led by TOMODACHI alumni currently studying at universities or vocational schools. Then, they listened to personal experiences shared by exchange students from the U.S., Malaysia, and Madagascar, who described some of the challenges they had faced while studying in Japan. This was followed by sessions led by professional women from TOMODACHI sponsors, including All Nippon Airways Co., Ltd., Kikkoman Corporations, and Pasona Inc., and staff from the TOMODACHI Initiative. Finally, the junior students took the stage to deliver their presentations.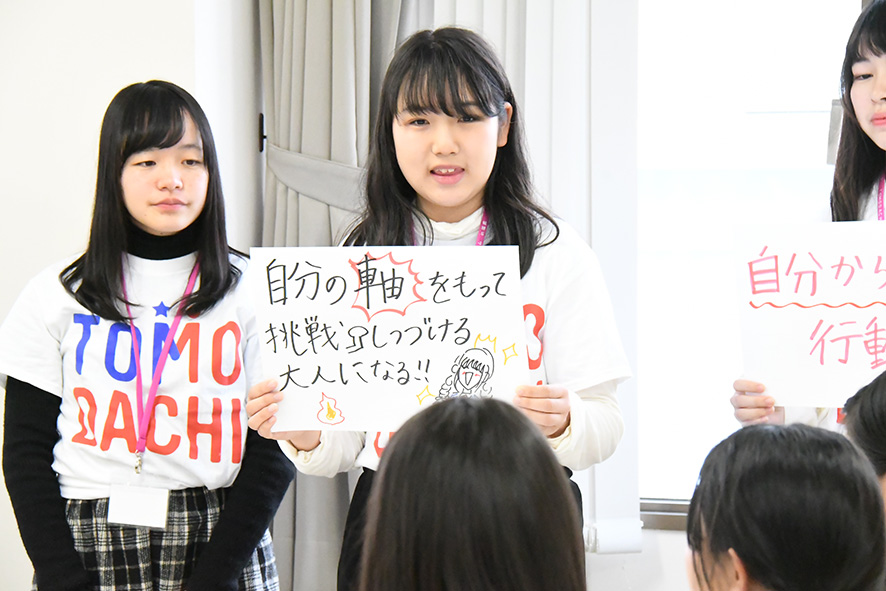 Each group incorporated skits, songs, dances, and quizzes to convey to the younger students the insights they had learned from the program, which included such encouraging messages as, "don't hold back from doing something just because you think you can't," "the more challenges you face, the stronger you will become," and "dive right into excitement." They also emphasized that "hard work will eventually pay off" and "do your best at what you love." Finally, the sophomore students also presented what they learned from the event. Having successfully passed on the inspirational lessons of "if you want to do something, do it without fear," "whether or not you can change yourself depends on you," and "respect and believe in yourself," the junior students were left bubbling with a sense of accomplishment.
The following are quotes from the participating junior students who completed the six-month program:
"Looking at the sophomore students who participated in the event today, I realized how much I have been able to grow as a person compared to half a year ago. I didn't have a clear idea of what the meaning of life was before I participated in this program, but now I feel like I can truly love myself and think positively about my life."
"Ever since I got into high school, I felt like I couldn't be myself. However, after so much laughter and so many tears during the program, I think I'll be able to be myself again. In the past six months, I've learned so much with the valuable friends I made during the program. I will definitely hold on to this experience. Thank you so much."
"It was very rewarding when the sophomore students said the event was fun and that they wanted to be like me when we finished our presentation. I definitely would like to share what I learned through the program with other people."
We hope that the participants will cherish every lesson, encounter, and opportunity they had during the program, and will live their lives enthusiastically by staying true to themselves.