Randolph Macon College Students Visit Tohoku and Develop Research Projects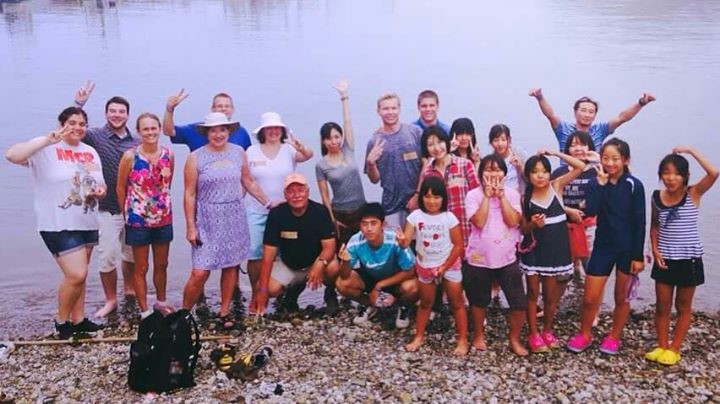 Four students from Randolph Macon College (RMC) and their faculty advisors that comprised the TOMODACHI Taylor Anderson Memorial Fund (TAMF) Research Exchange Program recently returned to Ashland, Virginia from their two-week research trip to Japan. During this time, each of the students conducted field work for research projects they were completing as part of the Schapiro Undergraduate Research Fellowship (SURF). The areas of research were: the role of music in post-disaster situations; risk management and prevention in building construction; mental health approaches for children after natural disasters as well as the impact of public opinion and political mobilization on recovery efforts. 
The participants spent the majority of their time in the Tohoku region, visiting the disaster-affected areas of Ishinomaki, Onagawa, Watanoha and interacting with the local community. They met with the Ishinomaki Police and Fire Department, barbecued with local fishermen, visited the Ashinaga Rainbow House and e-kids at Ishinomaki Children's Center. While in Tokyo, they participated in cultural activities such as attending a kabuki performance in addition to sightseeing in Omotesando Shopping Street, Harajuku, and the Meiji Shrine. They also visited Ikebukuro Life Safety Learning Center and met with Former Ambassador to the U.S. Ichiro Fujisaki at Sophia University.  
While looking back on their time in Japan, Professor Lauren Bell, one of the academic advisors noted, "We were warmly welcomed by our exchange counterparts at Ishinomaki Senshu University; we met and heard the stories of 3.11.11 survivors in Ishinomaki; we saw the wonderful work of public servants and NGOs to rebuild the Tohoku region; we met first responders, politicians, government officials, musicians, scholars, and researchers; we toured museums, temples, gardens, and shrines; we saw a wonderful performance from M's Japan Orchestra and part of July's kabuki program; we reconnected with old friends and made new ones; we covered hundreds of miles by train and bus; we took 203,070 steps covering 84.2 miles on foot. And this just scratches the surface how far this journey has taken us."
Upon returning to the United States the students presented their research at the Annual SURF Symposium at the college.  In September, students and faculty from Ishinomaki Senshu University will travel to Randolph Macon College to continue the research collaboration.
The program Facebook page can be found here
For more information on this program, click here