TOMODACHI Alumnae Share Messages from Tohoku to United States First Lady Michelle Obama and the Prime Minister's Wife, Mrs. Akie Abe in Tokyo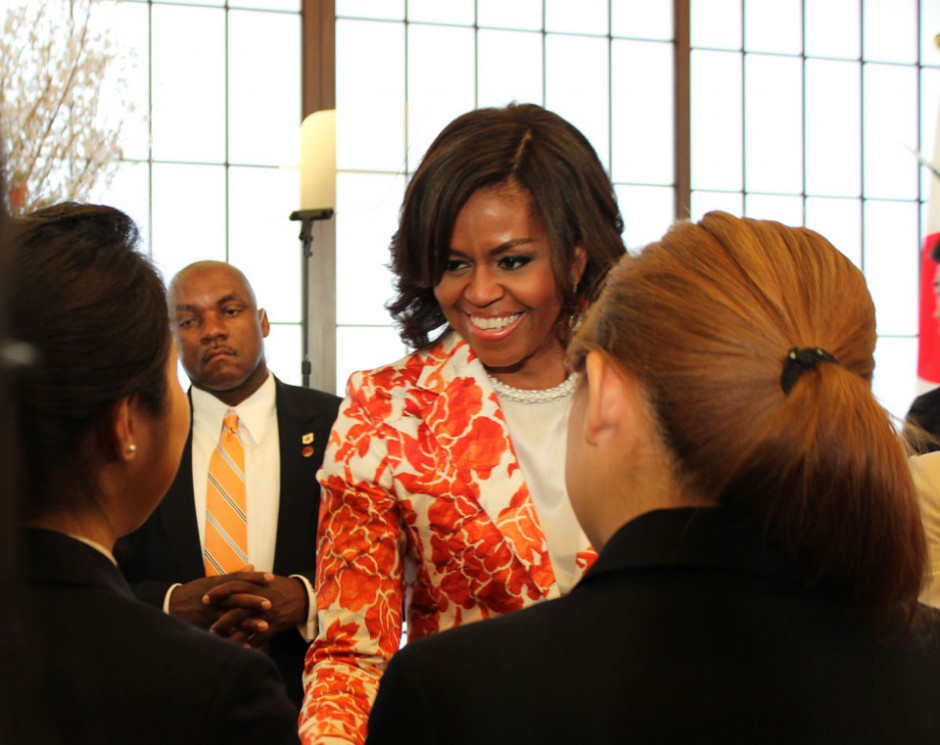 On March 19, 2015, ten TOMODACHI alumnae representing Iwate, Miyagi, Fukushima, and Tokyo attended the Joint Japan-U.S. Event on Girl's Education at Iikura House in Tokyo, where United States First Lady Michelle Obama alongside Mrs. Akie Abe, the prime minister's wife, U.S. Ambassador to Japan Caroline Kennedy, and Director General Naoko Saiki, spoke about investing and promoting girls' education around the world.
The alumnae had front row seats, as the First Lady delivered a powerful and inspiring speech her solid belief in education. She shared her stories about how she grew up in middle-class family, and how she was always seen as "her father's daughter" or "her brother's sister". But it was education which led her to where she is today. She was grateful for her parents for believing in her and providing her with a fruitful education. "Take my story and multiply by 62 million", she said, referring to the number of girls who cannot go to school. Her personal journey and strong words were inspiring to everyone present.
Two TOMODACHI alumnae, Itsuko Yamamoto and Yuuri Tabata, spoke to the First Lady and Mrs. Abe briefly, delivering a message from Tohoku and sharing their excitement for supporting girls' education and delivered a message from Tohoku.
The First Lady underscored the deep commitment of the United States and Japan and announced the joint collaboration to advance girl's education around the world.
"Today we are pleased to announce that the United States and Japan will partner in this critical area, elevating the issue of girls' education on their shared development agenda," she said. "Japan will commit Official Development Assistance (ODA) in excess of 42 billion yen over three years starting from 2015 for girls' empowerment and gender-sensitive education."