TOMODACHI Alumni Attend Kobe Mirai Kaigi, Discuss the Future of Disaster Affected Areas in Japan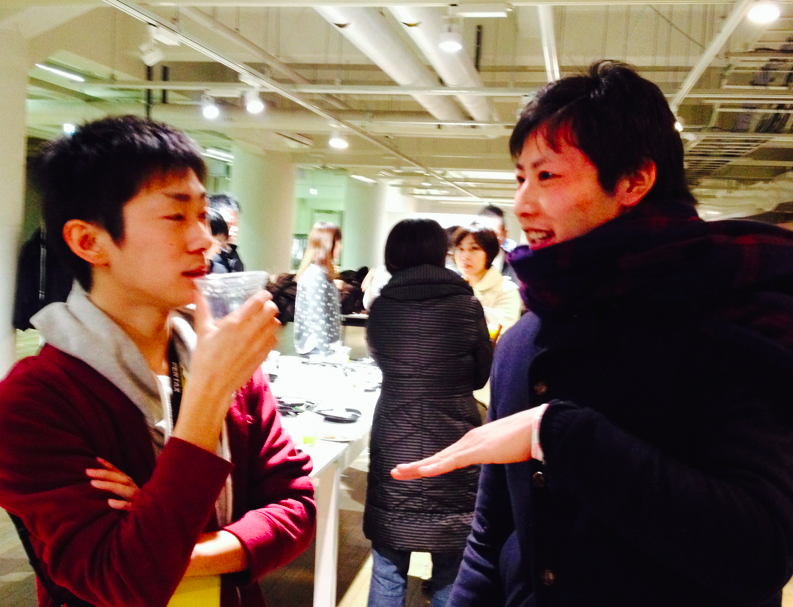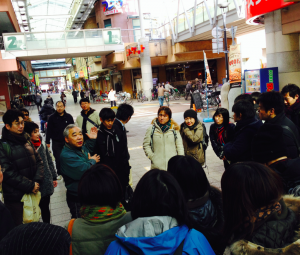 "Almost four years has passed since the triple disaster in Fukushima – the longer time passed, the harder it became to discuss challenges and experiences and thoughts among people.  This gathering isn't a 'talk about the survivors' it's a meeting of individuals from Iwaki, from Kobe, from other places. Everyone has something valuable to convey – and so we want everyone to speak and share their stories with one another." 
So began the inaugural Kobe Mirai Kaigi on January 31, 2015, where six TOMODACHI alumni attended, two of whom presented to a diverse audience of over a hundred attendees gathered in one of Kobe's refurbished factories, which had been converted into a community center, KIITO.  Mirai Kaigi is known for its World Cafe style, which Itsuo Takasa, President of Local Entrepreneur School in Fukuoka facilitated.  He brought the style to Japan after studying the facilitation model in Seattle, Washington.  A diverse, relaxed and highly inclusive group, the Mirai Kaigi Team embodies the kind of "cool adult" who TOMODACHI alumni seek. 
The event commemorated the 20th Anniversary of the Kobe earthquake on January 17, 1995, convening community organizers primarily from Kansai and Fukushima, but also other regions of Japan, to discuss lessons learned and challenges still ahead.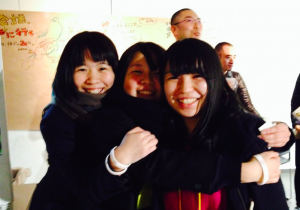 "Before the quake, I was a normal, unsuspecting junior high student, just like everyone else," Haruna Shiraiwa shared frankly in her speech, "but after returning from the U.S. on a TOMODACHI program and then being able to represent Japan in OECD Tohoku School in Paris last summer, I realized the importance of communicating not just with the people around you, but with people outside your community." 
The adults in the audience were impressed with the alumni's presentation skills, the activities they had accomplished, and the poise of the students. "It's critical for Japanese to learn these skills while they're still young," commented a business professional from Tokyo. "We're not taught to stand out or have our own opinions.  Even I don't feel I can confidently stand in front of a crowd this size and present my dreams and achievements."  
"One of the speakers' comment about connections and becoming true friends – nakama – after meeting them the second time truly resonated with me.  This is what I experienced in the TOMODACHI program," remarked Nao Saito, a TOMODACHI Summer 2014 Coca-Cola Educational Homestay Program alumna. "I want to create more opportunities for young people to interact with adults to learn from their experiences.  I'm afraid that [young people] are losing the history and lessons learned that the older generation carry, risking making the same mistakes that can be avoided."   
On the second day, participants were toured through Kobe, walking through communities affected most by the earthquake.  "Observe the neighborhood and the people who reside there," advised Sachiho Tani, a TOMODACHI Women's Leadership Program alumna to the high school alumni from Fukushima.  "Talk with the shop keepers.  Listen to their stories."  Born and raised in Kobe, Sachiho knows that the communities least supported and slowest to recover are home to the low-income and immigrant families.  "It's the most diverse neighborhood, but receives the least community support," she explained.  
Despite 20 years of community work toward economic renewal, the city of Kobe struggles to revive local communities that lost their businesses after the earthquake.  Many stores along the heart of the city closed down, unable to maintain business.  Some of the grassroots community leaders disparaged that despite low occupancy of new residential buildings, the city continues to invest in more buildings using public funds that could be used elsewhere.  Fukushima and Tohoku regions most affected by the earthquake and tsunami face similar dichotomy between long-term city rebuilding efforts and basic needs of its citizens.  
"I live near Kobe, but I didn't realize there were challenges here still after the earthquake," commented Ayaka Mae, a TOMODACHI Women's Leadership Program alumna.  "I'm glad I came to witness the progress and obstacles of urban and community development.  I want to continue sharing information with the grassroots organizers I met here today, and see if there are ways my university and clubs can support."  
"This was eye opening," Nao remarked near the end of the tour on our way back to KIITO for tea.  "Listening to yesterday's presentation, it made me realize the depth of a mother's concern and worry for her children, the responsibility and hard decisions adults must make." She reflects in silence before speaking again.  "It makes me think about my mother and her burden when she decided to voluntarily relocate from Fukushima to Kyoto.  It didn't make sense to me when I was 13, but I think I'm starting to understand."   
As a result of this visit, TOMODACHI Alumni who revisited Kobe for another anniversary related event on February 22 were able to reconnect with some of the guests and community organizers they met earlier in the month, strengthening the people to people ties in two regions affected deeply by natural disasters.  
TOMODACHI Alumni Leadership Program, sponsored by The Prudential Foundation, supports the leadership and professional development of TOMODACHI alumni across all programs.  We encourage and support alumni participation in sharing their activities that help communities engage young people more deeply as valuable voices and assets to develop effective solutions.