TOMODACHI Generation: Marina Yagi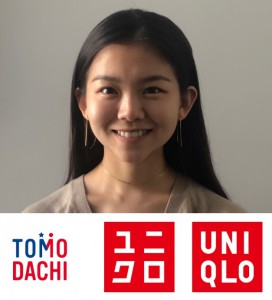 MARINA YAGI was born in Hiroshima and raised in Tokyo, Japan. She has a bachelor's degree in International Relations from Meiji Gakuin University, and got her associate's degree in fashion design at Parsons. She gained fashion experience from jobs at KOZABURO, Engineered Garments, Antonio Azzuolo, and have a good time. She now attends the Fashion Institute of Technology(FIT), studying MPS Global Fashion Management. Her passion for fashion came from her mother, and hopes to start her own brand. She has learned how to make clothes and now she is gaining her knowledge in fashion business by studying at FIT.
About Marina Yagi
Q1: Why did you apply to the TOMODACHI-UNIQLO Fellowship?
After graduating from Parsons, I spent my OPT (Optional Practical Training) at KOZABURO. I had been a design intern before and gradually expanded to PR and Production as well. This experience made me realize the importance of studying the business side of fashion, and Kozaburo himself (the designer and founder of the brand) told me about the TOMODACHI-UNIQLO fellowship. I applied for the TOMODACHI-UNIQLO fellowship as soon as I got accepted at FIT for Global Fashion Management.  Having the oppotrunity to learn from the experiences from past TOMODACHI-UNIQLO Fellowship participants challenged me to think more critically about my future, and made me realize that I want to be someone whose impact is global.
Q2: What would you like to learn from this program?
The Global Fashion Management courses at FIT teach students about the fashion business through a global lens. Globalization has brought great change to the fashion industry, and the curriculum focuses on adapting to the new paradigms that have emerged as a result. Students got the chance to learn from industry leaders, even flying to Hong Kong, Paris, Milan, and beyond to listen to and personally learn from seminars delivered by local professionals . Professors and students from all over the world get to convene and discourse about the present state of international fashion. Thus, this is one of the best opportunities to professional and personal experience and connections globally. I am very excited to learn and use the opportunity to make the most of the knowledge and connections I will be developing through this course.
Q3: What connection and/or interest do you have with the United States?
I came to New York with a dream. I sought to create my own brand, and consequently sought to study fashion design at one of the best schools in New York. I spent middle school  in an international school in Japan, which exposed me to an environment where students from all over the world convened. This allowed me to experience different cultures and their fashion since I was very young. I hope to meet all the Japanese designers in New York to learn about their experiences adapting to American culture in business as well as in lifestyle. I believe that there is no one that I can't learn from in New York and I am beyond thankful to be where in this position.  I am excited to absorb as much as I can during my time in New York.