TOMODACHI Generation: Naoyo Toki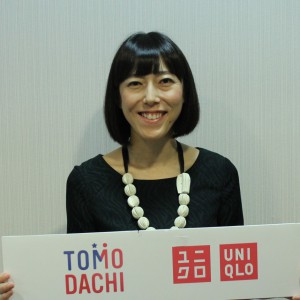 Naoyo Toki is a freelance journalist who has written runway reports from Paris, London, and Tokyo fashion weeks conducting interviews that have been featured in numerous media publications.  She has had a plethora of experience in the fashion world, having worked at Marni Japan, SIJ, Restir, and the Mitsubishi Corporation Textile Division. She will be pursuing a master's degree in Global Fashion Management at the Fashion Institute of Technology in New York from the Fall 2015 semester through the TOMODACHI UNIQLO Fellowship. Ultimately, she hopes to take part in managing global fashion brands, produce new fashion media channels, and help in fostering the next generation of young leaders in the fashion industry.   She holds a B.A. in International Politics, Economy, and Business from Aoyama Gakuin University.
For more information on the TOMODACHI-UNIQLO Fellowship, click here
About Naoyo Toki
Q: Why did you apply to this program?
A: Over the past years, I have had many valuable experiences in the fashion industry. However, I felt as though I was lacking the academic background as well as experience in the management field. By taking the GFM course in the Fashion Institute of Technology (FIT), I believe that I can acquire those skills that I still need to develop. Moreover, by immersing myself in a global environment that is New York City, I believe that I will be able to gain valuable and meaningful experiences. 
Q: Through this fellowship program, how do you hope to contribute to Japan?
A: It has been said that Japan lacks global jinzai and women in leadership positions. The GFM course of FIT seeks to cultivate leaders in the fashion industry, entrepreneurs, and those working in management. Since New York City is in the front line of fashion business, living and learning in this city will allow me to bring home and provide the newest education to Japan.
Q: Mr. Yanai, the Chairman, President, and CEO of UNIQLO, has pointed out that Japan is lacking global jinzai and believes that Japan should be more competitive on a global scale. What are your thoughts on this?
A:I believe that the fashion industry will continue to globalize even further and in this environment, cross-cultural experiences will become increasingly important. In the midst of this movement, studying abroad opportunities and education geared to develop global jinzai are vital to create a more promising future.
Q: The TOMODACHI generation includes many youth who are interested in studying abroad, fashion, or business. As their senpai, what kind of advise would you give to them?
A: Although I am still at the halfway point of my career, what I can say is that when you go out into the real world, there are obstacles, challenges and conflicts that may arise. However, by having strong faith in yourself and constantly moving forward, one will be able to pave his or her path. Therefore, my advice is to believe in yourself. And maybe one day in the future we can work together to create an even more vibrant and robust fashion industry.