TOMODACHI FamilyMart SDGs Leadership Program in Tohoku -Beyond Tohoku to Japan, and Finally, the World-
The "TOMODACHI FamilyMart SDGs Leadership Program in Tohoku -Beyond Tohoku to Japan, and Finally, the World-" targets youth who are deeply passionate about solving regional challenges in Tohoku (Iwate, Miyagi, and Fukushima Prefectures). This five-month leadership training will consist of three parts, "Tohoku Academy to Support Each Other," "Action Course," and "Tohoku Special Live to Support Each Other."
"Tohoku Academy to Support Each Other": Meet peers and pioneers in the Tohoku region who aspire to contribute to the efforts made to achieve the SDGs.
"Action Course": Reflect on the social actions and efforts taken toward achieving the SDGs with support from a mentor, and showcase the activities to inspire and include others.
"Tohoku Special Live Broadcast to Support Each Other": Nationwide presentation on the outcomes from the five months of study, including the social actions that leave sustainable impacts in the region and lessons learned from the training. The presentations will be live-streamed to the public.
This Program will be held with support from FamilyMart Co., Ltd.
The press release related to this Program can be found here.
Further details for this Program can be found here.
TOMODACHI FamilyMart SDGs Leadership Program in Tohoku -Beyond Tohoku to Japan, and Finally, the World-
Tohoku Academy to Support Each Other

In August 2021, Supporting Tohoku Academy, the first program for the TOMODACHI FamilyMart SDGs Leadership Program in Tohoku -Beyond Tohoku to Japan, and Finally, the World- was conducted virtually. 87 people attended. The next stage of the program is a 4-month course known as Action Course for young people who work on social issues in Iwate, Miyagi, and Fukushima Prefectures. Read More>>
Tohoku Special Live to Support Each Other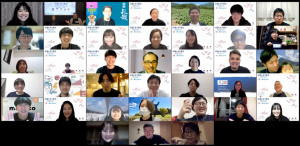 "TOMODACHI FamilyMart SDGs Leadership Program in Tohoku -Beyond Tohoku to Japan, and Finally, the World-" concluded on December 9, 2021. The online event titled "Updating the Future of Tohoku! 50 Participants of U-30 Heated Debates -Tohoku Special Live to Support Each Other-" was attended by 180 participants and audience members. Read More>>
Program Videos
【Short Version】
【Long Version】
Social Actions Taken by the Program Participants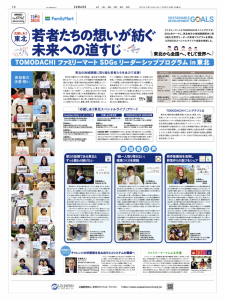 Click here for more information about the efforts made by the younger generation to solve regional challenges in Tohoku. This advertorial is taken from the Nikkei morning newspaper published on Sunday, December 19, 2021. (Available only in Japanese.)