Q&A with TOMODACHI Program Participants and TOMODACHI Alumni: Maho Suzuki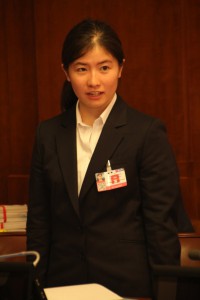 Maho Suzuki is an alumna of the TOMODACHI Summer 2017 SoftBank Leadership Program. She is a freshman at Tokyo University of Foreign Studies majoring in Arabic and Middle Eastern Studies and has been working as one of the TOMODACHI Alumni Interns under the TOMODACHI Alumni Internship Program since January 2021.
This interview was conducted by Reika Mihara (Tokyo, Japan), a TOMODACHI Alumni Intern (2020), on January 27, 2021.
Q1: Why did you decide to participate in the TOMODACHI Summer 2017 SoftBank Leadership Program?
I went to an integrated junior and senior high school and did not have to take an entrance exam to enter high school. So, my mother suggested that I apply for the TOMODACHI program to use that extra time efficiently. I also had a vague idea that I wanted to try something new when I became a high school student. Therefore, I was very interested in the TOMODACHI program when I saw the program requirements included "taking on a new challenge." When I saw the words "new challenge," I didn't have a concrete idea at first. However, as I read the newspaper every day, I became interested in learning more about the lives of refugees and support for them. I decided to take on the challenge of researching the differences in smartphone use between refugees and Japanese high school students, compared the results, put them together and displayed them on a poster. It was the first time for me to take action on something that interested me.
Q2. What did you learn the most from the TOMODACHI Summer 2017 SoftBank Leadership Program? Did your way of thinking change as a result of participating in the program? 
During the program, I learned about Y-PLAN! which is a practical program for civic engagement that has actually been introduced in some schools in the U.S. At that time, we were taught that young people often give up on realizing their ideas for multiple reasons, but there are perspectives and things that young people can see and do. Until I heard this, I thought there was nothing I could do and never took action, but thanks to this lesson, I was able work to realize my ideas. In fact, after returning to Japan, I approached my classmates and friends in my school club to build a network on my own in order to enact the recovery plan for the Great East Japan Earthquake that I came up with during the program. Involving different people in my project sometimes made it difficult to reach a consensus due to the number of people, but since I was able to collect diverse opinions, I had a lot of experiences that helped me build up my ideas and make them more in line with my objectives.
Q3. What activities did you do after participating in the program?
After the Great East Japan Earthquake, many young people – especially in Fukushima – gave up on their dreams and had no hope for the future due to the bad image of Fukushima. In fact, there were many articles about this in the newspapers, so I wanted to come up with an action plan to solve this problem. I wanted to create an environment that supports their dreams, so I did three things. First, with the help of all of my school's students and teachers, we made a mosaic using origami covered with everyone's dreams and displayed it in the school. Second, I gave messages of support to the seniors who were going to take the National Center Test [the standardized preliminary exam for university applicants]. Third, my friends and I translated information on Fukushima Prefecture for tourists into English and shared it with different people.
Q4. Why did you want to stay involved with TOMODACHI after the program concluded? What differences did you find participating as a mentor instead of a participant?
Every time I participate in a TOMODACHI program, I am exposed to new ways of thinking and inspiration, so I am very excited to be involved in not only the TOMODACHI Generation Global Leadership Academy (GLA), but also other Alumni programs such as Regional Events under the TOMODACHI RISE Leadership Program as well as the TOMODACHI High School Women Career Mentoring Program in Fukushima. In addition, I was able to meet people who participated in different TOMODACHI programs, and enjoyed the new community I created and the growing connections, so I have continued to be involved since the first program I joined.
In 2020, I participated as a mentor in the TOMODACHI High School Women Career Mentoring Online Program in Tohoku, which I had previously joined as a mentee. I applied to be a mentor because from the first time I participated in the TOMODACHI program, I knew that when I became a university student, I wanted to be in a position to teach others, not just be a participant. Until then, I had been a participant and simply enjoyed the program. However, when I participated as a mentor, I realized that there were many people who supported and worked with me so that I could enjoy participating in the program, even though it was difficult to communicate with them outside the program and get used to using online tools for the first time.
Q5: What does "TOMODACHI" mean to you?
Simply put, "my driving force." Since the disaster, I have received many words of support and encouragement as someone from Fukushima. However, in the TOMODACHI program, I remember being very happy to receive words of support for my dreams as an individual. I want to earn the support of others, and tell them how hard I worked before I see them again, so I can tackle everything with a positive attitude. I think one of the strengths of TOMODACHI is that not only do I receive support from many different people for who I am, but I am also able to participate as I am.
Q6. You have been involved in other activities besides TOMODACHI, such as the 21st Hiroshima Nagasaki Peace Messengers in 2018. What made you apply for that, and what was the most memorable experience for you?
One of the seniors at my high school was a Hiroshima Nagasaki Peace Messenger, and when I heard about her work, I was fascinated by the fact that she was just a high school student but was involved in so many activities. Therefore, I applied to be one of the 21st Hiroshima Nagasaki Peace Messengers (also known as Youth Communicators for a World without Nuclear Weapons). This program was organized by the Government of Japan to support efforts to transmit the realities of atomic bombings to future generations. I was selected as the representative from Fukushima and worked with 20 high school students from all over Japan, including Nagasaki and Hiroshima. One of the activities that gave me the biggest impression was a talk by someone from ICAN (International Campaign to Abolish Nuclear Weapons). She said, "Young people like you have the future ahead of you, so you can not only influence others by making your voices heard, you can also take action at the same time." Hearing these words made me think again that I wanted to challenge myself with many things rather than give up because of my age or other reasons, as I felt during the first TOMODACHI program. What I am learning now at university has been greatly influenced by my experience as a Peace Messenger. As part of my work, I submitted signatures to the United Nations calling for nuclear abolition. When I visited the UN, I found it interesting that Arabic was the only language that was recently added as an UN official language. In addition, I have a dream to contribute to peacebuilding both in Japan and abroad in the future, and I thought that Arabic might assist that, so I decided to major in it at university and chose my current study plan.
Q7. Tell us why you decided to participate in the TOMODACHI Alumni Internship Program and what you want to achieve through this program. In addition, as a university student, what would you like to tell current high school students and even younger people?
Due to COVID-19, many of my university classes have shifted online, so I have more time at home than ever before. When I sought to use that time to have various experiences and learn, I was contacted by Ayaha Kanno, who was the previous TOMODACHI Alumni Intern. I wanted to improve my presentation skills as well as my English skills through the internship, so I decided to apply. There are two main things I want to achieve through this internship program. First, I am currently learning a third language at university, and am interested in working in a multilingual and multicultural environment, so I would like to learn what is important and necessary when actually working. Secondly, I think that long term activities will be very important when I am involved in peacebuilding in the future, so I would like to learn how to make sustainable programs like TOMODACHI. In my own experience, when I was in high school, I was able to freely ask adults questions, and met people who introduced me to others and built connections with me so that I could develop my own interests and concerns. I also feel that this experience has led me to where I am today. There are many things you can do while you are young, even in high school, because you are not a university student yet, so I would like to tell them to try everything they can.