TOMODACHI Alumni Regional Framework Welcome Event in Kanto Region, Team B: Learning About Non-Medical Care for Long-Term Care Patients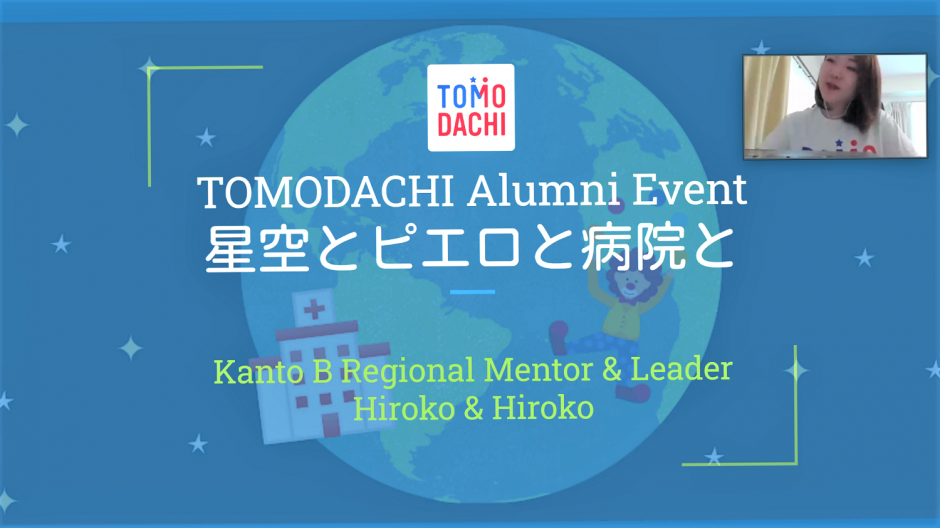 On June 14, 2020, Kanto Region, Team B held its online TOMODACHI Alumni Regional Framework Welcome Event. It was organized by Hiroko Ogasawara, Regional Leader, and Hiroko Hiraki, Regional Mentor, who gathered 23 TOMODACHI Alumni from not only the Kanto region, but also across Japan.
Regional Leader Hiroko Ogasawara, a medical student at the University of Yamanashi, opened the event titled "Stars, Clowns and Hospitals" by sharing that she would like to have an opportunity to better understand long-term care patients and their feelings using experiences during the current coronavirus (COVID-19) crisis, which has created a situation similar to the daily life of these patients, wherein it is difficult to go out and extra care must be taken to prevent infection.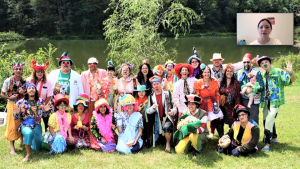 In the first part of the event, two guest speakers gave lectures on non-medical care for long-term care patients.
Yoko Yano, who works at Tokyo Bay Urayasu Ichikawa Medical Center as a resident, spoke first. She explained about "clowning" or clown care, one remedy for patients involving specially trained clowns that help patients feel more positive using hope and humor, as in the popular movie Patch Adams. She also shared her motivation to learn about clowning. In addition, she talked about the different understandings of such remedies in Japan and the U.S., and the importance of non-medical care from the point of view of medical workers. Ms. Yano received a scholarship from the Tobitate! (Leap for Tomorrow) Study Abroad Initiative when she was studying at the School of Medical Sciences at the University of Fukui, and went abroad to the U.S. to study clowning. After that, she went to a hospital in Thailand for practical training on clowning.
The next lecture was from Mariko Takahashi and Koichi Atobe of Hoshi Tsumugi no Mura, an organization in Yamanashi Prefecture engaged in the mission of building happiness together and tying people to people through stars. They shared about their work bringing a planetarium to the rooms of sick children in hospitals and at home as part of their Planetarium Hospital or Flying Planetarium program. They also shared their reasons for bringing planetariums to patients, and discussed the meaning of human existence from the broader perspective of outer space.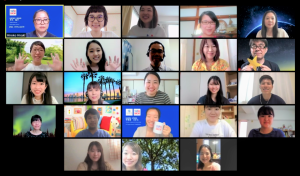 In the latter half of the event, a group discussion on the theme of "staying home and what we can do" gave participants the chance to freely exchange their ideas for supporting patients with entertaining activities. They came up with a variety of unique ideas like helping patients refresh themselves using flowers and natural aromas, making creative travel programs, using online communication, or offering virtual travel experiences with map apps.
After the event, one participant remarked, "I realized the importance of finding entertainment around ourselves and that we can make people smile by helping them see things in a different light," among other comments.
The event was held as a part of the TOMODACHI Alumni Regional Framework, the TOMODACHI Generation Alumni Leadership Program supported by Prudential.