The 2016 TOMODACHI Inouye Scholars from University of Hawaii at Hilo exchange ideas on indigenous language and culture in Hokkaido and Tokyo
The group of 21 undergraduate students and 2 chaperones from the College of Hawaiian Language at the University of Hawaii at Hilo spent nine days in Japan from March 19-27, 2016 on the TOMODACHI Inouye Scholars Program, where they expanded their understanding of global citizenship and reaffirmed individual responsibility toward their indigenous cultural and linguistic heritage.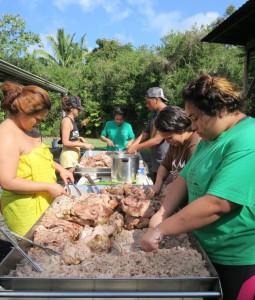 During the trip, the first one to Japan or anywhere outside of Hawaii for the majority of the students, the group traveled to Tokyo and Hokkaido. In Tokyo, they visited the Edo Tokyo Museum, the Imperial Palace, and listened to a foreign policy lecture at the Ministry of Foreign Affairs. They also observed cutting edge technology at Chiba Institute of Technology, visited the oldest temple in Tokyo, Sensoji, witnessed pop-culture in Akihabara and Harajuku. They strolled through the grounds of the Meiji Jingu Shrine and enjoyed the cherry blossoms. In Hokkaido, the students attended an information session
given by Sapporo International Plaza, attended lectures by experts in the field of Japanese indigenous people, the Ainu, at the Center for Ainu and Indigenous Studies (Hokkaido University), engaged in cultural exchange of Japanese dance and hula with Tokai University students, and also had the opportunity to visit the Ainu Museum in Shiraoi.
For the majority of the students, it was the first time that they saw a train, rode on
a subway, entered a building taller than 20 stories high, and actually saw snow
falling from the sky! It was a very intense but immensely rewarding program.
Check out posts on their blog and videos of their activities in Japan here
This program was made possible by the Ministry of Foreign Affairs of Japan.