From CHANGE to CHANCE: TOMODACHI RISE Awards Ceremony Commemorates 2019 Regional Leaders and Mentors' Commitment to Community and Beyond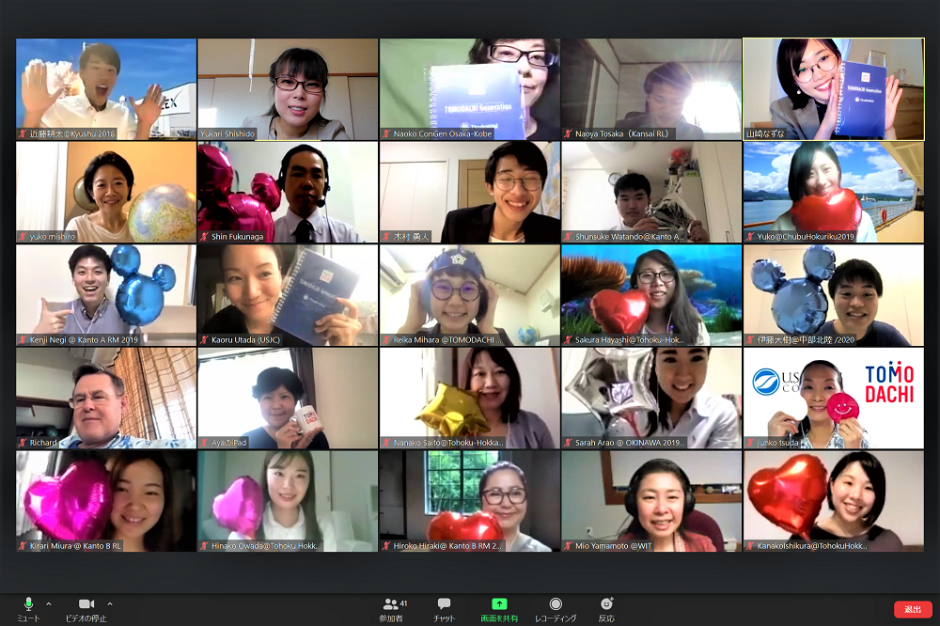 On June 27, 2020, the online TOMODACHI RISE Awards Ceremony was held to commemorate the 2019 Regional Leaders and Mentors, with support from Prudential Holdings of Japan, Inc., the U.S. Embassy, and the U.S. Consulates. A total of 45 participants gathered together, including TOMODACHI Alumni who participated in the TOMODACHI Alumni RISE Leadership Program as Regional Leaders or Mentors and moderator Nazuna Yamasaki, a 2018 TOMODACHI Alumni Regional Leader.
The event began with opening remarks by Yoshiaki Hirayama, Senior Officer of Portfolio Management, Prudential Holdings of Japan.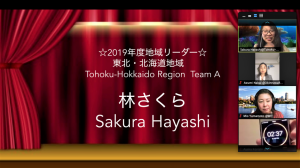 To start the event, participants watched videos that looked back over the 2019 alumni activities. Then they shared their memories of the Welcome Events, the Theme Events, and more in each region. Later, eight Regional Leaders received awards at the ceremony, and shared their gratitude to their Regional Mentors and supporters and their experiences and growth as leaders aiding the region. Azumi Nakai, a 2019 Regional Leader in the Okinawa region, commented "TOMODACHI is the place where I found courage and a chance to express myself. Also, it offered me an opportunity to reflect on myself. Whenever I meet my peers or older TOMODACHI alumni who are working toward their future goals and dreams, I think, 'what can I do for society?' and 'what do I really want to do?'"
The Regional Mentors then talked about their activities with the Regional Leaders over the year. Syotaro Kurata, a 2016-2018 Regional Mentor in the Kyushu region, was commended for his three-year achievement, and commented, "I was so happy as a mentor to be able to see the Regional Leaders' efforts toward their dreams and their growth."
The second half of the event included time for networking in small groups, as old and new Regional Leaders and Mentors met face-to face and shared updates.
This event was rescheduled to June from its original date in March 2020 due to the novel coronavirus ("COVID-19") pandemic. It was the first online TOMODACHI RISE Awards Ceremony, and a wonderful opportunity for Regional Leaders and Mentors across Japan to gather. Moreover, Naoko Tsuchimochi, Media and Program Assistant, U.S. Consulate-General Osaka-Kobe, Richard Roberts, Public Affairs Officer, U.S. Consulate General Naha, and Aya Toyama, Public Affairs Assistant, U.S. Consulate General Naha also joined the event.
The event was held as a part of the TOMODACHI Alumni Regional Framework, the TOMODACHI Generation Alumni Leadership Program supported by Prudential.