Participants of the TOMODACHI Story Jam for Youth with Disabilities Share Lessons Learned in the Time of COVID-19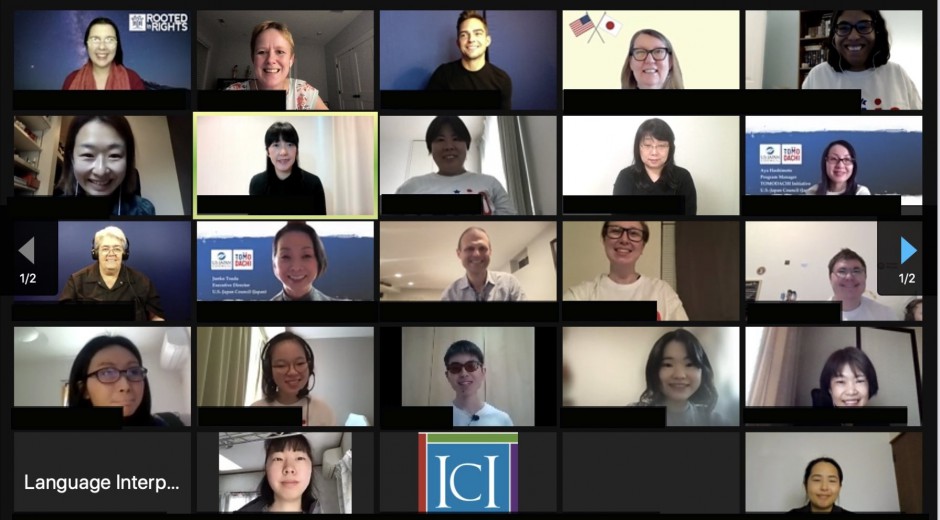 On November 19 (U.S.) / November 20 (Japan), 2021, the final event for the TOMODACHI Story Jam for Youth with Disabilities was held online. A total of 52 people including program participants joined the event.
The eight-week digital storytelling and youth leadership program brought together ten Japanese and American college students and young professionals with disabilities to collectively explore experiences in the time of COVID-19. The program facilitated weekly online sessions for participants to discuss moments when they felt deeply challenged by access barriers, how they navigated these challenges, what they learned about themselves throughout the pandemic, and how their insights and experiences translated into positive changes for themselves and their communities. Weekly sessions also featured guest speakers, including disabled journalists, storytellers, social media influencers, as well as disability advocates and activists from both Japan and the United States. Guest speakers discussed access barriers and the role of advocacy in both countries and encouraged and emboldened youth to tell their stories to bring about change.
At the final event in November, the program culminated in the screening of the participants' advocacy story video. Participants reflected on their program experience and shared their thoughts on how they will use new leadership skills, storytelling, and advocacy resources in the future.
Upon showcasing the video project, Miku Hayashida stated, "This program gave me a chance to self-reflect on how far I've come as an advocate. I would not be here without those who supported me in this journey. I hope you will find something to learn from my story and think about what it means to be an ally and advocate within the disability community."
At the event, Om Prakash, Northrop Grumman Japan's Chief Executive, congratulated the storytellers on their powerful videos and disability advocacy messages. Shannon Dorsey, Cultural and Educational Attaché, U.S. Embassy in Tokyo, said "Exploring your collective experiences during the COVID pandemic through digital storytelling is a powerful tool that will help us all envision and imagine the future in a post-COVID world. Storytelling itself is an effective mechanism to explore these ideas, as it can serve to bring together different opinions from people with different backgrounds and experiences."
This program is supported by the Northrop Grumman Corporation and implemented by the Institute for Community Inclusion (ICI) at UMass Boston.