TOMODACHI Generation: Yui Yasuda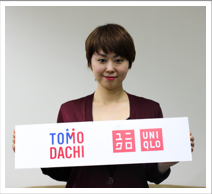 Yui Yasuda has a background in Business Management and Fashion Industry, and has worked as a Buyer at Brooks Brothers in Tokyo. Through her education at FIT, she would like to confront environmental issues through corporate design. Yui sees potential in the recycle & reuse culture in Japan and hopes to utilize the power of the internet to create further awareness and a new business model.
Ms. Yasuda at FIT
About Yui Yasuda
Why did you apply to the TOMODACHI UNIQLO Fellowship?
Through my stay as a student in New York City and my work experience as a buyer in Japan, I have been thinking of new market and business strategy to solve two issues in Japanese fashion industry.
First, among developed countries, Japan falls surprisingly behind in the use of the Internet and Social Media, compared to international demands in E-Commerce. Even while working as a buyer at Brooks Brothers for two years, I strongly felt that there was a need to invest more in EC business; amongst the reality that business through the Internet is universally growing at unpredictably rapid rates.
Second, Japan also falls behind in confronting environmental issues, which in the world of fashion, delays the spread of second-hand shopping in the Japanese market. When I was studying there, I witnessed a "thrift shop" culture and a thriving market, something that is still invisible in Japan, where fast-fashion continues to populate, and a trend for recycled clothes is not yet acknowledged so much. However, ever since the March 11th earthquake, followed by record-high temperatures in climate change, Japan is slowly recognizing the value and appreciation for long-lasting, good-quality necessities. Noticing that the world is facing financial consequences as a result of lack of resources, I believe that there will be an increasing demand and value for a "Recycle-Reuse" market on a universal scale.
I applied to FIT's MPS program in order to learn more for the above two issues and any possibility of fashion industry through studying with experts in the industry from over the world. I found this fellowship through FIT alumni met in New York City and UNIQLO website. UNIQLO is one of the biggest fashion companies in Japan and also a leading company which focus on "Recycle-Reuse" project at its CSR department. I also found TOMODACHI through this fellowship. I have been interested in the business model and CSR department of UNIQLO, and also impressed the activity of TOMODACHI, so that decided to apply this fellowship.  
What would you like to learn from this program?
I am drawn to the FIT's program for the reason that it is a gathering place for diverse and experienced minds of the fashion industry, each looking to master the art of entrepreneurship. Classmates having all different cultures, backgrounds, and work experiences in the fashion industry, each with a goal to build or rebuild a business plan, are able to exchange their ideas and innovations, and influence each other's creativity and passion. I believe that communicating and sharing creative ideas with those of diverse worlds will give me insight for creating an innovative business model in Japan.
I will learn a lot through taking FIT's program, especially from a specialized program that is conducted in three different countries, allowing students to feel all aspects of each culture's fashion world at first-hand. By learning the artistic, structural, and business components of the fashion world in Paris, Hong Kong and New York, students can gain a learning experience that cannot be attained from books, or at any other university programs. 
In addition, I will have an opportunity to intern at CSR department of UNIQLO in the next summer. I will be able to learn deeply about "Recycle-Reuse" structure and see possibilities to contribute for the better environment, resource, and affluence life. Also learn CSR structure itself to establish my own business in the future. From these observations, I see a potential for a "Recycle-Reuse" culture to thrive as a business in Japan.
I am sure that I will be able to contribute to the class in terms of my work experience as a buyer and a salesclerk for US luxury brands, and my unique academic background of graduating both of domestic and international universities. I also have an experience of working with many of international markets from US to Asian markets, so that will assist classes for better communication and making an active and friendly atmosphere.
What connection and/or interest do you have with the United States?
I used to live in New York City for a few years to study at Parsons the New School for Design, so I feel close to the city by many of familiar places and friends there. The United States, especially New York City, has been an exciting and important place for me in terms of giving me confidence for myself and the new goal in the fashion industry. 
For more information about this program click

here