TOMODACHI Alumni Joined U.S.-Japan Council Annual Conference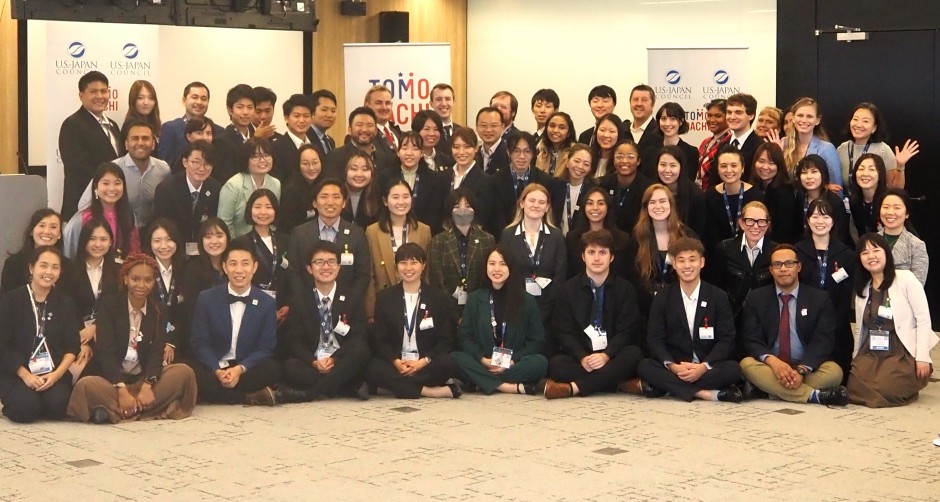 On October 28, 2022, U.S.-Japan Council Annual Conference held its first in-person conference since 2019 in Shibuya, Tokyo. The theme was The Great Reconnect: Strengthening Alliances, Partnerships and Communities, and nearly 700 individuals joined the event.
Over 50 U.S.-Japan Council and TOMODACHI program participants, including TOMODACHI Alumni Regional Representatives, TOMODACHI MetLife Women's Leadership Program participants, TOMODACHI Sumitomo Corporation Scholarship Program participants, and the Toshizo Watanabe Study Abroad Scholarship Program participants attended the Annual Conference. The day before the conference, October 27th, everyone assembled for a networking skill development workshop. There they learned how to network and make connections with people they would meet at the conference. The attendees learned the importance of self-branding, communications, presentation, mannerism, and storytelling in a series of talks and activities. They also had an opportunity to discover unique Nikkei personal stories from two Japanese American Storytelling Program (JASP) speakers.
On the day of the Annual Conference, October 28th, two TOMODACHI program alumni gave speeches at the closing plenary, which was a tribute to the founder of the U.S.-Japan Council, Irene Hirano Inouye, and her vision of fostering the next generation of leaders in Japan and the U.S.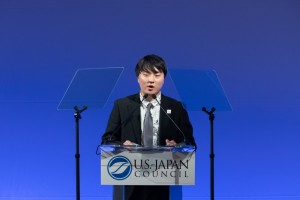 Rimpei Takahashi participated in the TOMODACHI St. Louis-Ishinomaki Grassroots Exchange Program in 2015. Now he runs an educational project in Miyagi, focusing on community building for the next generation. Looking back now, when he met Irene Hirano Inouye for the first time, he said, "What she said stayed with me: 'You are the future leaders of Tohoku and Japan. You are the future.'" After that, with a sense of responsibility and determination as TOMODACHI alumnus, he started participating in many TOMODACHI programs.
Through those opportunities, he continued to question what the next generation, including him, could do for the future of Tohoku and Japan. Every time he participated in TOMODACHI programs, it became an opportunity for him to update his thinking and to realize his growth. He concluded his speech by stating, "I promise I will continue to lead Tohoku and Japan through education."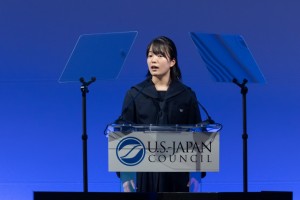 Ayaka Ueda shared what she learned through the TOMODACHI Toshizo Watanabe Leadership Program, in which she participated in 2022. The people she met at schools in the United States pursued their dreams with strong solid motivation and embraced their encounters with various people. It encouraged her to keep moving forward to achieve her goals without fear of failure. She also visited museums to learn history, which changed her perception of leadership.
Before the program, the word "leaders" made her think of someone who leads people or who takes big actions; however, after learning about people who were not famous historically but played important roles in society, she believes that taking leadership means doing what you can do for someone else. She said, "I know I cannot change the world alone, but I will keep taking small actions for the better, which is my idea of leadership now. To help me become a leader, I would like to take advantage of opportunities to meet many people just like today and get involved with various people, regardless of race, nationality, age, or gender."