TOMODACHI Alumni Regional Framework Theme Event in Kanto Region, Team A: Virtual Food Bank Tour and Recipes to Reduce Food Loss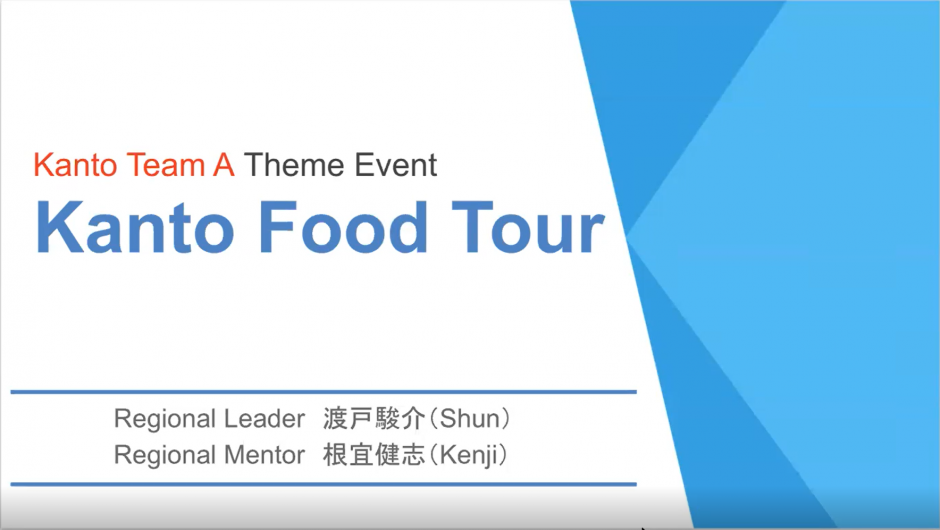 On October 18, 2020, the Kanto Region, Team A held its 2020 online TOMODACHI Alumni Regional Framework Theme Event, supported by Prudential and the U.S. Embassy in Tokyo. It was organized by Shunsuke Watando, Regional Leader, and Kenji Negi, Regional Mentor, and joined by 17 TOMODACHI Alumni.
The event aimed to help participants raise their awareness of the issue of food loss and deepen their understanding of food banks, while seeing how they can take action by watching a video on a food bank and attending a lecture.
It began with opening remarks by Morgan Perkins, Minister Counselor for Agricultural Affairs, the United States Department of Agriculture (USDA). He explained the initiatives of USDA to combat the issue of food loss. Yasuko Matsumoto, Representative Director of NPO Share Mind joined, having also attended the TOMODACHI Alumni Regional Framework Welcome Event in June 2020.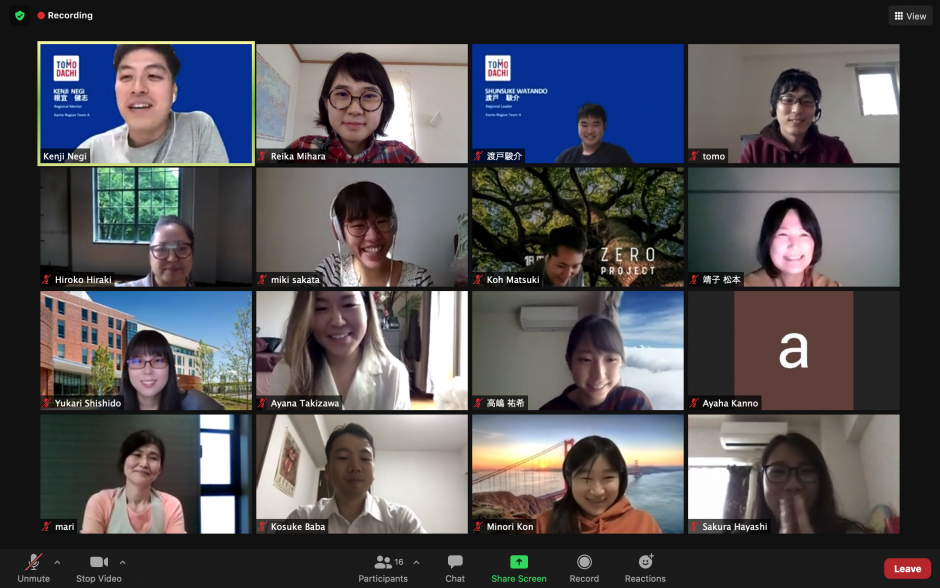 In the first half the event titled "Kanto Food Tour," the participants watched a video on a food pantry event for students, including a virtual tour filmed by the Regional Leader and Regional Mentor. It was co-organized by Food Bank Fuchu and NPO Share Mind, which provide food assistance around Fuchu City, Tokyo. By watching this 20-minute video, featuring the virtual tour of the food bank, volunteer activities and interviews, the participants were able to deepen their understanding of food bank work in Kanto and what actual food banks look like. Participants then shared their what they learned and discussed how they can maintain strong connections with food banks.
In the latter half of the event, Mari Yukinaga, Food Loss Reduction Cooking Expert, gave a lecture teaching recipes that reduce food loss. She lectures all over Japan and teaches at a cooking school to reduce food loss. The participants learned that some foods last longer than the expiration date on the package, as well as various recipes that use food often thrown away. They made remarks such as, "I was able to learn recipes that don't waste food;" "I want to check my fridge and cook with what I have;" and "By organizing our food, we can not only reduce food loss but also enjoy eating." Through the lecture, participants were able to spend meaningful time learning more deeply about food loss and realizing the actions an individual can take.
The event concluded with a workshop for participants to share their thoughts and what they can tell others who did not join the day's session. The participants exchanged their opinions and found new insights as they interacted with one another.
The event was held as a part of the TOMODACHI Alumni Regional Framework, the TOMODACHI Generation Alumni Leadership Program supported by Prudential.