"Leadership in the Post-COVID Era:" 26 TOMODACHI Alumni from Tohoku Learn About Leadership During Unprecedented Situations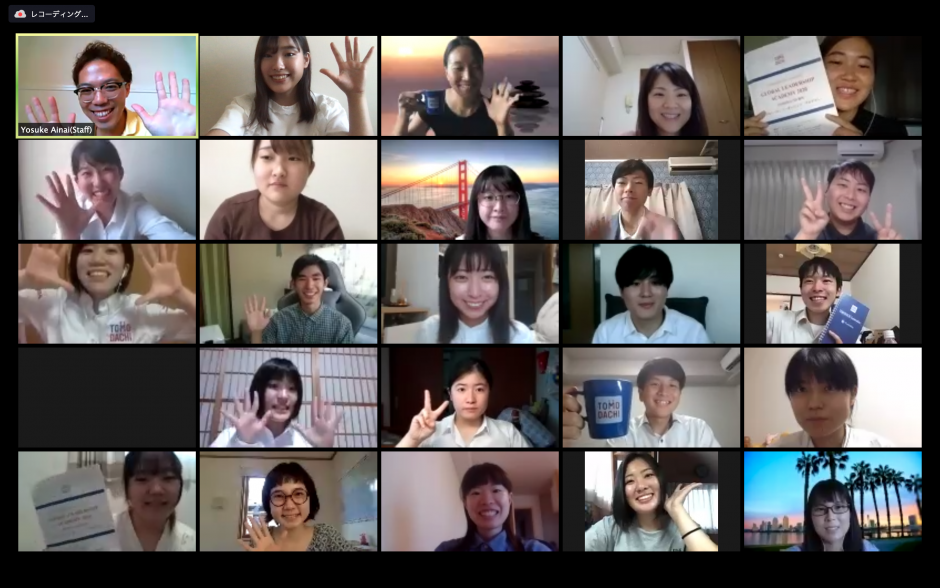 Marking its eighth year, the TOMODACHI Generation Global Leadership Academy (GLA) 2020 was held online from August 22 to 23 and on September 6, 2020. The event was attended by 26 high school and college TOMODACHI Alumni (past program participants) from Tohoku.
Under the theme of "Leadership in the Post-COVID Era," the participants learned from corporations and organizations about the aspects of leadership that are important in unprecedented situations. Furthermore, they deepened their understanding of what leadership is through group discussions.
The first day began with a discussion on team slogans. Each of the six teams chose unique slogans such as "not using honorifics," "sharing my own opinion without hesitating," and "accepting our differences" to be able to fill the coming three days with a strong teamwork.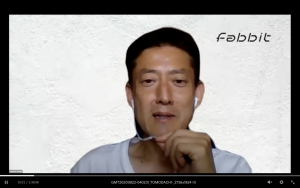 In the afternoon, Yasunari Tanaka, CEO of fabbit Co.,LTD, joined as the keynote speaker and spoke about what the company prioritizes and how they make decisions as a corporation to provide co-working spaces all over the world. He said that it is important to make quick decisions under such critical circumstances, have ample experiences in order to have good judgement, and keep challenging yourself without fear of making mistakes.
On the second day, four speakers joined as Virtual Field Trip hosts from Calbee, Inc., NPO Katariba, Setagaya Ward Council, and The Gibraltar Life Insurance Co., Ltd. They spoke about how they dealt with the situation when COVID-19 began to spread and what kind of leadership is needed in the future. Each of the four speakers had various experiences creating new services after the outbreak began and restructured their organizations. By sharing their stories, they provided very thought-provoking ideas when faced with an unprecedented situation.
Between the second and the third day, the participants had two weeks to meet with their teams using Zoom and Slack to create group presentations based on the inspiration they gained from the previous days. Communicating only through online tools sometimes caused misunderstandings, difficulties delivering their messages, and technical issues. Still, the participants tried to make the most of the situation and deepen their discussion to prepare for the final presentations.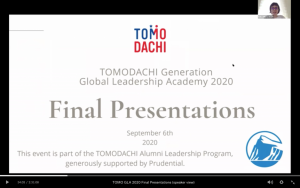 On the last day, to conclude the program, the six groups presented their ideas on the meaning of leadership. Each group used unique metaphors for leadership such as the moon, beanbag tosses and anglers, explaining the rationale behind their thinking. The guests applauded their presentations that summed up two weeks of deep discussions.
After the presentations, two TOMODACHI alumni representatives spoke. Hinata Miura, an alumnus of the TOMODACHI Summer 2019 Softbank Leadership Program, said, "It is an everlasting question to ask what leadership is. I am willing to find my own answer from now on. We will not forget that anyone can be a leader if they have self-awareness even during unprecedented situations."
Saaya Toyoda, an alumna of the TOMODACHI Honda Cultural Exchange Program 2015, said "I noticed that I held myself back due to the literal meaning of "leader." Leaders not only manage and give, but also go through everything together with their teams. I was able to learn that by participating in this program."
In their final reflection, the participants openly shared their feelings, like that some had anxiety over joining the online program. However, at the same time, they shared that they were able to learn and make connections through this program and that it was great to be able to take a step forward. All participants shared the value of this experience during a difficult situation.
Ami Suzuki, an alumna of the TOMODACHI High School Women Career Mentoring Program in Fukushima, said, "What sticks in my mind are the words that if I change 1% of my actions every day, my life will eventually change. I want to take steps to change this 1%."
This program is generously supported by Prudential.