TOMODACHI Alumni Regional Framework Theme Event for Chubu-Hokuriku Region: Unearthing the Hidden Treasures of the Chubu-Hokuriku Region
On November 16, 2019, the Chubu-Hokuriku region held its TOMODACHI Alumni Regional Framework Theme Event at the Nagoya International Center. TOMODACHI Alumni and guests from across the Chubu-Hokuriku region, including high school students, university students, young professionals, and representatives of the U.S. Consulate in Nagoya, gathered for the event.
This event was organized by Regional Mentor Shinichi Fukunaga and Regional Leader Yuko Ishida. The participants had a lively discussion about the impact of tourism in the region, with particular focus on how and why the area appeals to international tourists. They also talked about various styles of tourism, such as ecotourism, that differ among the countries tourists come from, as well as regional tourism differences.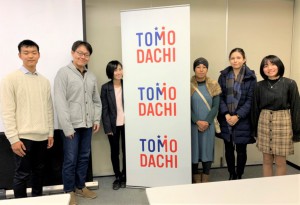 Ai Kato, who participated in the TOMODACHI Honda Global Leadership Program this summer, took part in a regional event for the first time. She said she "would like to understand the region from different perspectives and meet other alumni" and that the event allowed her to connect with others, but also to find better ways to share the region with her friends and host family when they visit.
Through the discussions, the participants realized that the Chubu-Hokuriku region has a hidden charm that can be difficult for locals to see, providing a good opportunity for participants to recognize this and see their region from different perspectives.
Yuko Ishida, TOMODACHI Alumni Regional Leader, said, "Based on my experience of being unable to share the charm of this area while I was studying abroad, I decided an event covering this topic would allow participants to see the appeal of their region using different perspectives and understand how sightseeing aims can differ from person to person. I am very happy the participants have been able to recognize these new perspectives."
This event was held as a part of the TOMODACHI Alumni Regional Framework, the TOMODACHI Generation Alumni Leadership Program supported by Prudential.