H-LAB Students on TOMODACHI Scholarship Visit the U.S. Embassy in Tokyo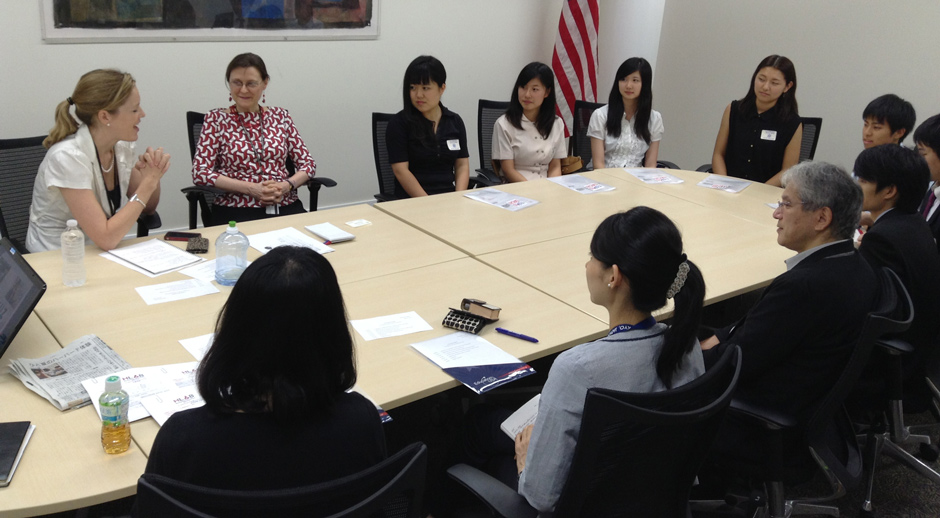 On August 14, 2013, five Japanese high school students from the Tohoku region who will participate in H-LAB through the TOMODACHI Initiative visited the U.S. Embassy in Tokyo.
TOMODACHI Initiative Executive Director Laura Abbot welcomed the five students, and they were quizzed on their knowledge of TOMODACHI. Ann McConnell presented on the work of the U.S. Embassy and the life of a diplomat. Rei Yamazaki provided the students with information on Education USA and studying abroad in the U.S. The students shared their personal experiences from the Great East Japan Earthquake and their goals after the program. The students cited an interest in studying abroad in the U.S., helping with humanitarian and relief efforts, and pursuing careers in international relations. The U.S. Embassy Public Affairs Section is sponsoring the students to attend H-LAB, a 9 day liberal arts summer program for Japanese high school students in Tokyo, Japan and a parallel 4 day program in Obuse, Nagano organized by Harvard College students.
One student from Fukushima High School who participated in the H-LAB sessions from August 16 to 21 shared his experience. He said, "I participated in H-LAB for 6 days. It made me rethink my values that I have had until now. It gave me an opportunity to think about life and about how I can grow as a person. In addition, I was able to talk about our dreams with high school students and university students from throughout Japan and the rest of the world. I was able to build irreplaceable relationships."