TOMODACHI Generation: Naoko Tajima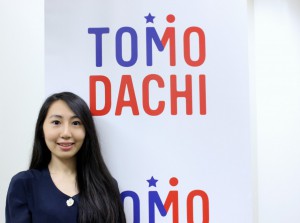 Naoko Tajima was born in Tokyo, Japan. At the age of 6, she gave a debut recital in Tokyo. The following year, she performed Mozart Violin Concerto No.4 and Wieniawski Violin Concerto No.2 
Ms. Tajima entered the The Juilliard School Pre-College in 2005 where she studied with Dr. Ann Setzer.  She has also studied with Professor Zakhar Bron.  She has been heard as a soloist and chamber musician in famed concert venues such as Carnegie Hall Weill Recital Hall, Stern Auditorium, Alice Tully Hall, Miller Theater at Columbia University and the Japan Society.  In 2008, Ms. Tajima was invited to perform for the Pope Benedict XVI at the United Nations when he first visited to the United States.  She was also invited to perform a solo recital at the Bargemusic in Brooklyn, New York.  She has served both as concertmistress and principal in orchestras at the Pre-College.  During the summers, she attended the Waterville Valley Music Center, Mozarteum Summer Academy in Salzburg and performed both as soloist and chamber musician at The Meadowmount School of Music where she was a full scholarship student.
Ms. Tajima was the prize winner in the New York Competition in 2007.    She was the violin prize winner in the Westfield Symphony Concerto Competition.  She won first prize in New York International Music Competition and performed Paganini Violin Concerto No.1 with the Promise Symphony Orchestra in 2010.  She won first prize in LISMA International Music Competition in New York in 2010.  She was the winner of the Juilliard School Concerto Competition and performed with the Pre-College Symphony Orchestra in 2010.  Ms. Tajima won first prize in the Sound Symphony Solo Concerto Competition in 2011 and performed the Prokofiev Concerto No.2 with the Sound Symphony.  She was a prize winner at the Lennox International Competition in 2012.  She was one of the top ten competitors at the Cooper International Violin Competition in 2013.  In fall of 2013, she was the alternate of the Juilliard School Concerto Competition.  In 2014, Ms. Tajima was the winner of the 2014 Young Arts Music.  In May 2014, she received the Commencement Award from The Juilliard School Pre-College Division for her superior ability in the areas of violin performance, orchestra, chamber music, and academic subjects, and also for being an outstanding classmate and committed musician.  Naoko also had masterclasses with Galina Turchaninova, William van der Sloot, and Joseph Silverstein.
Why did you apply for this program?
I learned about this program while I was in The Juilliard Pre-College.  Although, I, myself am not from the affected region by the Great East Japan Earthquake, I am highly grateful, as a Japanese, to have been recommended from The Juilliard School to receive an opportunity to become a worldwide active musician.
What would you like to learn from this program?
Music has a miraculous power. I moved to the United States of America due to my father's work with only three English words: Hello, Thank you, and Good bye.
At that time, I was struggling with the language and was also lost in the new culture. My feelings were full of wanting to go back to Japan. One day, my school teacher gave me an opportunity to perform the violin in front of my classmates. After that, I was able to get along with my classmates little by little. I learned that when even communication by words was not possible, instead, music could be a means of communicating and reaching out to one another. In another occasion, I had an opportunity to perform the violin for elderly people. I saw some people with tears and became worried that I had made them feel sad. However, afterwards, I was glad to hear that they had enjoyed my music and that they were moved to tears. That moment, I learned that not only music could deliver pleasure but also touched peoples' heart. From these experiences, I have been thinking whether there is anything I can do to make people happy and bring peace to all over the world.  My dream is to be able to help tie up between countries with my music. During the coming four years of studying in the United States, I am keen to learn more about American culture, music, and acquire different types of knowledge to be able to share the miraculous power of music in various situations with my music.
What connection and/or interest do you have with the United States?
I have lived in two countries, Japan and the U.S.A. I have appreciated the greatness of both places. I love Japan as well as the U.S.A. I would like to convey both countries' good aspects and the greatness of people to as many people as possible. It would be great to be able to help deepen the friendship between the two countries which I am very fond of. In future society, I believe that bonds of friendship between one and another would be crucial. I very much would like to become a musician who can be the bridge between Japan and the U.S.A.
 More information about the program click here.