Save the Date! Next Generation Summit 2021 "Ideas to Action: Breaking Barriers for a Sustainable Community with Enduring Value"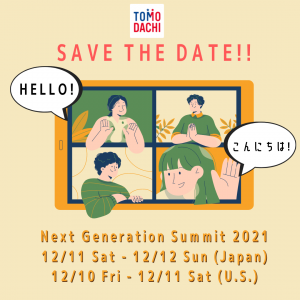 The Next Generation Summit 2021 will take place virtually on December 11th-12th (Japan) / 10th-11th (U.S.) 2021. The Summit is open to everyone and highlights TOMODACHI alumni and Watanabe scholars. It also offers a place for them to reconnect, inspire and learn from each other as well as to meet new people from the USJC community, Watanabe scholars and supporters from various industries.
Day 1 provides an opportunity for attendees to hear from emerging leaders and experts from various fields on actions and measures they have taken to make changes in society. The keynote speech will focus on actions for leadership, management and governance. The following panel will focus on three themes: climate change, diversity & inclusion, and youth empowerment & education reform.
Day 2 is an opportunity to learn about local issues in regions across Japan that TOMODACHI alumni leaders have picked up to address and discuss. This is also open to the public but is mainly an opportunity for TOMODACHI alumni to join their local communities online and meet the leaders in the region. All participants are welcomed to join the breakout sessions hosted by the 2021 Regional Leaders to learn the impact they made throughout the year.
Date:
Day 1: Dec. 11th 10am – 12pm JT // Dec. 10th 8pm – 10pm ET
Day 2: Dec. 12th 10am – 12:30pm JT // Dec. 11th 8pm – 10:30pm ET
Language: Japanese with English translation

Registration

and

Details

, click

here

.