Decision Making in Times of Crisis and Sustainability: 12 TOMODACHI Alumni Reflect on Tohoku's Decade of Recovery for Two Weeks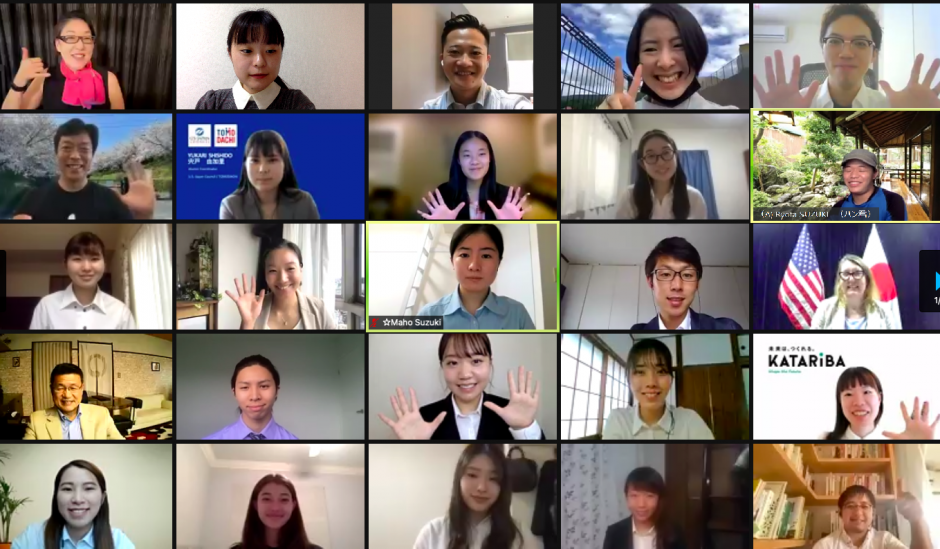 The TOMODACHI Generation Global Leadership Academy (GLA) 2021 was conducted virtually on August 21, 22, and September 5, 2021. This two-week program, which was specifically designed for TOMODACHI Alumni from the Tohoku region, is the longest-running program of all existing Alumni Programs. This year marks the program's ninth year since its initiation and its conclusion. This year, the program focused on the ideas of decision-making in times of crisis and sustainability.
The first day began with the development of a team charter. Each group of students exchanged ideas for a TV program highlighting the situation in Tohoku a decade after the disaster if it was to be broadcast worldwide. They were tasked with the question of whether or not they would focus on the success stories and signs of hope for the future or the signs of stagnation and heaviness after the disaster.

In the afternoon, Mr. Yutaka Arai, President of Tomeikan Academy and Vice President of Sapporo Jikei Academy, delivered a keynote speech on decision making. He noted that "It is more important to know why you are doing something rather than what you are doing." The essential message of "Let's have an answer to WHY we are doing," was a great decision-making tool for the participants as they developed their TV program concept.
During the cultural exchange session with the students from the American School In Japan, young people of the same generation from overseas who had no direct knowledge of the disaster asked many questions about life at the time and the reconstruction process. Participants were able to see firsthand what young people abroad knew about Tohoku, what they didn't know, and what they wanted to know as a result of these questions and these underlined the focus points of their TV program content.

On the second day, leaders from Tohoku shared their stories as they continued to make decisions during the reconstruction process. Mr. Kazunari Ishii, Associate Professor at Aomori University shared that "You can change the reality in front of you. That is what I have learned from the experience in Tohoku." Ms. Megumi Ishimoto, Executive Director at a nonprofit organization Women's Eye, utilized her personal experiences to encourage participants to make mistakes, saying, "You should definitely make mistakes. There are so many things you can learn from that."
Corporate leaders Mr. Ryo Nemoto and Ms. Tomomi Tagawa from the Prudential Gibraltar Financial Life Insurance Co., Ltd., posed the following question to the participants: "If you only had one year left to live, which would you choose, get money or have your dreams come true?" By simulating ultimate situations that we do not think about in our daily lives, the participants experienced the importance of looking at things from various perspectives when making decisions in a short period of time.
Between the second and the third day, the participants had two weeks to meet with their teams using Zoom and Slack to create group presentations based on the inspiration they gained from the start of the program.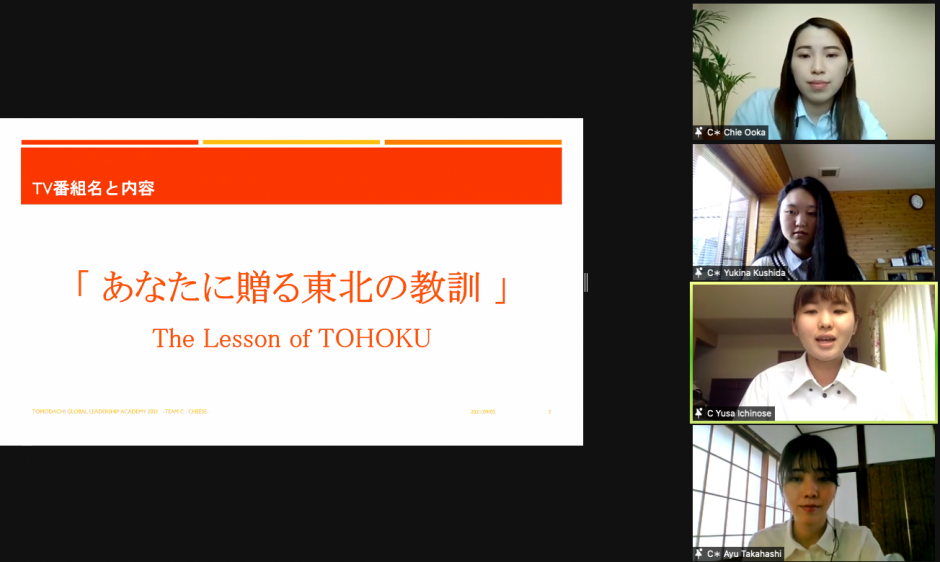 On the last day, Final Presentations were held, accompanied by opening remarks from Ms. Shannon Dorsey, Cultural and Educational Attaché, U.S. Embassy in Tokyo, and Mr. Yoshiaki Hirayama, Senior Officer, Prudential Holding of Japan, Inc. Each team gave a 7-minute presentation that included the name of the TV program and the proposed content. The presentations were guided by and rooted in their own thoughts, such as "We will not repeat the tragedy of Tohoku" and "Everyone has a dark image of Tohoku, but we want to convey the bright side.
Following the presentations, Aoi Hayashi, an alumna of the TOMODACHI Summer 2017 SoftBank Leadership Program delivered a speech. She spoke about the impact the TOMODACHI program had on her as someone who experienced the disaster in Tomioka City, Fukushima Prefecture, and how she hopes to apply what she learned from this program as a university student and two-time program participant. Her experience of March 11, 2011 can be found in this month's TOMODACHI Alumni Highlight.
In addition, Ryota Konno, an alumnus from the first TOMODACHI Generation Global Leadership Academy in 2013 delivered a speech on behalf of the alumni. He said that the most important thing that he learned through many alumni programs is "to have connections." He went on to say that many relationships he developed have been a great source of strength for him as he returned to his hometown of Namie, Fukushima Prefecture, to work as a local public officer. He also mentioned that being a member of the TOMODACHI community has given him faith and led to new encounters and opportunities.
In the final reflection, Yukina Kushida, an alumna of the 2020 TOMODACHI High School Women Career Mentoring Online Program in Tohoku supported by the TOMODACHI Combini Fund spoke about how impressed she was with the big paradigm shift that had taken place during the program and how eager she was to move on to the next program, noting that "My life has changed after joining this program."
The recording of the Final Presentation is available here.
This program was made possible with the generous support of Prudential.