Q&A with TOMODACHI Program Participants and TOMODACHI Alumni: Natsumi Mishio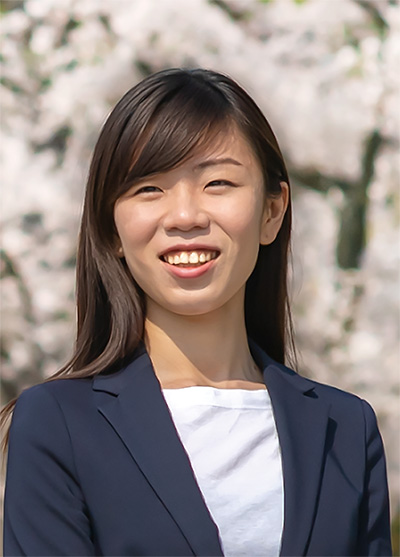 Natsumi Mishio is an alumna of TOMODACHI Social Innovation in Seattle Scholars (SIIS) Program 2014 and currently serves as the 2021-2022 TOMODACHI Alumni Regional Mentor of the Chubu-Hokuriku Region. She is one of the youngest city councilwomen representing Okazaki City, Aichi as an Independent. As director for the educational nonprofit organization Collaboration Campus Mikawa, she manages programs for a wide range of age groups, including students and young professionals. In addition, she leads the team "Room01" with American and Japanese creators.
The interview was held on February 15, 2021 by Maho Suzuki, TOMODACHI Alumni Intern (2021) based out of Tokyo, Japan.
Q1. You participated in the TOMODACHI Social Innovation in Seattle Scholars (SIIS) Program 2014 at the age of 21, and said, "I realized the challenges I faced through the Japanese education system and found my passion to change it." What made you think that way?
I was a student who served as Class President and was a leader of club activities. When I was a junior high school student, I started to struggle with going to school. I even ended up dropping out of high school and was depressed for a long time afterwards. I didn't know who I was. I didn't understand the purpose of going to school. I considered that if there was a way for me to live again, it might happen if I restarted somewhere no one knew me. So, when I was 19 years old, I hoped to go abroad.
Since I had a Certificate for Students Achieving the Proficiency Level of Upper Secondary School Graduates, I looked for a university that I could attend on a scholarship, and in 2012 I was able to study abroad at the University of Central Florida. By changing my environment and studying abroad in the United States, I was able to attend school again and rejoin society. When I was a teenager, I lived with a feeling I was unable to explain. I couldn't express the feeling at the time, but it was towards myself, school, society, and adults. When I was in Florida, I studied together with people from more than 30 countries. It was a society with diversity, and this experience changed my values. Little by little, I was able to express my unsaid feelings. Then I found the word "education" during the TOMODACHI Social Innovation in Seattle Scholars (SIIS) Program 2014.
Q2. Why did you decide to participate in the TOMODACHI Social Innovation in Seattle Scholars (SIIS) Program 2014? Also, please share your experiences in the program.
I was a first-year participant of this program which was designed to find your vision, build leadership, and develop a new understanding of the relationship between yourself and society through peer learning groups, a site visit on social innovation, a mentor system, a technology advisor team, seminar training, self-reflection, and individual inquiry. After returning from the study abroad program in the United States, I wanted to face the feelings I couldn't express before by being in a diverse society. Also, I thought it was unique that the program focused on connecting practical experiences in social enterprise and innovation with leadership capacity. So, I decided to participate. In the program, I learned a new process to face myself differently from the past so that I could put my feelings into words. This led me to the word "education," which I have used to develop my career. Without the process I learned in the program, I think I would have taken a different career path. The biggest takeaway is that I was able to think further about my career before graduation.
People use the phrase "who am I?" as a way to look at themselves, but the question "who am I?" is a starting point instead of "where do I work?" or "what do I want to do?" If you find out who you are, then you will find your leadership style and think about what you can do. This way of facing yourself resonated with me.
Q3. You are the youngest city councilwoman active as an Independent. What made you run for office? Did your TOMODACHI experience influence you in any way?
In my career, creating space for education is my goal since I have been involved in related activities with non-profits and also with my own company. While I managed these activities, I had many opportunities to work with various sectors unrelated to youth. For example, we have to think about using taxes if we need a budget, or we need help from companies if we start an internship program. I felt that we needed more cooperation from different people for our work in the field of education. So, I came to think that simply creating space for education is not enough. I was aware of the need to involve others, as well as social issues outside of education. So, I wanted to engage in education from politics.
When I was 21 years old, I got my first job overseas. I worked in the Vietnam branch of a Japanese venture company to create a global educational program for Japanese and foreign students.  However, based on my own experiences of dropping out of high school, I was hesitant about the work and began to think about how I could be more engaged in educational activities in Japan. I thought this was important because of my formative experience in Japan. Now I work in education in my local town, Okazaki City in Aichi Prefecture. I created a small but multi-functional education space and developed a collaboration between industry, academia, and government that explores the theme "the town is one big campus." We designed each program for a wide range of ages from elementary school children to young professionals. For example, "Marble Town" is a program just for students without any adults. There are many jobs to choose from where students can be entrepreneurs, and even hold an election for king or queen. They can learn how to use money by using the town's currency, marbles. (Please see more details here). What I've learned from these students with different challenges, local businesses, local government, and local schools is that working only for education will not make a difference. I find that this is an issue of our larger society, but feel there is hope. It was very natural that this perspective led me to think about local politics.
Q4. You engaged in various educational support programs for children. Now with the impact of COVID-19, it is a very difficult time to implement in-person programs and hands-on learning. What kind of support and tips can we offer?
We weren't able to implement most of our activities last year because of COVID-19. Most educational activities are held in school, cram school, and companies. Since our activities involve the entire town, there is a limit to how much we can create online. We plan to restart activities when the pandemic is over.
Looking at Japan from the outside, many think we are so fortunate and it's very difficult to make others understand our educational issues. But with the unprecedented global experience of COVID-19, issues which had been hidden are now emerging. For example, the number of elementary, junior high, and high school students who committed suicide hit a record high of 479 in 2020. The number of suicides by female high school students nearly doubled from the previous year. So, my co-workers and I have been motivated to do something. We surveyed students after the state of emergency declaration last April and noticed there were high school students afraid of starting university life and being unable to go abroad. So, we created an online advising system, Senpai Voice, where university students give high school students advice about university life and studying abroad. We wanted to give all children from any kind of family background the opportunities to meet new friends and learn while they could not engage in any school activities due to school lockdowns.
Q5. What does "TOMODACHI" mean to you?
It is a place that gives me the opportunities to grow over the long term. I think the "long term" is a very important point. My first TOMODACHI program was in 2014. Since then I have been involved in various TOMODACHI activities every year and have been able to meet new people and find new activities and jobs. Recently I participated in the 22nd U.S.-Japan Council Business Advisory Board (BAB) Meeting in February 2021. TOMODACHI is the ideal system for me because it creates a place and opportunity for learning over the long term. It's very difficult to continue the same activities TOMODACHI has achieved. Also, it's important that TOMODACHI can provide a sustainable place and opportunities for children and youth to learn and grow even if their interests have changed.
Q6. When you feel you have no confidence and struggle to find your place, is it difficult to take a big step such as going abroad? For example, you had to have the courage to take the first step in order to run for city councilwoman. How do you manage it?
I had isolated myself from the outside world after dropping out of high school, and was not able to leave the house – not even one step. When I decided to go abroad at the age of 19, I started taking small steps such as walking around my house. Going abroad and running for the city council position are the highlights of my life. Before then, I achieved many small steps. After these experiences, I made a big decision. Before I faced my big challenge, I tried to take many small steps in preparation to make these big decisions.
Q7. Do you have any advice for students and young professionals?
"When you go out into the world, being smart is no longer righteous." This is what I've shared in my remarks on various occasions. Japan is an education-conscious society and tends to think "the person who has the highest marks and is the smartest is right." But this is not important in the real world. I think it is more important to have the skills to face others and have discussions, communication skills, and the ability to liven up a situation. I've said "your academic background will not be enough to help you when you need it" and I believe this is true for myself as well.
Besides, I had a theory and saw the results in my own life. For example, when I didn't know what I wanted to do, I tested a theory about my future. Did I want to be involved in education or politics? It was like an experiment, but it helped me to work out this problem in my life. Since I saw my life as an experiment, I could accept the results even if I failed because any theory always has the possibility of being wrong. Many people fear failure and think that failure means the end. This thinking is common in school and society, but if you think about your future and career as an experiment, you can make changes when you fail to get back on the right track. I think failure is the key to learning.
Q8. Finally, do you have any advice for TOMODACHI alumni?
In the TOMODACHI program, I was able to meet people who shared their aspirations with me, and we were able to meaningfully learn from each other in a short period of time. However, it's hard to keep moving toward big goals and work with others. For me, TOMODACHI is a place where I can come back from time to time and reevaluate my thoughts and way of life. I hope that other TOMODACHI alumni remember this community in their daily lives.