Apply Now: 2019 TOMODACHI Alumni Regional Leader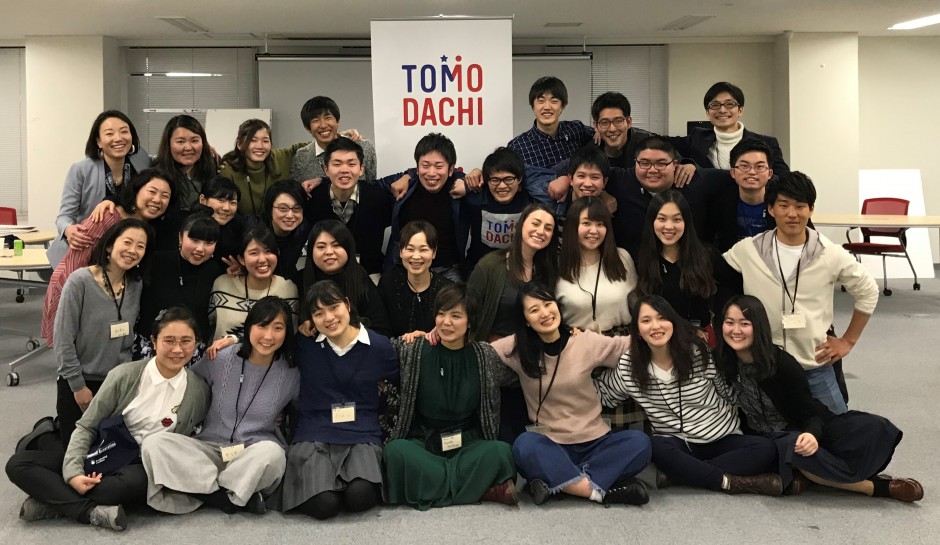 BECOME A TOMODACHI ALUMNI REGIONAL LEADER!
The TOMODACHI Alumni Regional Framework is a platform to connect the over 6,700 TOMODACHI alumni across regions combined with a leadership development program that identifies and trains the rising stars committed to improving their regional communities.
Japan is divided into seven regions represented by ten (10) teams: Tohoku-Hokkaido Region (Iwate Team, Miyagi Team, Fukushima Team), Kanto Region (Team A and Team B), Chubu-Hokuriku Region, Kansai Region, Chugoku-Shikoku Region, Kyushu Region, and Okinawa Region . Each team consists of two Regional Leaders (college and / or high school students) supported by a Regional Mentor (young professional with a minimum of 5-7 years of work experience) who are all TOMODACHI Alumni . Together, these Leaders and Mentors will represent their regions and take part in the TOMODACHI Alumni Regional Impact for Social Empowerment (RISE) Leadership Program.
The TOMODACHI Alumni Regional Impact for Social Empowerment (RISE) Leadership Program will change the dynamics of alumni engagement by furthering opportunities for alumni to connect, empower and inspire one another in their respective regions.
This year-long leadership training program focuses on social innovation on a local level. Regional Leaders of each region will gain valuable skills in order to identify and tackle social issues, create events, and bolster their regional alumni community. This will be building upon their initial TOMODACHI experiences, giving them the opportunity to continue their leadership journey through hands-on training and mentorship.
You've experienced TOMODACHI programs. Take the next step to challenge yourselves, think critically, and make your ideas become reality! Are YOU ready?
This initiative is one of the signature programs under the TOMODACHI Alumni Leadership Program supported by Prudential.
Seven Regions are being established to support the over 6,700 alumni who are a part of the TOMODACHI Generation. These groups are divided into seven regions within Japan:
1) Hokkaido-Tohoku
2) Kanto
3) Chubu-Hokuriku
4) Kansai
5) Chugoku-Shikoku
6) Kyusyu
7) Okinawa
Regional Teams:
In each of the seven regions, there is a three-person team comprised of: 1) Regional Leader (college student), 2) Deputy Regional Lead (high school student), and 3) Regional Mentor (young professional). All are part of the TOMODACHI Generation.
In November 2018, we will select two Regional Leaders (Regional Lead & Deputy Lead OR Co-Leaders) in each region to create activities and opportunities with support from their Regional Mentor by connecting with fellow alumni and the U.S. Embassy and Consulates to address the needs and challenges in their respective regions and communities.
Help us energize and inspire members of the TOMODACHI Generation in your region by developing new events to bring opportunities to your regions and communities. If you are interested becoming a leader within your region, please apply!
For more information, click here

TO APPLY
Please complete the Application Form: http://bit.ly/2019-RegionalLeader-Application
Deadline: November 20, 2018 at 23:59 Japan Standard Time
The application deadline has been extended to December 13, 2018 (Thu) at 23:59 Japan Standard Time
SELECTION PROCESS 
1) Applications sent in: November 2018
2) Interviews: January – February 2019
3) Finalists Announced: February 28, 2019
BENEFITS
Build leadership and event planning skills
Attend and Network special events and opportunities hosted by the U.S. Embassy and the Government of Japan
Engage and Work directly with U.S. Embassy Consulates in your region
Connect and Learn from professionals in your regional community
Receive and Manage 100,000 Japanese Yen as seed money to organize two events per year
Hands-On Training: project management, financial planning, marketing and use of social media, networking skills, presentation skills, mentorship and applied leadership
Opportunity to grow into a stronger, more confident leader to catalyze your communities
ROLES 
Regional Leader (Recruiting): University and Graduate School Students who lead and organize events in the region
Deputy Regional Leader (Recruiting): High School Students who are able to support toe Regional Lead with events in the region
Mentor: Young professional that supports the Regional Lead and Deputy Regional Lead and acts as the representative for the region
RESPONSIBILITIES
1) Event Planning & Project Management:Each Regional Team will be responsible for planning two events within the year: 1) Welcome Event and 2) Theme Event.
The Welcome Event will be held in May 2019 to will be the Annual Reunion within each region. The event will gather current and former alumni within the region but it will also welcome new alumni who have just moved into the region with the new school year to ensure that there is a TOMODACHI community in every region to welcome you.
The Theme Eventwill be held between September and December 2019, and the theme and content will be developed by the Regional Leaders to address a need or challenge in their region.
2) Attend Orientation & Training Sessions: Regional Leaders and Deputies will be responsible for attending the March Orientation (March 21-24, 2019), the Regional Leader in June 2019, and the TOMODACHI Summit in September 2019.
3) Communicate with your Teammate & Regional Mentor: We recommend once a month in-person or skype/phone meetings, but leave it to the Regional Mentor and Leaders to determine what amount of time is best for their region and the events being planned.
4) Manage Funding:You will receive 100,000JPY as seed money to do three things: 1) Plan the Welcome Event, 2) Plan the Theme Event, and 3) Send alumni from your region to attend the TOMODACHI Summit. [Note: Regional Leader and Mentor transportation stipends will be provided separately.] Coordinate with your Regional Mentor to ensure that you are spending and allocating funds wisely throughout the year.
5) Keep Regional Alumni Contact Lists Updated: We have over 6,700 alumni spread out across Japan and the United States and need help keeping our alumni contact lists up to date, starting with each region.
TERMS
Regional Leader and Deputy Regional Leader: March 2019 – February 2020
All Regional Leads and Deputies have the opportunity to extend their role for another year with a Recommendation Letter from the Regional Mentor submitted to the TOMODACHI Alumni Manager at the time of the New Leader Application Process.
CONTACT US
For more information on the Regional Framework: click here.
Questions?  Contact : tomodachialumniregional@usjapancouncil.org