The ten TOMODACHI Sumitomo Corporation Scholarship Program scholars shared their year's worth of learning from their study abroad experience in the United States, and the program welcomed ten new scholars to embark on a once-in-a-life-time journey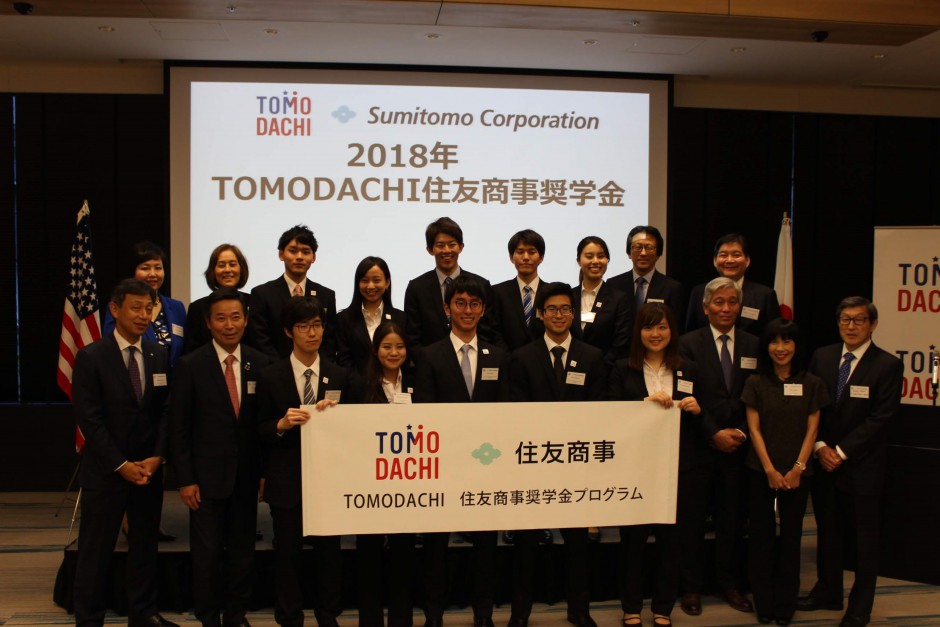 On June 27, 2018, the 2017 and 2018 scholars and partners for the TOMODACHI Sumitomo Corporation Scholarship Program were brought together for a Post-Program Report and Awards Ceremony at the Sumitomo Corporation Global HRD Center.
The first half of the day consisted of an orientation and training session for the 2018 scholars. The 2017 scholars used their study abroad experiences to help train this year's scholars. The session enabled the scholars to not only get to know one another and build friendships, but also to discuss what leadership is and redefine its meaning. The second half of the day consisted of three parts: the post-program presentations by all of the 2017 scholars, an awards ceremony for the 2018 scholars, and a reception.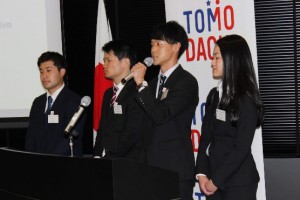 The ten recipients of the 2017 Scholarship gave presentations on their study abroad experiences. Each participant spoke about the unique perspective they gained on leadership through the year-abroad experience, as well as the individual leadership style they found through their daily life and special training programs offered by the program.
Following each group's presentation, Mr. Gary Moriwaki, a Member of the Board of Directors, U.S.-Japan Council (Japan), and Ms. Jewelle Yamada, Vice President, Corporate Communications, Sumitomo Corporation of Americas, respectively, offered feedback on the presentations.
Following the conclusion of the student presentations, Irene Hirano Inouye, U.S.-Japan Council President, and Mr. Masayuki Hyodo, Representative Director, President and Chief, Executive Officer of Sumitomo Corporation, offered congratulatory remarks. They acknowledged the individual growth and scholarly achievements of the 2017 scholars, as well as the exciting opportunities awaiting the 2018 scholars.
To conclu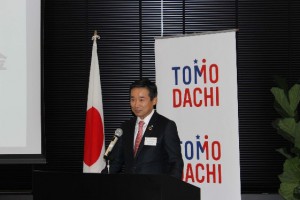 de the ceremony, Mr. Hyodo presented the ten 2018 scholars with their certificates of scholarship as they are about to embark on their study abroad experience. After receiving their certificates, the diverse group of scholars each spoke about their goals for this study abroad experience.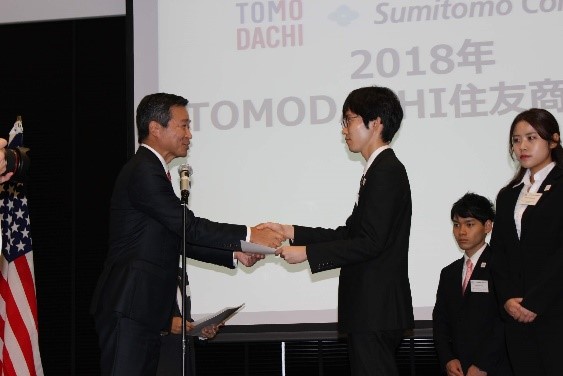 A reception was held after the award ceremony, giving Sumitomo Corporation employees, including mentors and alumni, the chance to mingle with the students. The toast was given by Mr. Hideki Yamano, Representative Director, Managing Executive Officer, Chief Strategy Officer and Chief Information Officer, Sumitomo Corporation. Mr. Yamano shared his own study abroad experience in the United States with the students, and strongly encouraged them to make the most out of their year abroad.
To end the evening, Mr. Shigeki Ohno, General Manager, Corporate Sustainability Department, Sumitomo Corporation offered remarks and concluded the reception.
After the event, Nozomi Moritake, who studied abroad at Michigan University, reflected on his year abroad saying, "It scares me to think about a reality in which I did not participate in the TOMODACHI Sumitomo Corporation Scholarship Program. During the program, I made close friends. Each of them was different and diverse, and it was these differences that helped me learn tremendous things. Moreover, we stimulated and bettered one another. In addition, I was able to redefine what a leader is. Through talking with scholarship recipients and considering what type of leadership is suitable for me, I changed my perspective of what a leader is. After coming back to Japan, my goal is to become a leader with a new, unique leadership style to me. I am truly grateful and feel fortunate to have taken part in this program."