TOMODACHI-Mitsui & Co. Leadership Program Alumni Discuss Regional Collaboration with the U.S. Consulate in Fukuoka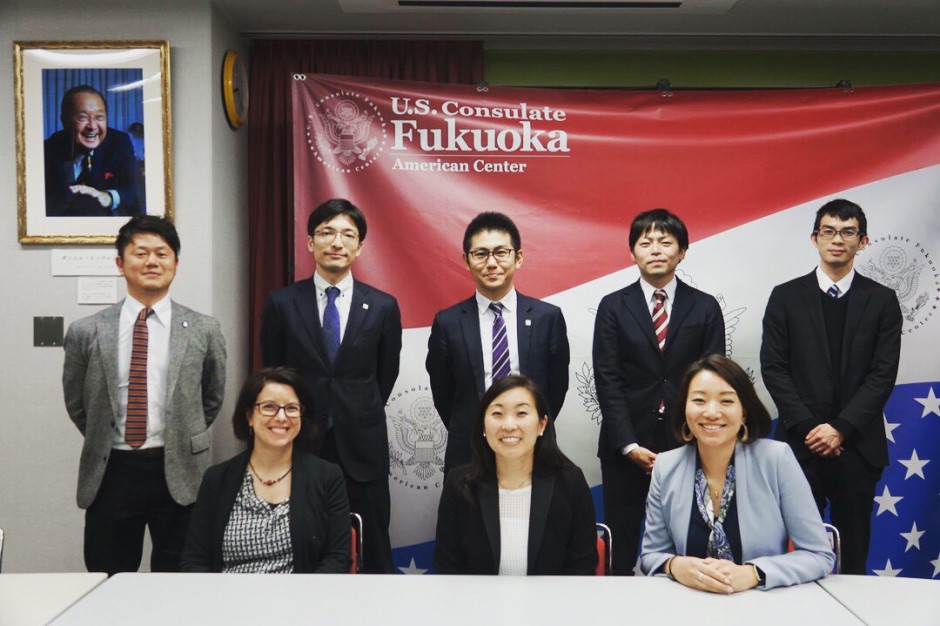 On February 21, four alumni of the TOMODACHI-Mitsui & Co. Leadership Program in Kyushu had a meeting at the Fukuoka American Center with Joy Sakurai, Principal Officer of the U.S. Consulate Fukuoka.
The meeting opened with remarks from Vanessa Zenji, Consul for Public Affairs of U.S. Consulate Fukuoka, who warmly welcomed the TOMODACHI alumni to the Fukuoka American Center.
Mr. Shota Kurata, Regional Mentor of TOMODACHI Alumni Regional Framework in Kyushu, thanked Ms. Sakurai and Ms. Zenji on behalf of the TOMODACHI alumni and introduced various TOMODACHI activities.
Mr. Takahiro Hotta, alumnus of the 2017 TOMODACHI-Mitsui & Co. Leadership Program, shared his experiences and learnings from the program. He communicated that he could not attend some program sessions in Tokyo as he was in charge of disaster risk management for the Fukuoka Prefectural Government when heavy rain hit northern Kyushu. He also noted that Hurricane Harvey struck right before visiting Houston for the program and reflected, "Learning about FEMA (Federal Emergency Management Agency) and its training programs on emergency management made me realize the important role education plays in emergency management."
Mr. Tomoyuki Yamaki, alumnus of the 2016 TOMODACHI-Mitsui & Co. Leadership Program, who also organized and facilitated this meeting, shared his experiences from the Japan-Hawaii Economic Summit held in May 2017. During his time in Hawaii, he met key members of Fukuoka Kenjinkai in Kauai and the Big Island, and realized the importance of grassroots exchange and connections for the U.S.-Japan relationship. He also introduced a tour he organizes in Yame, Senator Daniel K. Inouye's birthplace. Mr. Yamaki suggested that such tours can strengthen U.S.-Japan relations and inspire the younger generation.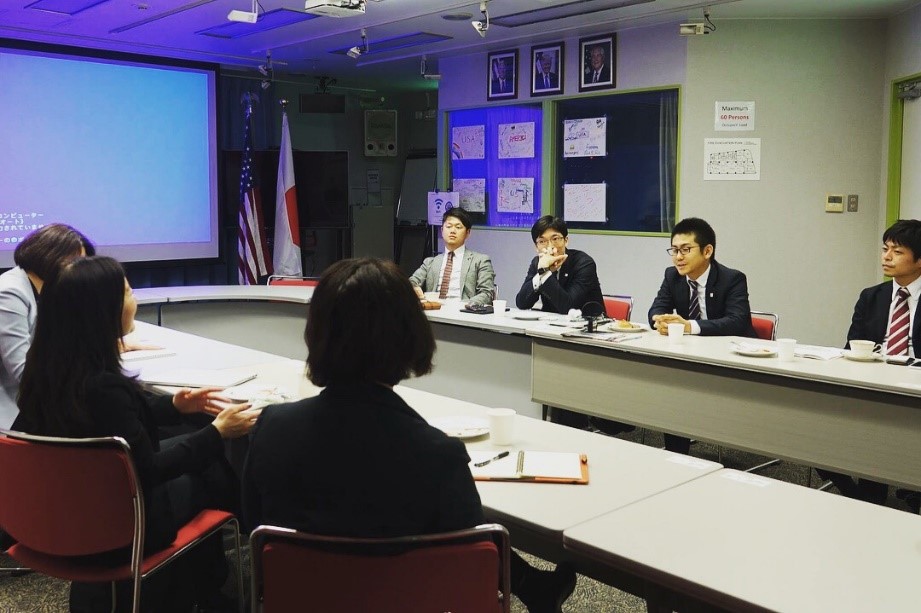 Principal Officer Ms. Sakurai discussed Japanese-American history to commemorate the 150th anniversary of the arrival of the first group of Japanese immigrants to Hawaii this year. She also shared stories of her own family and friends. She spoke about her experiences as an intern for Senator Inouye and shared how respectful he was to everyone. She shared his words, "Actions speak louder than words. You cannot always win the fight. So, pick your battles wisely and make sure to pick the right words when you speak."
Lastly, TOMODACHI alumni and Consulate officials discussed how they can work together to raise interest in the U.S-Japan relationship among the younger generation, especially high-school and university students. TOMODACHI alumni in Kyushu and the U.S. Consulate Fukuoka will continue to work together and address various points raised in the meeting.